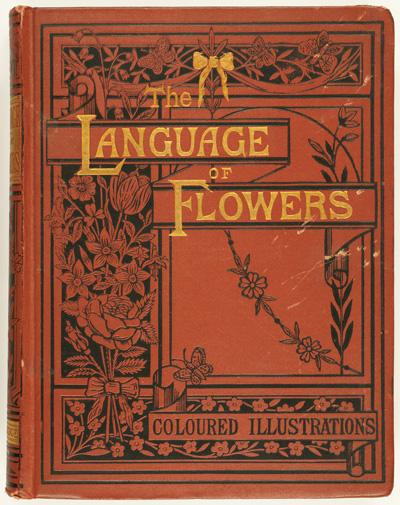 Photo by:
Language of Flowers, Robert Tyas
This Sunday and Monday, June 26 and June 27, the Hunt Institute will be having a free open house, with talks and tours focused on the "Flora's Lexicon" exhibit.
How to say "I love you?" Too many ways, or not nearly enough? Consider, then, a botanic transliteration, and allow a flower to articulate. "Flora's Lexicon," an exhibit at Carnegie Mellon's Hunt Institute for Botanical Documentation, in Pittsburgh, presents books and botanic portraits that explore the 19th-century European and American phenomenon of the Language of Flowers.
[See our slide show about the Language of Flowers.]
Open through June 30, the exhibit explores "the common understanding that plants and blooms were charged with sentiment and meaning and held the potential to express emotion or to communicate privileged messages within the strict confines of social etiquette...The result was a fashionable system of floral connotations that blossomed during a time of burgeoning public interest in botany and its scientific importance."
On display are a selection of texts from the Institute's Library, including Charlotte de Latour's Le Langage des Fleurs (France, Audot, 1819), the book that launched the craze, as well as international iterations of the floral dictionary phenomenon, including Kate Greenaway's The Language of Flowers (London, George Routledge and Sons, 1884), a book that continues to be reprinted today.
Image credit: Le Langage des Fleurs, by Charlotte de Latour
For those who not in the Pittsburgh area, here are some excerpts from a particularly charming book in the exhibit's collection. The Language of Flowers; or Floral Emblems or Thoughts, Feelings and Sentiments (London, George Routledge and Sons, 1869), a perfect primer, was written by Robert Tyas, a popular British botanic writer, and clergyman. Illustrated with colored botanic plates, and quotes by Keats, Shelley, Goethe, and the Greek poets, the book provides a detailed account of each flower's literary and cultural context. His book is considered an English version of Latour's, and was first published in 1836. A collection of detailed entries are alphabetized by the plant's common name, and all transliterations are compiled in an Index of Sentiments.
Of his subject's history, and its necessity, Tyas writes "The Language of Flowers is indeed as old as the hills; yet it never can become old, for every Spring reproduces its characters anew ... it existed long before the oft-lamented days of chivalry, when faithful and reverential affection for the comparatively secluded lady could hardly be made known in any other way than be emblems."
Of our individual histories, well, flowers can help us remember those also. Flowers can "take us back into the past, and help us in a remarkable degree to revive all the little incidents, pleasant or painful, connected with the time when we first [knew] them." Of a flower from an old lover, consider the effect on "a tender-hearted girl, having apparently encouraged the attentions of an intelligent but fortuneless youth, [now] annoyed at the recollection of her weakness."
And a flower's meaning is not static; a changeable form offers significant permutations. Of the Rose-bud, Tyas writes: "Stripped of its thorns, it says, "There is everything to hope for." Stripped of its leaves, it says, "There is everything to fear." Of the Marigold: "Placed upon the head, it signifies sorrows of the mind; placed above the heart, it speaks of pangs of love; resting upon the breast, it expresses ennui" (p. x).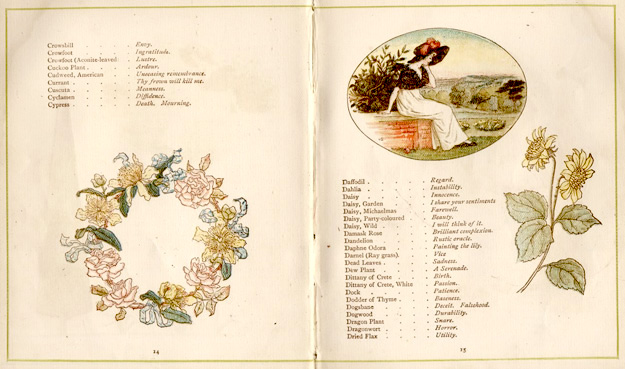 Image credit: The Language of Flowers, by Kate Greenaway
The entries provide the Latin name, and a softly personified profile of the flower's behaviors: "The Scarlet Ipomoea (I. coccinea).—I Attach Myself To You. Like other weak twining plants, the Scarlet Ipomoea has need of a support to hold its slender branches, which, without being burdensome to its supporters, surrounds them with verdure and flowers." And, "Saffron (Crocus sativus).—Do Not Deceive Yourselves. A light infusion of Saffron tends to raise the spirits; but if indulged in to excess it produces intoxication. If its emanations be inhaled in moderation, it is said to be restorative; if too freely breathed, the effect is injurious."
How nice it might be, it seems, to send a flower in lieu of the uncomfortable written message. There are certainly occasions when a burdock would be most effective: "Burdock (Arctium lappa).—Importunity. The burdock is well known by all boys, to whom it is an inoffensive source of fun. They gather the seed-vessels, and throw them at their companions. The bristly hairs which cover the seed-vessels cling tenaciously to the dress, and require a little patience in detaching them. Thus the Burdock is a fitting emblem of that Importunity which which we are sometimes assailed by applicants, who seem determined not to take a refusal."
Anna Laurent is a writer and producer of educational botanical media. Photographs from her forthcoming field guide to Los Angeles are available for exhibition and purchase at the author's shop.