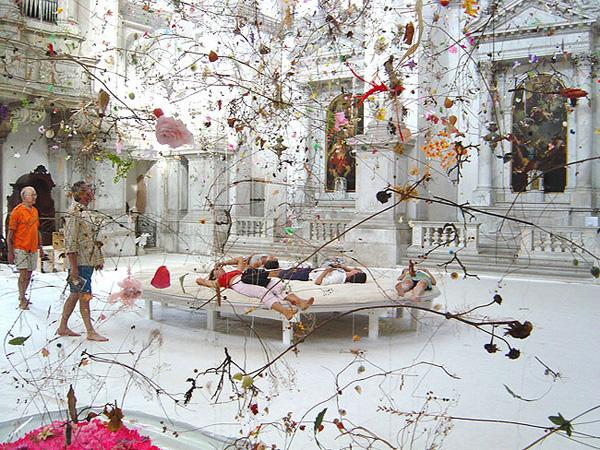 Photo by:
Gerda Steiner and Jorg Lenzlinger
Contemporary Swiss artists Gerda Steiner and Jorg Lenzlinger design site-specific installations that envelop the viewer—epically and exquisitely. Falling Garden is a world in which botanical curios are suspended from the ceiling of a 17th-century church in Venice. It's a botanic tableau in three dimensions, against a backdrop of richly decorated Italian marble. The piece immerses visitors in a magical reality of dreamy conceits—if a blossom had a mind, this is surely what it would look like. Falling Garden becomes the visitors' collective dream of botanical liturgies and ecclesiastic whimsy.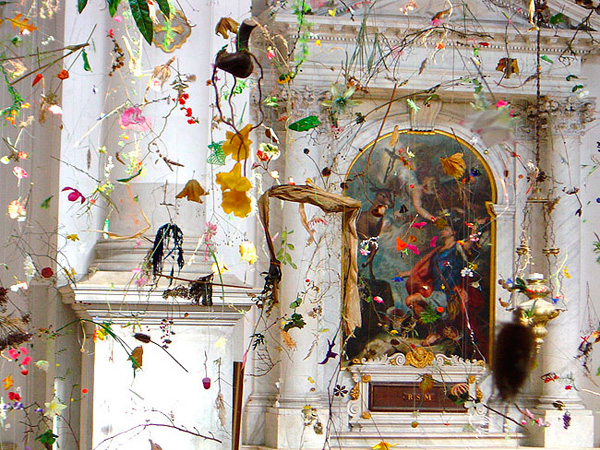 The artists installed "Falling Garden" inside San Staë church, on the Grand Canal, at the 50th Venice Biennial. According to the artists, the church was built as a mausoleum for a 17th-century doge (duke), who was entombed in the center, under an arrangement of skeletons and a grinning skull. To view the installation, visitors lie on the floor, or, as the artists suggest, on the gravestone's bed. It's the best seat in the house, a house of cascading flowers and cherub carvings. Having thus submitted, the visitor's thoughts are free to drift, as "the garden thinks for them."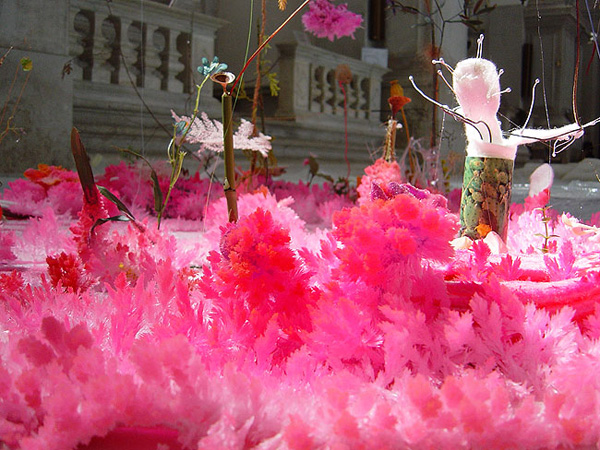 To further extend the installation's dimensionality, consider the geographic distance it spans: Falling Garden is a collection of botanical tokens from many different places, including baobab seeds from Australia; beech, elder, and magnolia branches from Switzerland, silk buds from Sweden, celery roots from Canada, seaweed from South Korea, and plastic berries from India.
Falling Garden is no longer up but it remains inspiring, particularly if you design your own string gardens. And keep an eye on the artists' schedule—go see them in Switzerland, or invite them to come to a gallery near you.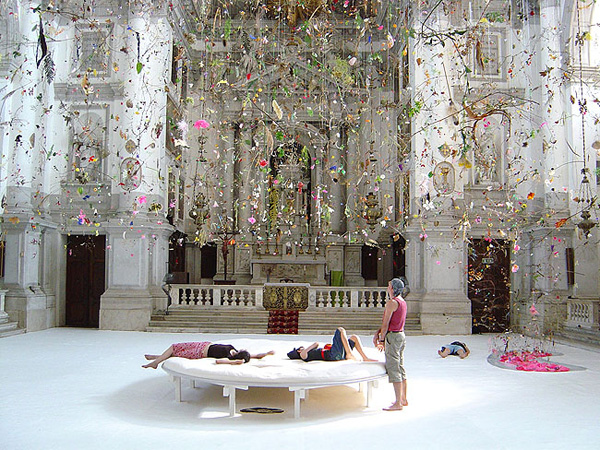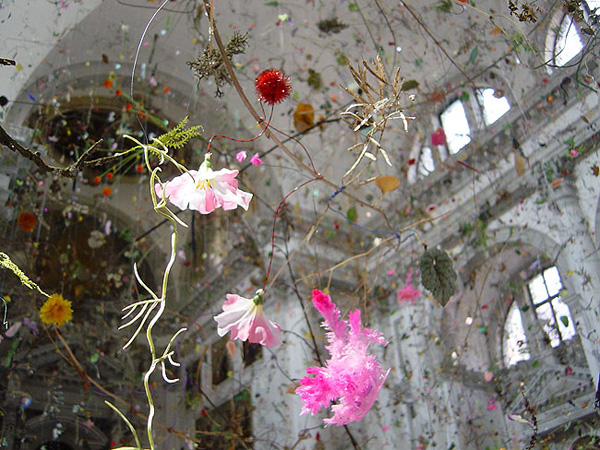 All images courtesy of the artists Gerda Steiner & Jorg Lenzlinger.
Anna Laurent is a writer and photographer. Her work explores how we look at plants, and how those plants behave.