During a visit to Los Angeles, a friend remarked to me that so many streets are named for things that to eat: Olive, Orange Grove, and Grape. Like dandelions in sidewalk cracks, these street signs peer through the city's neon and vinyl, a reminder that Los Angeles was once organized by boulevards of orchards, not Hollywood and Sunset.
Los Angeles was once organized by boulevards of orchards, not Hollywood and Sunset.
Fallen Fruit, a Los Angeles-based artist's collaborative that "uses fruit as a lens to investigate urban spaces, ideas of neighborhood and new forms of located citizenship and community," takes the connection between fruit and the city even further. David Burns, Matias Viegener, and Austin Young launched their collective in 2004, with a map of fruit trees in the Los Angeles neighborhood Silver Lake. This became a larger initiative to promote the idea of "common fruit," such as a fig tree whose harvest dangles over a public space, making the fruit legally eligible for public picking and consumption. A little locavore, a little urban farmer, it's a new way to understand a city: It's an edible geography that unites community and history.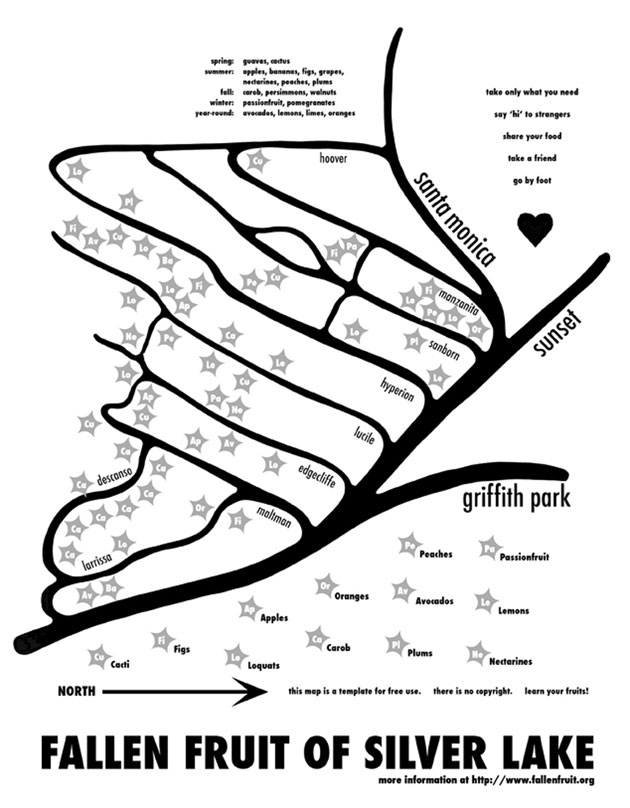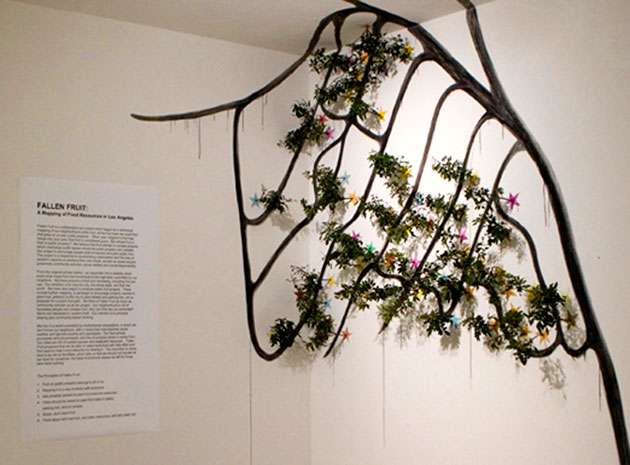 The Silver Lake map that launched the atlas (above), and its installation at Los Angeles' LACMA museum, 2005. Credit: Fallen Fruit.
For Fallen Fruit, to think about a city is to think about its fruit trees—past, present and future. By mapping neighborhood fruit trees, they have discerned patterns that don't always align with the paved streets. A map of the San Fernando Valley shows lines of almond trees reflecting the constellation of an old plantation that preceded the city. Areas around Los Angeles' I-5 are heavy with rows of pomegranates; the 101, avocado trees. And, across the sprawling city, lines of citrus trees connect the gardens and alleyways.
The maps are online (the fruit community atlas now include cities in Europe and South America) and the group encourage contribution. The idea is that neighbors will meet each other by way of a loquat tree as citizens will relearn their city, understanding it as a living archive of its agricultural history. There is also hope that a sidewalk's fallen fruit will not ripen in obscurity and that folks will be able to harvest the public bounty.

Fallen Fruit hosts Public Fruit Jams, in which communities bring fruit and make jam. Credit: Fallen Fruit, 2010.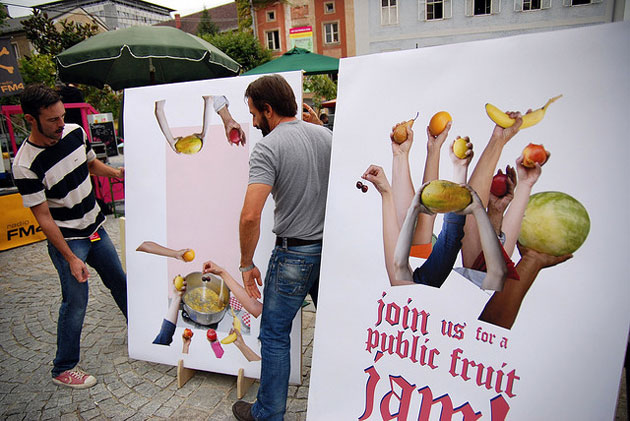 Fallen Fruit at Ars Electronica Los Angeles, 2008. Credit: Jonathan McIntosh, Flickr.
Anna Laurent is a writer and producer of educational botanical media. Photographs from her forthcoming field guide to Los Angeles are available for exhibition and purchase at the author's shop.