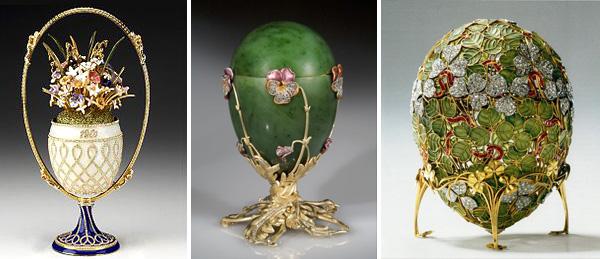 Photo by:
Flower Basket Egg (1901), Pansy Egg (1899), Clover Leaf Egg (1902); mieks.com
Royal courts have long been trend-setters and at the turn of the nineteenth century, a jeweler in Russia was fashioning the Russian courts' favorite collectibles: Fabergé Eggs. Designing eponymous eggs that commemorated events of the imperial family, Peter Carl Fabergé's tiny masterpieces filled the courts with whimsy, elegance, and flowers.
Botanic motifs adorned many of the most famous Fabergé eggs—in a cold country with unrelenting winters, flowers were especially celebrated by the Russian elite, as a symbol of privilege and spring's promise. The tradition began in 1885, when Czar Alexander III commissioned an egg to celebrate his marriage to Czarina Maria Fedorova. She called it "the greatest genius of our time," and so her husband would present her with a new Faberge gilded garden, every year.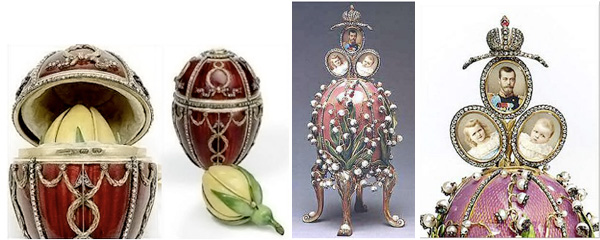 Rosebud Egg (1895); Lilies-of-the-Valley Egg (1898). Photo credit: mieks.com
When Alexander III died, his successor Czar Nicolai II ascended to the throne and resumed his father's tradition: an annual springtime egg to his wife, Alexandra. As the story goes, his new bride was homesick for her native Germany, in particular its famous roses. Nicolai's first Fabergé gift was the Rosebud Egg: festooned with golden laurel garlands, it opened to reveal a velvet-lined nest, on which blossomed a yellow rosebud with hinged petals and green enamel leaves. The rose was a symbol of love, and the young bride's homeland.
And the royal couple's reign continued to be trimmed with flowers: Empress Alexandra ensured that the palace was filled with spring floral bouquets, and her husband introduced new Fabergé blossoms. In 1898, he presented her with the Lilies of the Valley Egg, a gift designed in her favorite style (Art Nouveau), color (pink), and flower. The rose-pink egg was wrapped in vines of tiny lily pearl, one of which was a button. A twist of the hidden pearl reveals Fabergé's signature "mystery": three miniature portraits of the imperial family. It is said that this egg was Alexandra's favorite, and she kept it on her desk until the October Revolution of 1917. A model of imperial luxury and the optimism of spring, the Fabergé Eggs would also come to symbolize the opulence of a fallen monarchy. But while the divine right was dismantled, the flowers still bloom today.
Anna Laurent is a writer and producer of educational botanical media. Photographs from her forthcoming field guide to Los Angeles are available for exhibition and purchase at the author's shop.