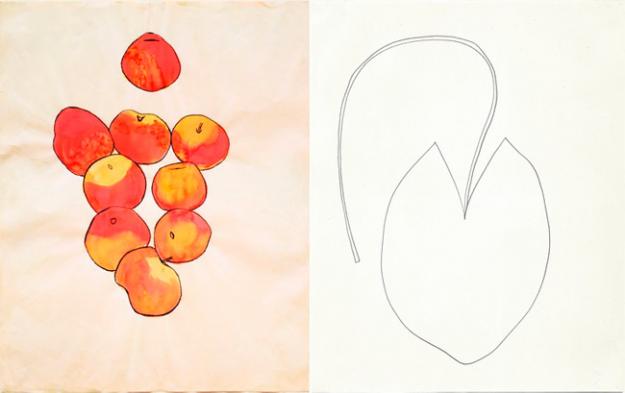 Photo by:
The Metropolitan Museum of Art. Ellsworth Kelly, Apples (1949), Water Lily (1968)
When Ellsworth Kelly debuted in the art world in late-1940s Paris, he launched a career that would become synonymous with bold, geometric paintings and abstract sculpture. But while the museum-public was viewing his panels of saturated color, Mr. Kelly, now 89, was pursuing a second, lesser-known study—drawings of plants. An exhibit of this work, spanning six decades, is currently on view at the Metropolitan Museum of Art. Including approximately eighty drawings, "Ellsworth Kelly Plant Drawings" is the first major museum show dedicated exclusively to his botanicals. As the show explains, this work wasn't an afterthought—it was a process that informed his iconic style.
Those familiar with Mr. Kelly's work might find this collection incongruous—his drawings of flowers, leaves, and fruit are largely contour sketches, rendered with simple strokes and muted colors. They are organic and fluid, unlike the controlled geometry of his better-known work. Yet both demonstrate a reductive abstraction that characterizes Mr. Kelly's style. As the artist explains, the plant drawings were "a kind of bridge to a way of seeing that was the basis of the very first abstract paintings."
As Mr. Kelly recalls in a Wall Street Journal interview, one of the first of these pieces was "Hyacinth," drawn in Paris in 1949. "It was cold and the hotels were not very well heated, so I bought a flower in the flower market and brought it into the hotel room to think about spring." When he moved to New York in the 1950s, he planted corn and sunflowers on the roof of his studio. He drew those. Wherever he traveled, he found a plant to draw. "Each drawing that I've done, I have found. Meaning, I see a plant I want to draw," he says in the show's catalogue. He found "Poppy" in a ditch on a drive to Big Sur; "Water Lily" in a pond in Bridgehampton; "Wild Grape" one summer on eastern Long Island.
Often drawn in the wild—whether in a roadside or a garden—each plant corresponds to a memory of its environment and its encounter. Mr. Kelly is careful to explain that each drawing is a "portrait" of the plant, rather than an "anonymous" specimen. "The most pleasurable thing in the world, for me," the artist once said, "is to see something, and then to translate how I see it."
In his abstract work, Mr. Kelly translated relationships between shape and color. In his plant drawings, Mr. Kelly has translated his love of the natural world and the botanic form.
"Ellsworth Kelly Plant Drawings" is at the Metropolitan Museum of Art, New York, June 5 through September 3.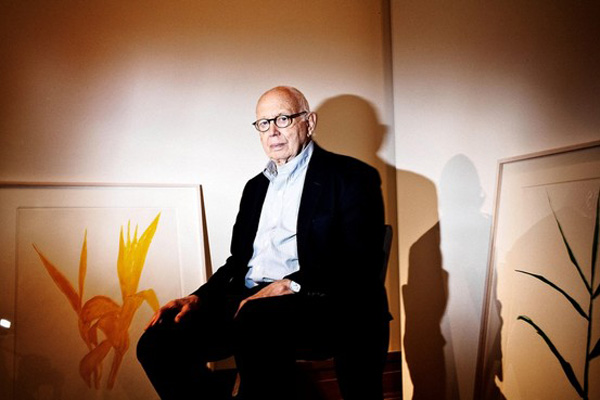 Ellsworth Kelly with two of his plant drawings. Photo credit: Philip Montgomery for The Wall Street Journal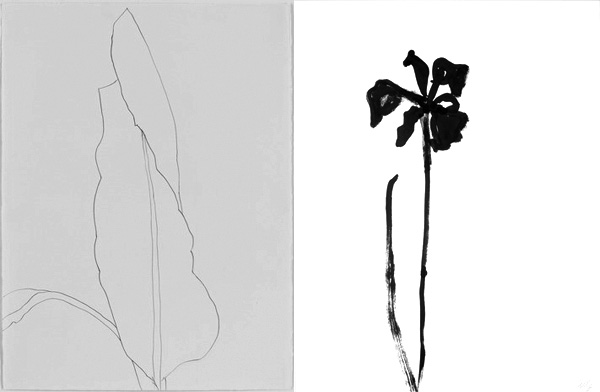 Ellsworth Kelly, Banana Leaf, 1992; Siberian Iris, 1989. Photo courtesy of the Metropolitan Museum of Art.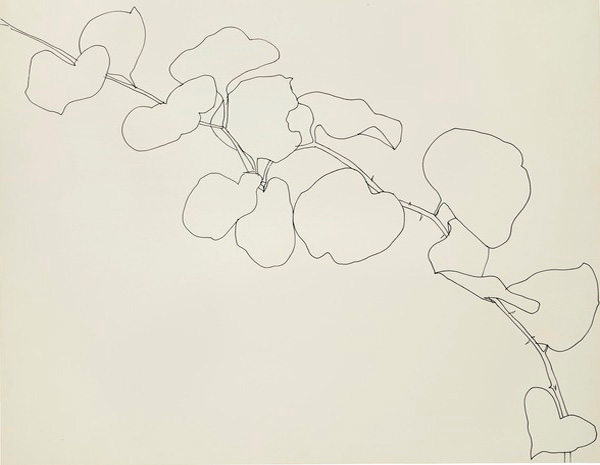 Ellsworth Kelly, Briar, 1961. Photo courtesy of the Metropolitan Museum of Art.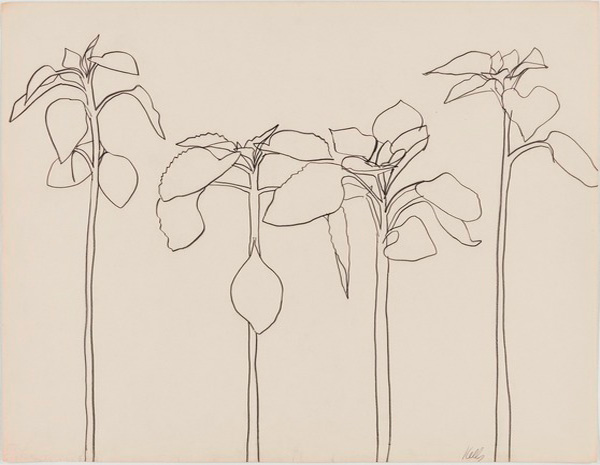 Ellsworth Kelly, Four Sunflowers, 1967. Photo courtesy of the Metropolitan Museum of Art.
About the Artist: Ellsworth Kelly (American, b. 1923) has been featured in major solo exhibitions at The Museum of Modern Art (1973), The Whitney Museum of American Art (1982), and the Solomon R. Guggenheim Museum, New York (1996), and his work is included in many prestigious American and international public collections. In 2002, his plantdrawings were shown alongside those of Henri Matisse, whom Mr. Kelly has long admired, at the Musée national d'art moderne, Centre Pompidou, Paris.