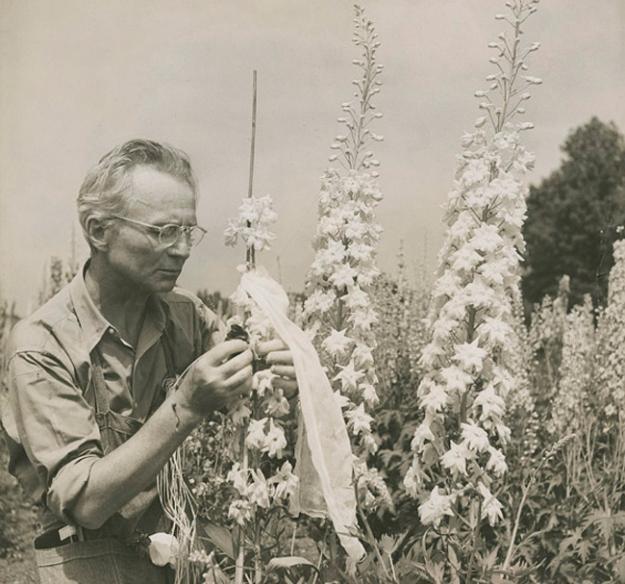 Photo by:
Edward Steichen Archive, VII. The Museum of Modern Art Archives. Edward Steichen with delphiniums (c. 1938) at his farm, Umpawaug House (Redding, Connecticut). Photo by Dana Steichen.
In 1936, New York's MoMA curated an exhibit in which the artwork wasn't displayed on walls or in glass cases. It didn't need dusting or polishing. Nope, all the pieces needed was a little watering and a high ceiling for their six-foot-tall purple spikes. The museum was showing new delphinium varieties, hybridized by Edward Steichen.
"Steichen Delphiniums" was a one-week show presenting delphinium varieties developed over twenty-six years by Edward Steichen, the photographer, artist, and horticulturalist. It was the first public showing of Steichen's flowers, and it was also the museum's first show dedicated to living flowers. They anticipated confusion over this point, and, in the press release, clarified the nature of the exhibit: "it should be noted that the actual delphiniums will be shown in the Museum—not paintings or photographs of them. It will be a "personal appearance" of the flowers themselves."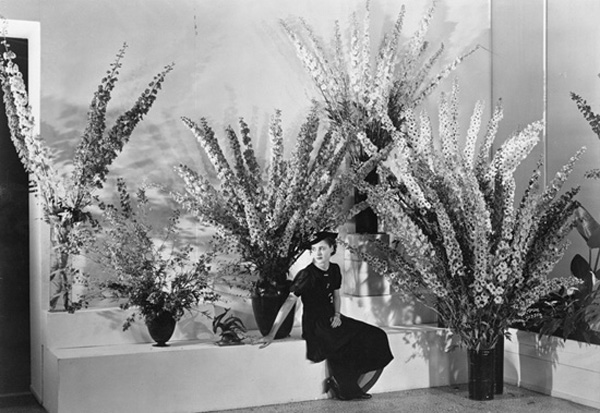 Installation view of the exhibition, Edward Steichen's Delphiniums. June 24, 1936 through July 1, 1936. The Museum of Modern Art, New York. Photograph by Edward Steichen
Steichen himself trucked the delphiniums into New York City from his flower fields in Connecticut, which, by that time, spanned four hundred acres (10 of which were devoted solely to delphiniums). Steichen brought them to New York himself He bred new varieties through cross breeding as well as genetic modification. A garden historian notes that Steichen applied colcichine, a chemical mutagen that induces chromosome doubling, which produced unusually tall delphiniums.
Steichen's breeding efforts earned him the title President of the Delphinium Society of America, and he held a gold medal from the French Horticultural Society (1913). He began the Connecticut farm in the early 1930s, after leaving his position as chief of photography for Condé Nast (including Vogue and Vanity Fair). More than ten years later, he would become Director of the Department of Photogrpahy at MoMA; for now, he was the artist who got delphiniums into the museum.
Two of Steichen's best known varieties were called Carl Sandburg (the Nobel Prize-winning poet was his brother-in-law and close friend) and Connecticut Yankees (1960), named for Mark Twain, who lived nearby. Steichen was especially proud of this hybrid, which he had bred to flower as a loose bush, rather than the tall stalk that characterizes the delphinium.
Carl Sandburg with the "Carl Sandburg" delphinium (c. 1938), Umpawaug House (Redding, Connecticut). Photo by Edward Steichen. Seed packet of "Delphinium Connecticut Yankees," bred by Edward Steichen (c. 1973). Both images Edward Steichen Archive, VII. The Museum of Modern Art Archives