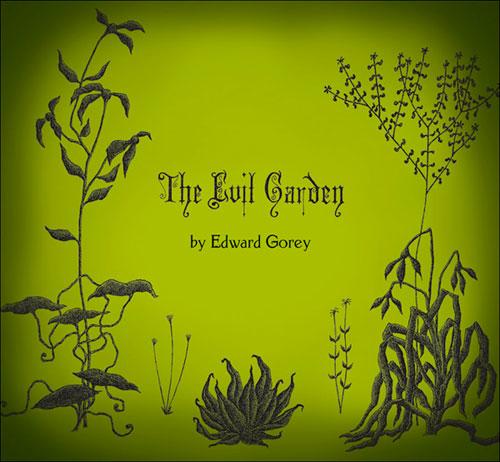 From leisurely strolls to intrepid expeditions, the annals of botanic exploration are fraught with tales of adventure gone awry, in which our protagonists are reminded that we are not the masters of our natural world. Embarking with a stack of field guides and a healthy wit, we may still emerge with coats of thorns or mysterious rashes, and, at the very least, respect for our botanic co-habitants.
In the tradition of such caveats comes a cautionary tale for botanic enthusiasts everywhere: The Evil Garden, an illustrated short story from the delightfully macabre archives of author Edward Gorey (1925-2000). Beckoned by the delights of a lush, enticing garden, a family traipses through nature's alluring gate toward the promise of a flowering sanctuary. But any notions of floral delights are replaced with grave encounters when the journey quickly turns dark. The hapless characters are besieged by the garden's plants, which turn out to have noxious aromas and other mysterious and repelling behaviors.

Panel 2: There is a sound of falling tears; / It come from nowhere to the ears
Panel 3: Alexa watches while her aunt / Is pulled feet first inside a plant.



Panel 1: How elegant! how choice! how gay! / To think one doesn't have to pay.
Panel 2: The gorgeous flowers have a smell / That causes one to feel unwell.
Panel 3: Her sash is lying on the ground / But Isabelle cannot be found.
A light-hearted narrative with foreboding moral allusions, The Evil Garden is emblematic of the author's genius. It is a lovely story that entertains, yet reminds us not to tread lightly, whether it is through the perils of the human condition, or the underbelly of the botanic world. Or as the closing lines of the book says, "The sky has grown completely black; / It's time to think of turning back. / Fall down, or scream, or rush about— / There is no way of getting out."
Long out of print, a new edition of The Evil Garden was just published by Pomegranate, in March 2011 ($12.95). Edward Gorey wrote many of his books under pseudonyms that were anagrams of his own name and The Evil Garden was published as "translated from Der Böse Garten by Mrs. Regera Dowdy" (an anagram), by Eduard Blutig (also a word game: "Blutig" is German—the language from which the book was purportedly translated—for "bloody," a synonym for "gory."
Here'a video of the book set to music by Eric Satie:

Anna Laurent is a writer and producer of educational botanical media. Photographs from her forthcoming field guide to Los Angeles are available for exhibition and purchase at the author's shop.