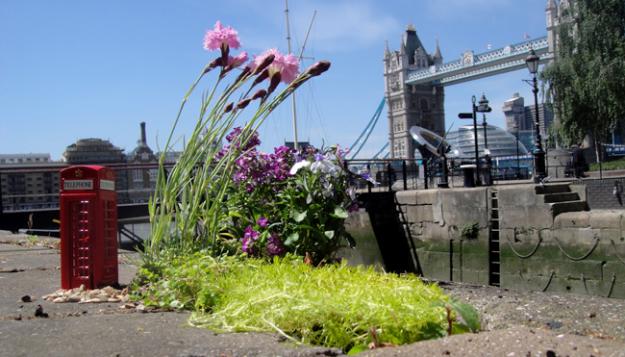 Photo by:
An iconic red telephone booth in a pothole by the London Bridge. Photo credit: Steve Wheen.
Four years ago, Steve Wheen began looking at potholes in his East London neighborhood a little differently. Naturally, they were a nuisance, but suddenly they also presented themselves as a vacant canvas in the urban monochrome. A pothole wants to be filled, but with what medium? He placed a few petunias in one pothole around the corner from his home. Blurring the distinction between protest and art, Wheen's little garden transformed the aesthetic of the neglected street, and drew attention to a community issue—in a charming way.
Since that first petunia installation, Wheen has been cultivating miniature green worlds in the asphalt cracks, pavement crevices, and masonry gaps in London, and in cities around the world. The artist/activist has also taken on a street name/superhero pseudonym: the Pothole Gardener. His mission: to encourage people to "think about where they live and their environment, and to think about getting out there, doing some gardening and helping the community."
Over time, the Pothole Gardener has expanded his protest tools to include miniature armchairs, tennis courts, and telephone booths. While many of his gardens are illustrated with narrative props, they are bereft of people. It gives the gardens a peculiar feeling of anticipation—the little gardens are scenes from a story, prompting audiences to peer over the curb to search for their miniature inhabitants. It's a lovely way to integrate the small space with the sprawling landscape, and to expand one's focus to the city at large.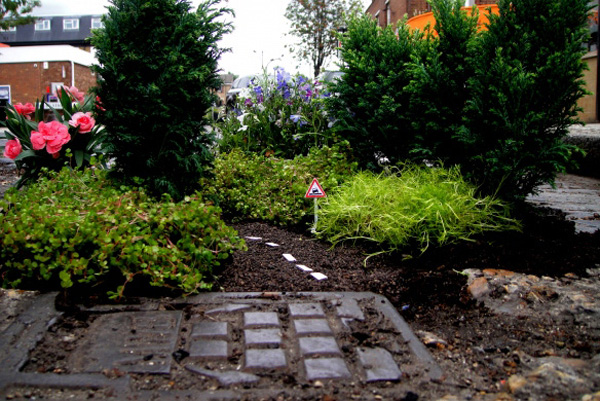 A garden in a pothole, warning of hazards in the miniature road. Photo credit: Steve Wheen.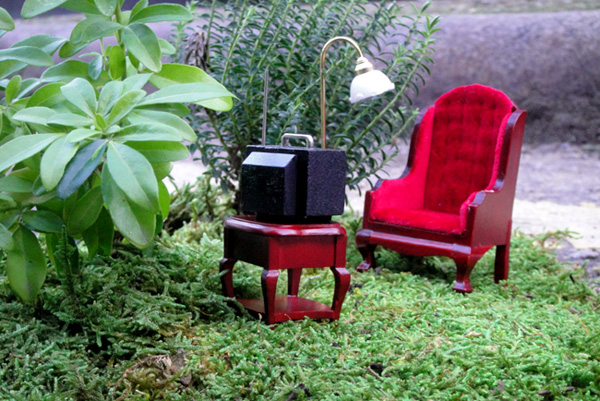 A living room scene in the street. Photo credit: Steve Wheen.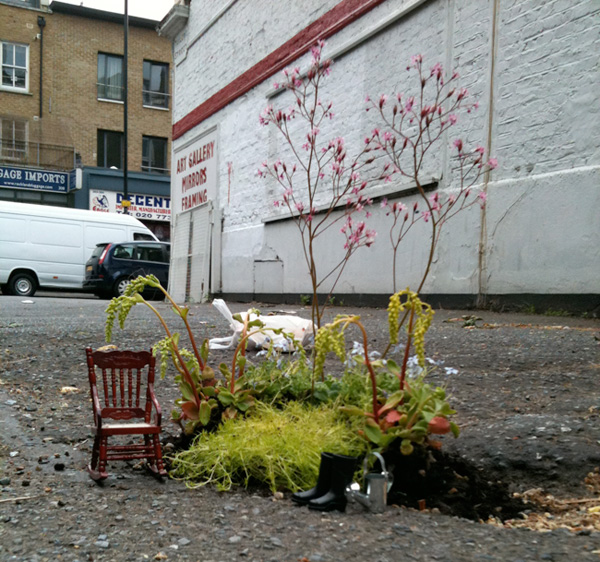 A rocking chair, watering can, and rubber boots. Photo credit: Steve Wheen.
Wheen has also found that, while his landscapes are small, they afford room to highlight other goings-on, such as London's Jubilee, (Camilla, Duchess of Cornwall, stopped by to admire the little garden), the summer Olympics (little plots included gymnastic rings, a long jump, and eight interlocking rings of grass), and Milan Design Week (Wheen filled the streets with petunias sprouting from Italian shoes). Some of his gardens are more personal, the issues more local. Last year, Wheen designed a sidewalk nest of grass, daisies, and a miniature bicycle, to commemorate his own, recently stolen.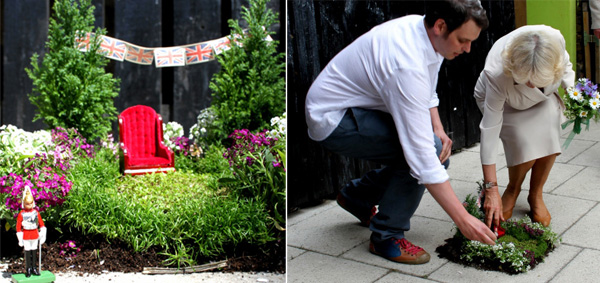 A garden for the Queen's Jubilee (left); Steve Wheen & Duchess Camilla at the garden (right). Photo credit: Steve Wheen.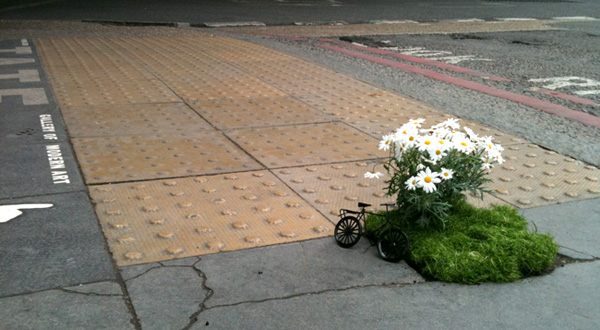 A garden for the stolen bicycle. Photo credit: Steve Wheen.
The Pothole Gardener's new book, The Little Book of Little Gardens, is now available on pre-release on Amazon, and a video about people's reactions to his work. We asked him to tell us a bit about it.
Garden Design: A city street is not a gentle place! How do you choose a location that will be safe from the traffic and elements?
Steve Wheen: I really only garden on the footpath, never on busy roads. I think the very fact that the city street is not a gentle place makes the little gardens even more special. My gardens are ephemeral by their very nature, which is why I think people are so excited when they come across one.
GD: You've done gardens for the Olympics and the Queen's Jubilee. Any other themed designs? How do you come up with a motif when it's not tied to a particular event?
SW: I've done loads of themed gardens, including the royal wedding, a Love London garden after the royal wedding. My gardens are a creative outlet for me, so anything that is running around in my head I'll try and form a garden out of.
GD: You brought your gardening abroad, to Milan for this year's Design Week. Any other international locations planned? Or any pothole-pocked cities you'd love to spruce up?
SW: I'd love to travel more and do more gardens around the world. I've gardened in New York, Bristol and India in the past year. What I find really exciting is when people send me photos of their pothole gardens.
GD: The miniature props are fantastic. The scenes are so inviting, it's almost a tease not to be able to sit in the chairs. Do you build them yourself?
SW: Sometimes, or people send them to me.
GD: What happens to the gardens when you disassemble them?
SW: I usually leave them where I plant them! Sometimes I glue down the props so they stay there for longer.
GD: Pedestrians have such pleasant things to say about your work. What are some of the best responses you've heard?
SW: Watch [my video], Holes of Happiness. I love it when people try and rationalize the gardens: Why are they there? Why am I doing this? A lot of people think I'm mad.
GD: Does the scale of pothole gardening ever feel limiting?
SW: I think rather than limiting, it is liberating. There is something about miniatures which is very inspiring. Children play with miniature cars etc for hours on end and I think somehow my gardens are helping people to reconnect with their inner child.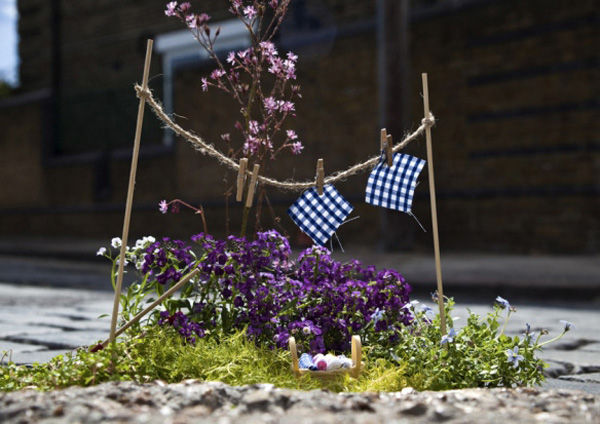 Hanging the laundry out to dry in the street. Photo credit: Steve Wheen.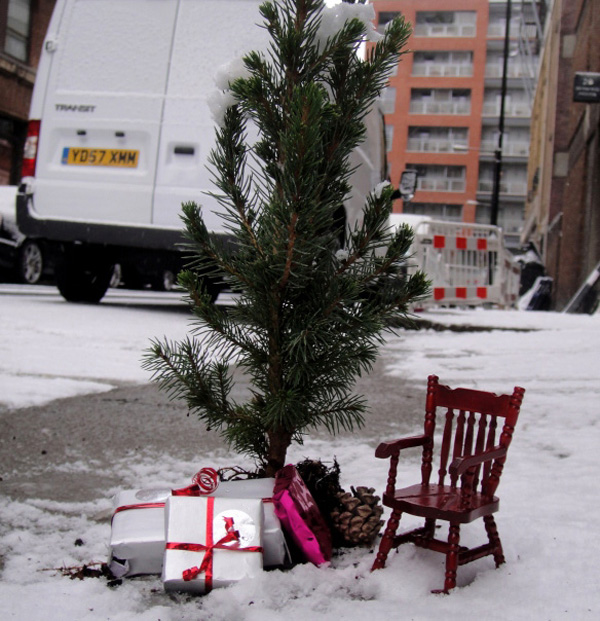 A Christmas tree, just smaller. Photo credit: Steve Wheen.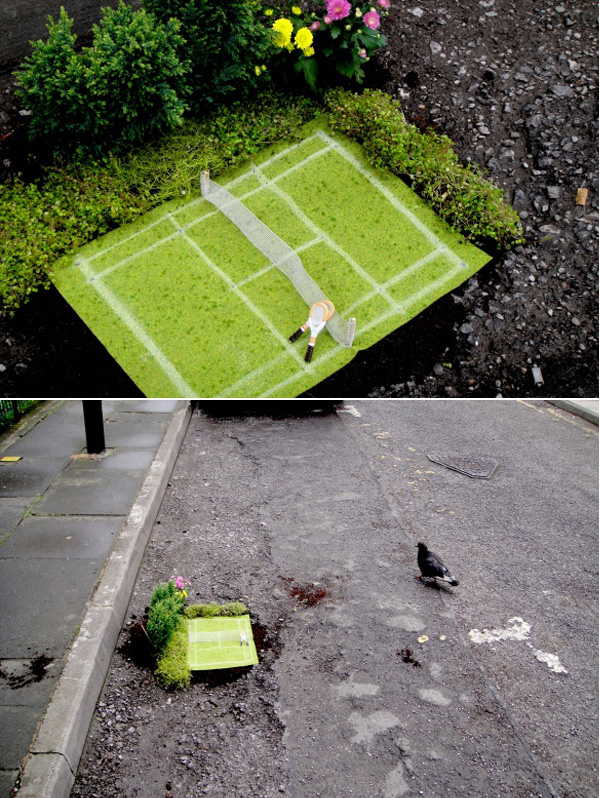 Tennis courts. Photo credit: Steve Wheen.