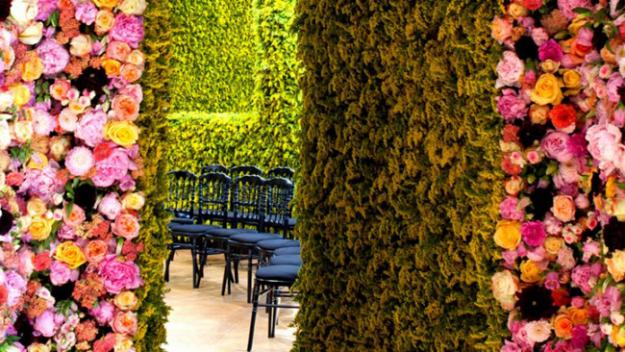 For his debut show as Dior's creative director, designer Raf Simons stitched together a setting reminiscent of the fashion house's founding themes—femininity, romance, and flowers. Once again, the house of Dior was a house of flowers.
"I have designed flower women," exclaimed designer Christian Dior in 1947 when he launched Corelle, his first collection (Corelle is French for corolla, a circle of flower petals). Inspired by his own love of flowers, he designed soft, voluptuous silhouettes that redefined the female figure. Last month, for the Autumn/Winter 2012 show, Belgian designer Simons put on a show that reflected the house's founding aesthetic.
To prepare the collection, the new director looked through the fashion house archives. Simon noted that Dior had been inspired by more than just a flower's color and delicacy—he also studied its architecture. Simon's collection reflects the same attention to floral form. A full skirt stemmed into a slim bodice, echoing an upturned tulip; the bust detail on a dress overlapped like layered petals.
On a Monday afternoon in Paris, Simons inaugurated his entrance to the world of Dior with floor-to-ceiling tapestries of fresh flowers. It was a runway wallpapered with fragrance and intense color. The audience was seated in five connecting salons, each dressed in flowers: blue delphinias, white orchids, peonies, dahlias, and roses. It was his first show with Dior, and he designed a collection, and an experience, that was an homage to Dior's legacy.
The installation itself—the work of 150 people over several days—was an all-night affair. A video shows the cutting, sorting, assembling, and frenetic bustle—flowers on mechanized lifts entering through windows; designers in black, meticulously arranging stems in vertical carpets. It's a typical fashion-show-behind-the-scenes video, except that the medium is flowers instead of fabric. Not too dissimilar, according to the house of Dior.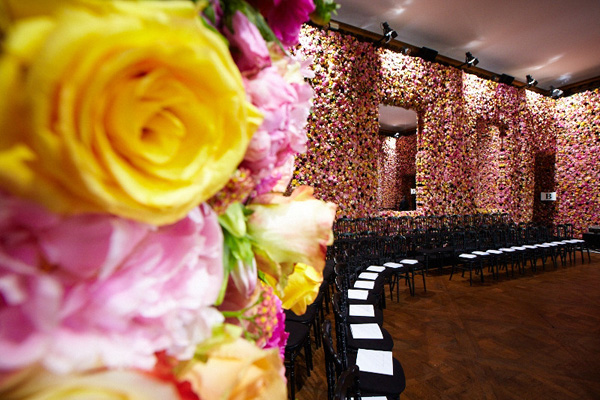 Photo credit: Daniel Beres
Photo credit: Daniel Beres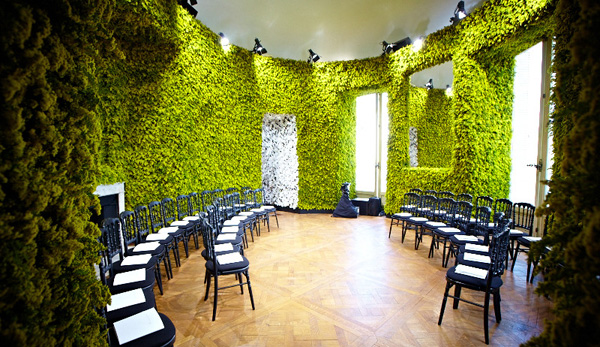 Photo credit: Daniel Beres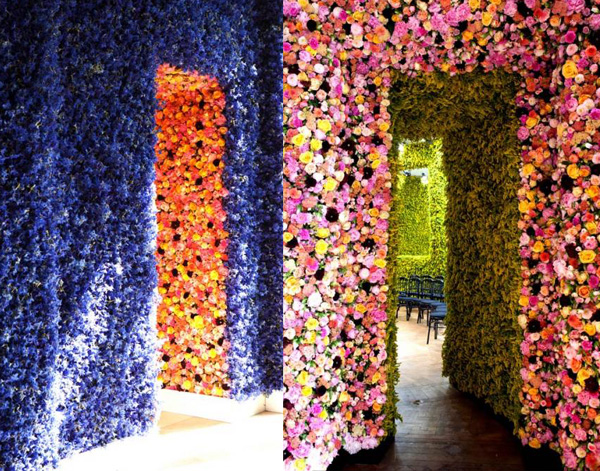 Photo credit: Dior Magazine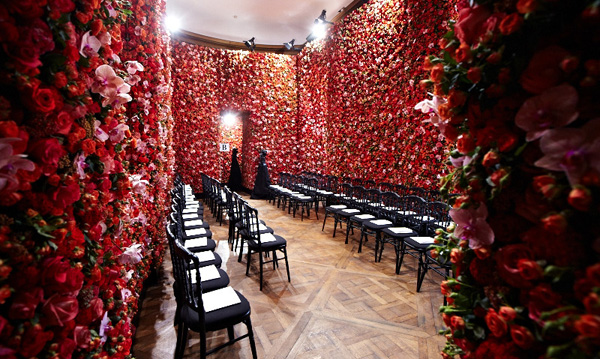 Photo credit: Daniel Beres