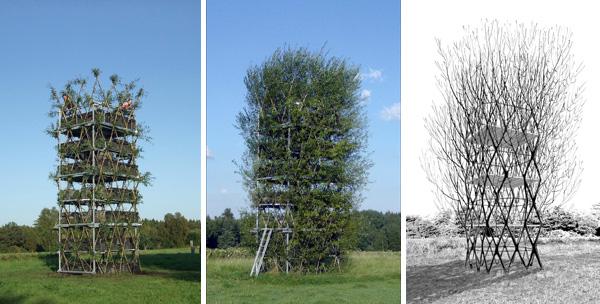 "Enough of the machine — I want to build the limbs of nature."—El Lissitzky, 1924
At the University of Stuttgart, Germany, a new architectural discipline is evolving, with leaves, branches, and roots. Founded by three Ph.D scholars, Baubotanik (Botanic Architecture) is a research group that is constructing living architectural structures out of living plants, where dwellings are shaped with hedge trimmers, and bridges are supported by bundles of willow stems. In the Baubotanik school, design begin with a blueprint, but is not fully realized with the apparent conclusion of construction. In fact, Baubotanik buildings are never finished, as it is the trees themselves who are the final designers. The architects are gardeners, and the plants are architects.
"Normally architecture is very static," says Oliver Storz, founding engineer of Baubotanik. "This is the first time a process is part of the architecture that changes it all the time—through the years, and also through the seasons." As an expression of modernist architecture, Baubotanik applies the ideals of the long-pursued green utopia. It is also an application of design principles that began in the 1920s, with El Lissitzky, László Moholy-Nagy, and Mies van der Rohe, who believed that organic forms offer a structural prototype upon which the built environment could be based.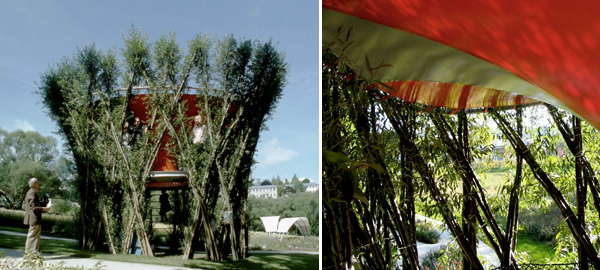 Bird-watching station, Mainau Island, Germany; photo credit: Baubotanik
The architects begin with stabilizing elements—iron rings, polyester bands, steel grids—and environmentally-appropriate plants that are designed to grow around the armature, becoming stronger at structurally-critical junctures. "Plants have learned to carry heavy loads," says Ferdinand Ludwig, the team's biologist and botanist. "We want to explore what is possible when trees are re-thought as building support structures." After a period of natural growth, the reinforcing elements can be removed, and the structure is comprised entirely of plant elements. By leveraging the "constructive intelligence" of organic forms, Baubotanik architects have designed a pedestrian bridge, a bird-watching house, and a willow pavilion.
One upcoming project—a twenty-meter bridge on the river Neisse—will require seven years to grow. They can only speculate on what the final bridge will look like. And that's a good thing, says Hannes Schwertfeger, principle architect. He said, "Spontaneity is based on a specific point of surprise ... We love, and adapt to these moments ... It is difficult to draw an absolute line between nature and intellect, between botany and architecture."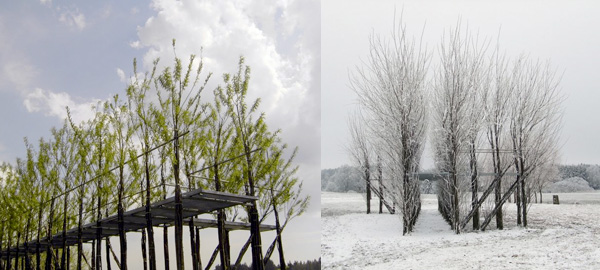 Footbridge, in summer and winter; photo credit Baubotanik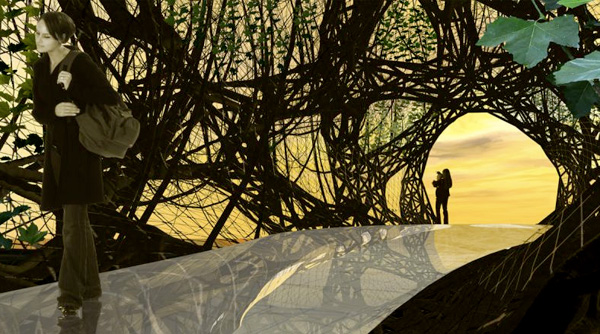 Inside the Living Air Bridge (rendering); photo credit Baubotanik
Anna Laurent is a writer and producer of educational botanical media. Photographs from her forthcoming field guide to Los Angeles are available for exhibition and purchase at the author's shop.