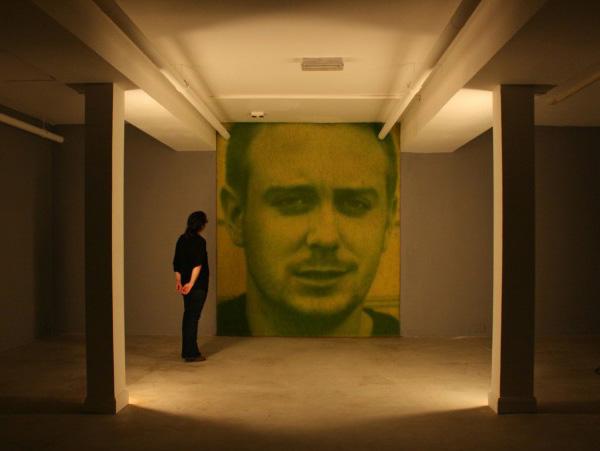 Photo by:
Ackroyd & Harvey; Park Ave + Resident (2011)
British artists Heather Ackroyd and Dan Harvey use grass to make pictures—"living" photographs. Wielding the traditional tools of the artist and the gardener to harness a plant's natural photosynthesis, their process is a nice synthesis of art and science. Harvey describes their natural medium, saying, "The grass has a certain importance because of the simplicity of the blade. By nature it slightly grows towards the light." Adapting this principle, the artists cultivate grass that reacts to the light by growing in different shades, from green to yellow, depending on the amount of light it receives from a custom negative.
They have even collaborated with scientists to develop a special grass for their ephemeral work. For the past decade, the artists have been wielding it to create a series of time-based pieces. They've seeded a series of portraits and 'living' landscapes, blanketed the interior of a church, and lettered a manuscript.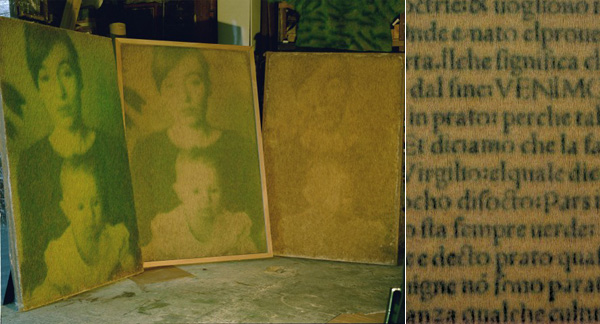 Presence (2002), Isabella Stewart Gardener Museum. The portraits show stages of growth, and the gradient possible in the artists' technique. The lettering shows its detail.
"These sunbathers are literally inside a meadow. The pebbles they lie on, mutating into blades of grass, recede into the distance to metamorphose into constellations. People have become landscape, stones have become sky."
—Leslie Forbes, from the Sunbathers catalog.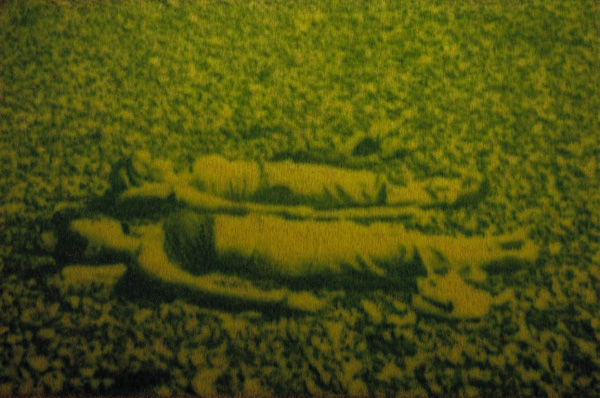 Sunbathers (2000). Originally developed during an artist's residency, and subsequently commissioned for exhibits at Exit Art, Soho, New York (2000); Isabella Stewart Gardner Museum, Boston (2001); Aberystwyth Arts Centre, Wales, U.K. (2002); Fotosintesi, Metronom, Barcelona, Spain (2004).
"Both landscape and portraiture have traditionally tried to capture a 'moment', as if all that mattered was surface dynamics and stasis whilst ignoring the complexities under the surface. An Ackroyd & Harvey artwork grows, literally." —George McCartney, curator of Park Ave + Resident exhibit.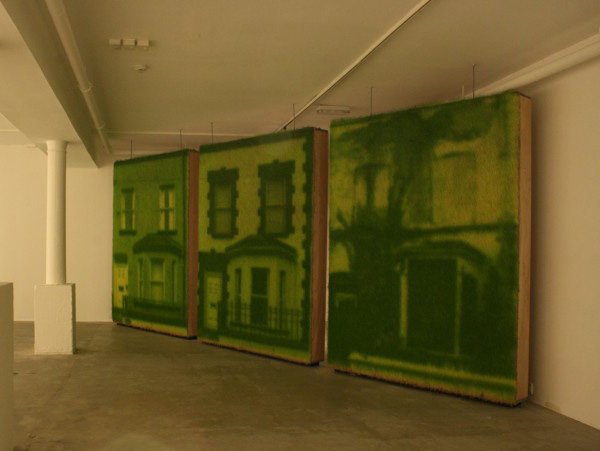 Park Ave + Resident (2011). Void, Derry, Ireland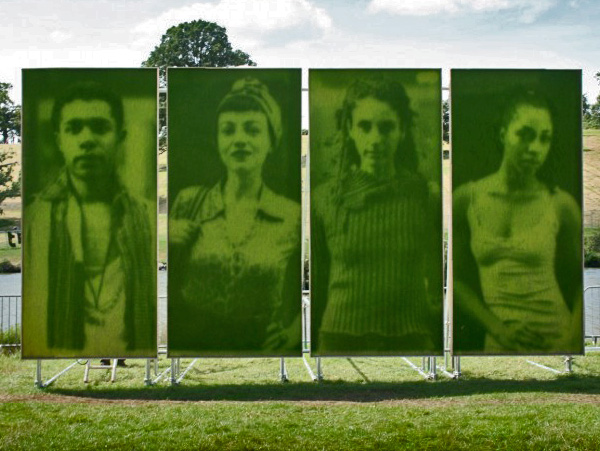 Big Chill (2007). Created for a three-day cultural festival at 
Eastnor Castle Deer Park, Herefordshire, U.K.
Some of their projects don't emulate photographic processes, they just use lots of grass. In 2007, they cultivated grass on two faces of London's National Theatre landmark tower (below).
FlyTower (2007). National Theatre, London.
Applying their controlled lawn in a deconsecrated church, the artists turned the abandonded space into a verdant green chamber (below). The artists thought the church was a good candidate for the metaphor of resurrection through grass, light, and art.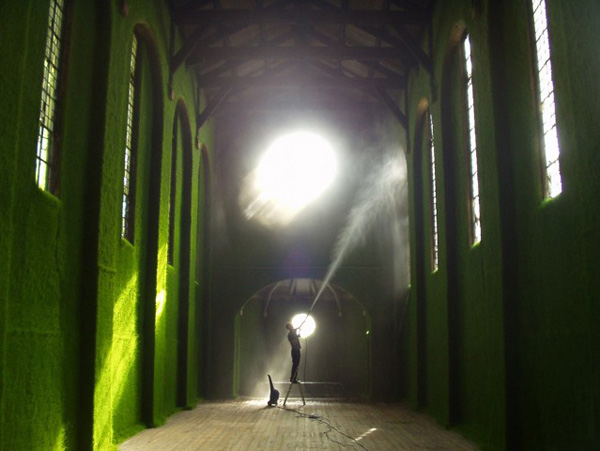 Dilston Grove (2003). Former Clare College Mission Church, Bermondsey, London.

Here's a more detailed explanation of the artists' process:
"[The artists'] project images on specially prepared clay screens of implanted grass. They are revisiting the early photographic techniques of over a century ago while using today's most advanced studies in plant breeding. As the seeds germinate each individual emergent blade of grass produces a concentrate of chlorophyll that corresponds to the amount of light it receives. If the light is absent the blade grows quickly and stays yellow. The green pigment is activated by light and in this way grass images are created. The stay green process, using a specially developed grass, stabilizes the transient image, which in time will fade."—Isabella Stewart Gardener Museum, 2002.
All photographs courtesy of the artists.
Anna Laurent is a writer and photographer. Her work explores how we look at plants, and how those plants behave.