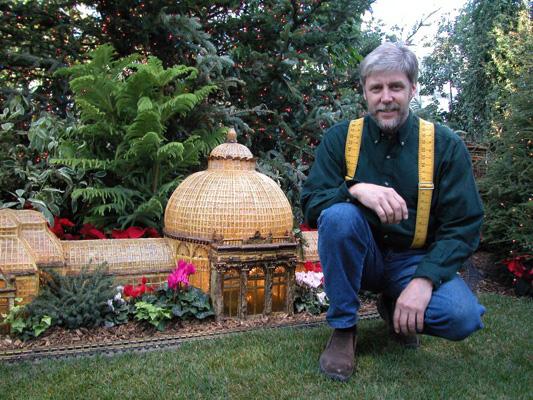 Plants have long been loved by architects. From the leafy corinthian columns of Greek antiquity to the botanic abstractions of organic modernists, our built environments are often inspired by the natural world in which their footprints are placed. And there's no pretense of illusion for most buildings—Frank Lloyd Wright's concrete floral motifs are not easily confused with the bright pink hollyhocks that grow nearby.
These distinctions are not so clear in landscape architect Paul Busse's portfolio—a fantastic world of temples, bridges, monuments and castles—because he doesn't use traditional materials at all. A botanic enthusiast and a history nut, Busse's media is exclusively botanic, and his buildings are models of iconic structures.
A lighthouse tower is tiled with eucalyptus petals, while another roof is plated with magnolia leaves. And, to reassure those who fear slipping into the mirage and waking up on a pillow of oleander fluff, I should add that the verisimilitude has a safe limit: all of Busse's designs are made in miniature.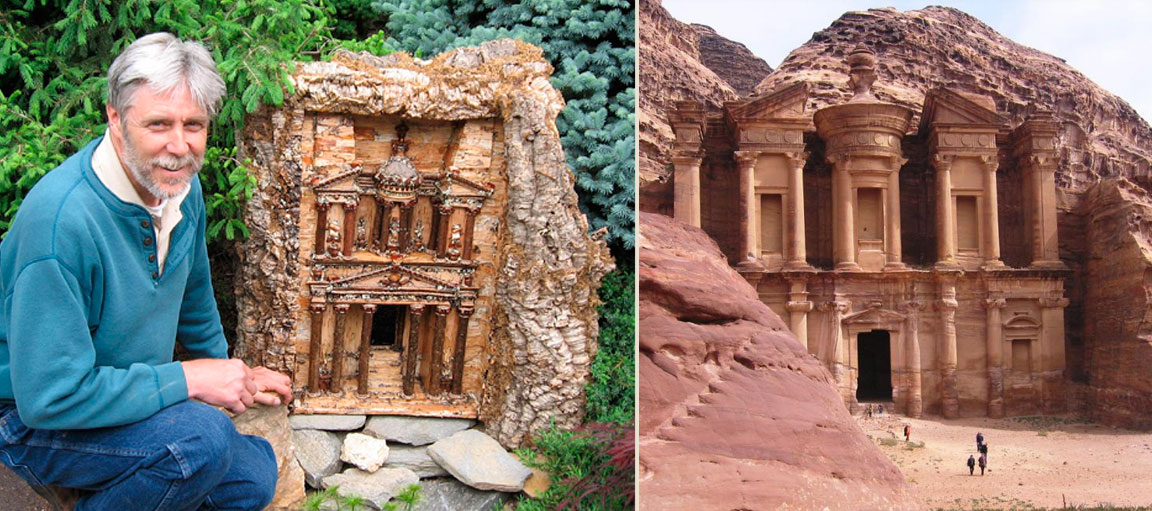 Busse and his model of Petra; the original Petra
Photos by libbyrosof, Flickr (left) / travelsplendid.com (right)
On his map, the Brooklyn Bridge is 28-feet long and 14-feet high, and the Hagia Sofia's four spires could be easily tapped with a finger (though you'd have to bend over a bit). A windmill's weathervane whale is fashioned from a piece of yucca, a trestle bridge from willow twigs, and wrought-iron railings from grape vine tendrils. A viewer soon realizes that poppy seed pods are wonderful urns, and almost expects a tractor to trundle along on its lotus pod wheels. Busse, a 72-year old in suspenders that read "Still Plays With Trains," likes when people recognize the building first, and the materials second, exclaiming "'Wait, those are acorns!" He says, "then we've crossed that threshold of making it feel right."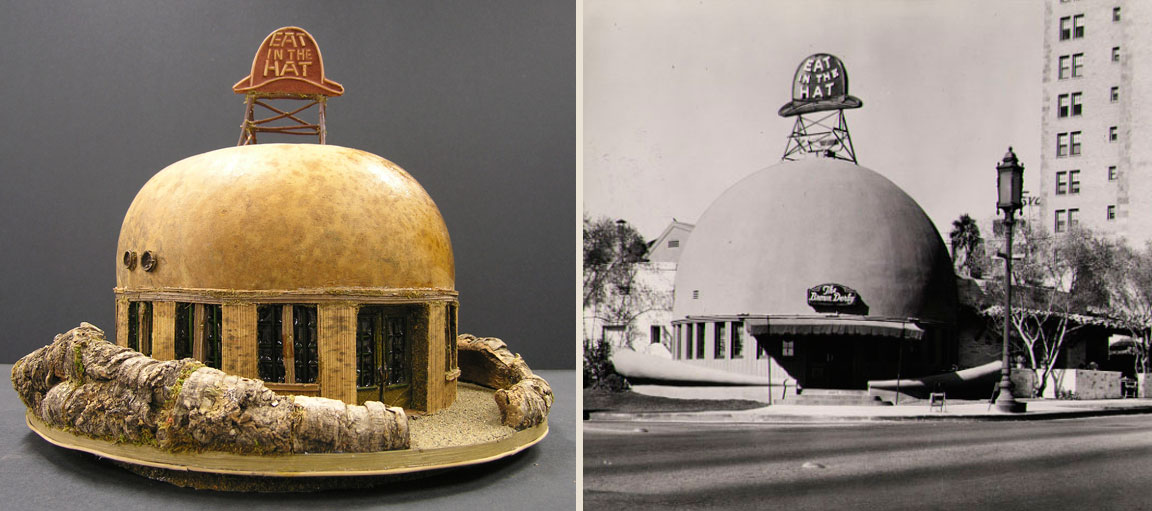 Los Angeles' historic Brown Derby restaurant by Busse (left) and the original (right).
Photo by Paul Busse (left); California Historic Society (right).
Busse's botanic buildings last for years. "It takes about one hour to dust off the display after it has been in storage and we usually have to reglue a few acorn tops, but surprisingly, there is little maintenance from year to year," says Brian Busse, Busse's son, of their U.S. Capitol model.
Paul Busse's studio, Applied Imagination, is based in Kentucky, and his work is exhibited at national botanic gardens and museums. For New Yorkers, his traveling world has marked the start of the holiday season since 1992, when the New York Botanical Garden first hosted Busse's Holiday Train Show, a miniature cityscape of some 140 landmarks (including the Statue of Liberty, the Chrysler Building, as well as now-demolished Manhattan mansions). It spans a quarter mile and includes orange slices nestled amid the buildings.
Anna Laurent is a writer and producer of educational botanical media. Photographs from her forthcoming field guide to Los Angeles are available for exhibition and purchase at the author's shop.