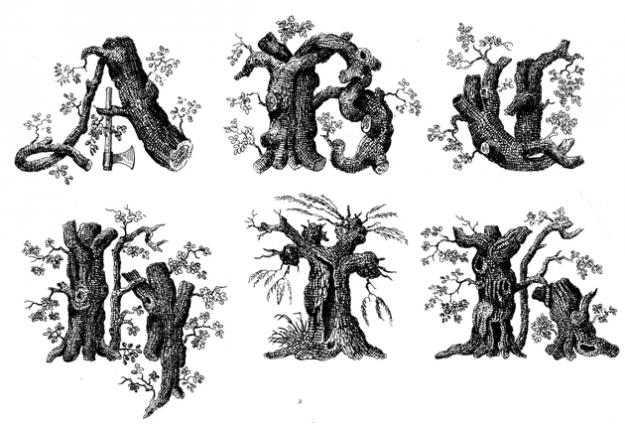 Photo by:
Joseph Balthazar Silvestre, 1834
Botanic motifs flourished in Victorian design, and typography was no exception. Ornate filigree details and calligraphic embellishments were often designed as stylized flowers, leaves, and even trees, around the alphabet characters.
I discovered a beautiful collection of several Victorian-era botanic-inspired typefaces in Florid and Unusual Alphabets, published by Dover (1976). Many of these alphabets are, quite literally, florid designs, in which the elaborate letterforms are trellises for flowers, or are the plants themselves. As the book notes, the alphabets are selected from four famous typographic albums of the nineteenth century; the designers are referred to as "reckless Romantics." The book catalogs designs of the typographic garden, where the styles vary—from formal to very fantastic—and all exhibit intricate engraving, an incredible mastery of detail, and a tip of the gardener's hat to botanic forms. Below are sample works from two designers included in the book. The book's images are copyright-free and available for reproduction by the book's purchaser (according to Dover).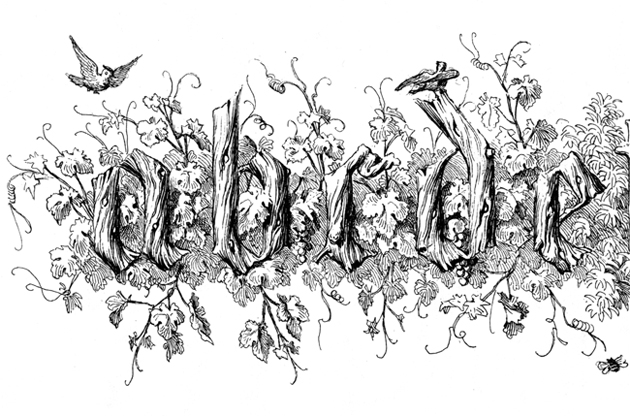 Karl Klimsch
Karl Klimsch (1841-1926) was a lithographer, type designer, and, perhaps not surprisingly, a landscape painter. With trees as his armature (above), Klimsch designed an alphabet (upper and lower cases) that attracted many birds and butterflies. Many of his uppercase letterforms have different leaves, and a discernible grape vine hangs on the capital M.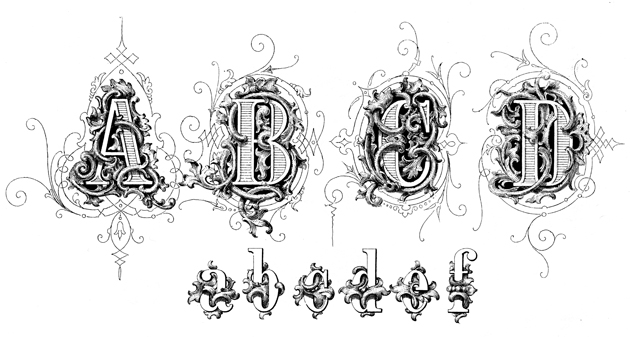 Karl Klimsch
Here, Klimsch's classical letterforms (above) are enveloped by verdant undergrowth and a whimsical floral dalliances.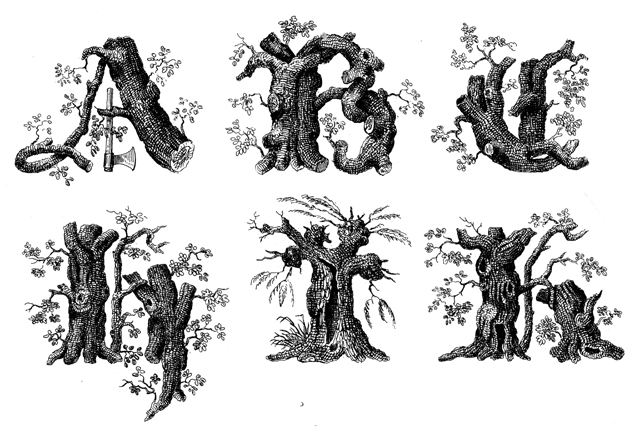 Joseph Balthazar Silvestre
The alphabets by Joseph Balthazar Silvestre are from his ornately-titled book Collection de Soixante Feuilles d'Alphabets Historiés et Fleuronnés, tirés des Principales Bibliothèques de l'Europe (Paris, 1843). His "Tree Alphabet" (capital letters only) is a fairy tale forest of mysterious dark nooks and details that begin to tell its own story: an axe in the A, and a snake in the V.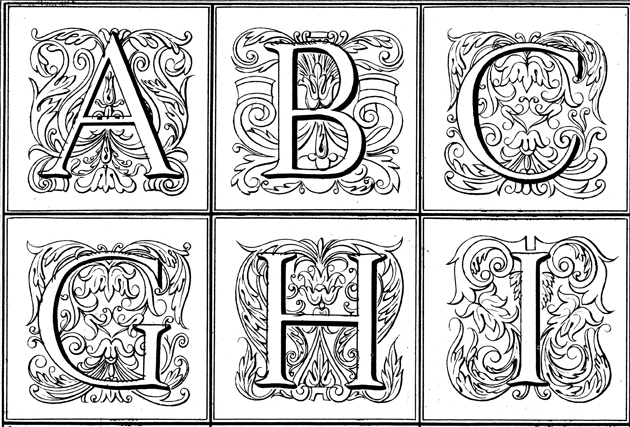 Joseph Balthazar Silvestre
Silvestre's storybook capitals are an alphabet of small flowers and ornate vines. It was inspired by a 17th-century Italian manuscript found in the Library of St. Mark's in Venice, Italy. Unlike some other more illustrative alphabets in the book, where you might miss the letters for the forest, Silvestre gives priority to the letters here.
Anna Laurent is a writer and producer of educational botanical media. Photographs from her forthcoming field guide to Los Angeles are available for exhibition and purchase at the author's shop.