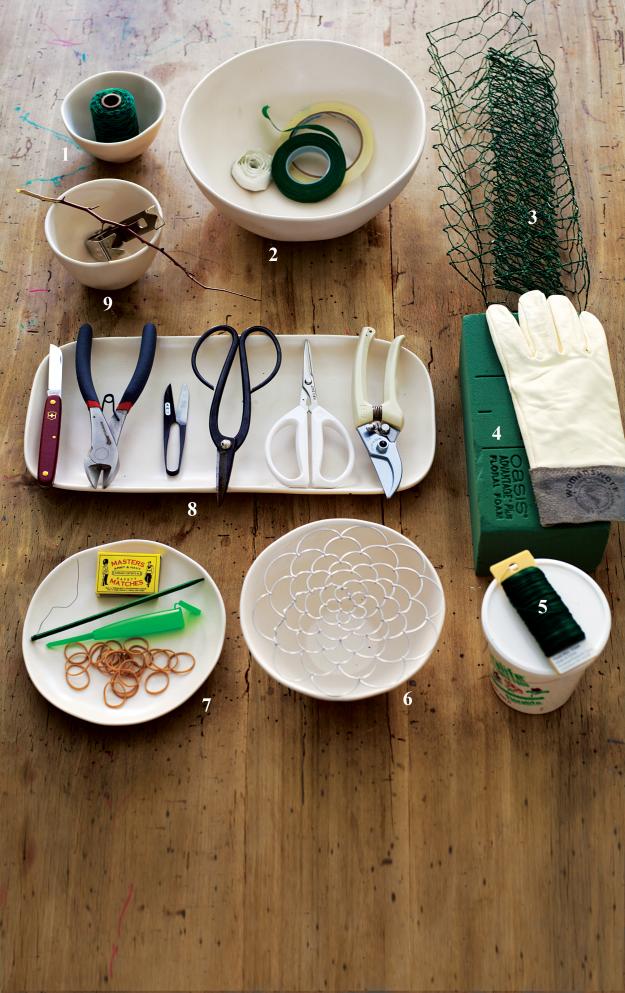 See also: Floral Toolbox, Long-Lasting Flowers and Greens, Vase Variety and Flower Frogs
1 Waxed green florist twine is great for tying bouquets and bunching branches.
2 Cling floral adhesive secures flower frogs in a container; use stretchy floral tape to hold bouquets or create a grid atop a vessel; waterproof Oasis tape anchors floral foam.
3 Floral netting can be shaped to fit inside a container and used to anchor thicker, heavier branches.
4 Oasis floral foam holds water and can be cut with a knife to fit any vessel; white goatskin gloves provide a good grip and protect hands from thorns and sap.
5 Paddle wire secures woody material and tethers wreaths; flower preservative contains germicides, acidifiers, and sugars to help prolong the life of the blooms.
6 A metal doily straddles a vase or bowl opening, holding stems and branches in place.
7 Use matches to sear the ends of milky-stemmed flowers, such as poppies, to increase their life span; a flower pick will anchor a short-stemmed bloom in foam; water tubes keep stems used in boutonnières hydrated; elastic bands secure bouquets and arrangements.
8 Cutting tools include, from left, a florist's knife to quickly trim stems; wire cutters to clip floral wire; Japanese thread snips to perform delicate work; heavy-duty shears to tame thick stems; multipurpose scissors to cut almost anything; comfortable, lightweight pocket secateurs to hack through big branches.
9 Stem cleaners quickly and safely remove thorns from roses.
Shop for tools at dorothybiddle.com. Vessels are from Donna Karan Lenox tabletop collection and can be found at neimanmarcus.com.

This article was first published in Garden Design
April 2011