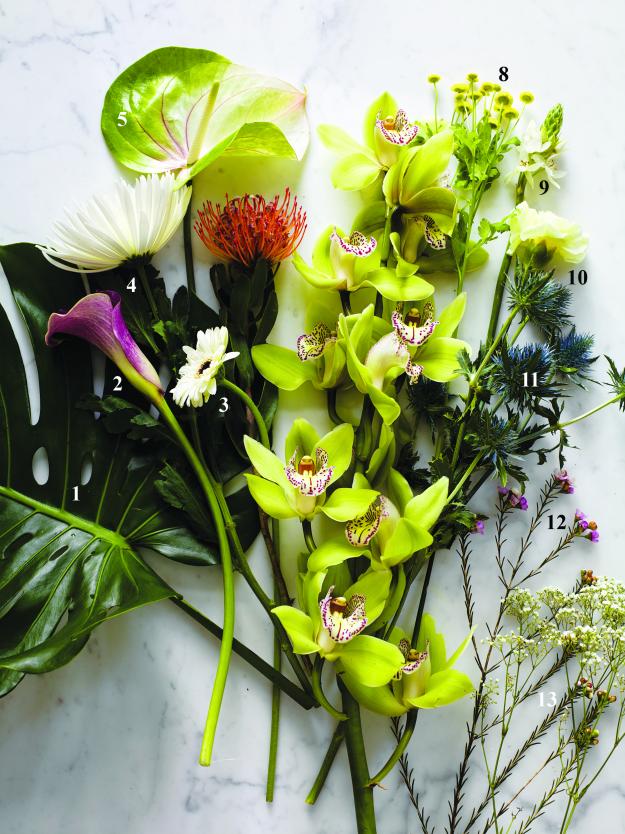 See also: Floral Toolbox, Tools of the Trade, Vase Variety and Flower Frogs
1 Philodendron Waxy and tough, these leaves stay fresh for ages if you change the water regularly.
2 Calla lily Place several stems, cut to the same length, in a vase to create a clean, modern arrangement.
3 White Gerber daisy An alternative to the standard daisy, it bends playfully in different directions.
4 White chrysanthemum To avoid rot, remove all leaves that sit below the surface of the water. This applies to all flowers.
5 Anthurium Leave stems long and arrange in a tall, narrow vase.
6 Protea A single stem works well in a tall bottle or cut short in a bud vase.
7 Cymbidium orchid Float flowers in a low bowl, or mix whole stems with assorted leaves.
8 Button chrysanthemum Use these blooms to add an informal wildflower note to arrangements.
9 Star of Bethlehem Arrange a few stems in a tall, narrow-neck vase. Cut fleshy stems regularly to keep flowers fresh.
10 Carnation Trim short and use to cover a mound of floral foam set in a low bowl.
11 Sea holly Its intense texture and blue color can offer a great contrast to more delicate blooms.
12 Waxflower Kept tall and loose, it adds a pretty, organic touch to a mixed arrangement.
13 Baby's breath The parsley of flower arrangements, this often discarded floral garnish is very dramatic when massed in a black urn.

This article was first published in Garden Design
April 2011