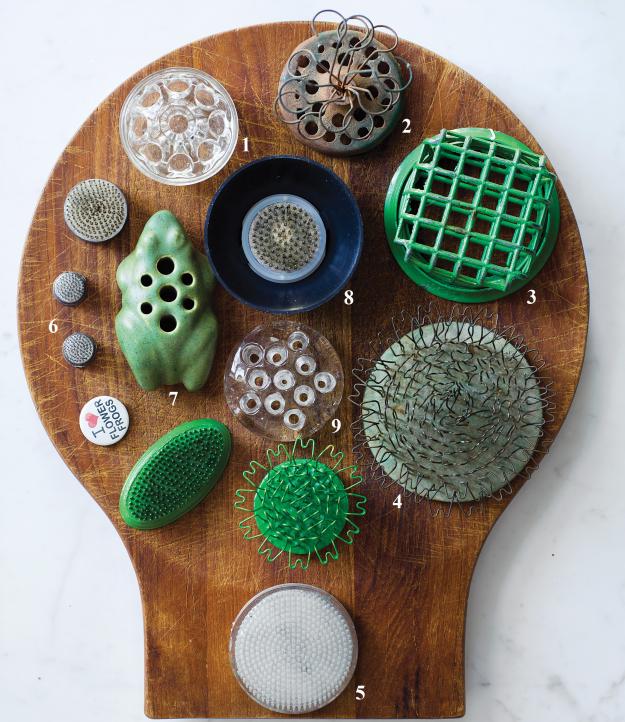 See also: Floral Toolbox, Tools of the Trade, Long-Lasting Flowers and Greens and Vase Variety
1 Clear glass This classic, slightly domed option is inconspicuous when used in a see-through bowl or vase.
2 Vintage loops The bendable, poseable wire loops can be separated to help space out stems.
3 Vintage mesh dome Use with thicker stems, such as on tulips, lilies, or heavy branches. If the arrangement is top-heavy, anchor the frog with floral adhesive.
4 Hairpin holder Vintage or new, this type of prop is the most versatile way to go: It can stage stiff stems and branches at any angle, which is especially useful for a low, table centerpiece arranged so a seated guest can see over it.
5 Vintage clear pin holder Another vintage choice that's functional, it holds lightweight stems in a clear container.
6 Pin holders Tailor-made for ikebana, Japanese-style arranging, these can hold thin stems. The oval shape will fill oblong containers. Small ones are ideal for a bud vase.
7 Vintage ceramic This is a prime example of a highly collectible but not-so-functional frog.
8 Avon bowl The low plastic bowl with removable pin holders can hold water, eliminating the need for another container.
9 Vintage clear glass Like a lot of older models, this frog is best used with thick-stemmed flowers. It also makes a great paperweight.
Shop for new flower frogs at dorothybiddle.com. Look for vintage pieces on eBay.

This article was first published in Garden Design
April 2011