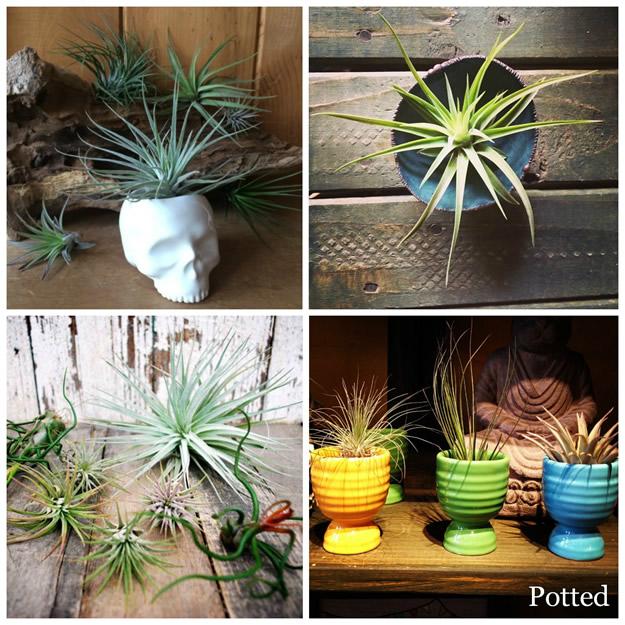 Photo: Potted
A trending focal point for wedding centerpieces and welcoming garden arrangements, air plants are leaving the soil behind to add texture and glee anywhere they're placed. After a discussion on our Facebook page, air plant care seemed to be a topic of interest so Annette Gutierrez came to the rescue of our epiphyte friends with these tips to keep in mind when you can't help but take home every one you come across.
Air plants (or Tillandsias) are epiphytes, which mean they don't need soil.
They take their nutrients up through their leaves and not through the little tendrils that are often found underneath. Those tendrils are actually used by the plant to hook onto branches or bark to anchor them, which is why they can be cut off without hurting the plant in any way (or even glue them on to an arrangement).
Their natural environment is usually hanging sideways, so it's best to display them in the same way so they don't hold water in their centers which will make them rot.
If you want to display them sitting flat, just remember to shake the water out.
They like bright, filtered light, much like the tree canopies they originate from. For outside air plants, keep in bright, non-direct light.
SOAK them every 7-10 days for at least 4 hours or preferably overnight and then turn them over after to dry out (or give them a good shake).
Grey leafed or very bulbous varieties need soaking less...more like once every two weeks.
If the leaves are curling at the end, soak them immediately.
If kept inside, watering is more important because there is less natural humidity due to heaters, air conditioners, etc.
Epiphyte food or liquid sea kelp can be added to the soaking water to give them a little boost during the growing season.
They would prefer (as would all houseplants) distilled water.
Get more from Garden Design
Annette Gutierrez is co-owner of Potted, a mecca for like-minded, design-loving, garden enthusiasts located in Los Angeles, Calif. From pottery and plants to quirky garden accents, many of their products are also available for order online on their website.

Photo: Potted
As one of their most popular items in the store, these plants are hard to kill, which makes them a favorite among young gardeners and black thumbs, but come in such a wide variety of shapes, colors, and sizes that even the most seasoned master gardeners are always bringing them home. The display ideas for these plants are almost endless: nestled in a hanging glass terrarium, peeking out from the cracks in a piece of driftwood, hanging upside down from dedicated air plant vases, or even popped into a bud vase or table centerpiece, these plants can find a home in any environment!
Visit Birdsall for more information.
Learn creative ways to display air plants with fun workshops:
If you enjoyed this article, be sure to check out the "Plant Palette" section in the reimagined Garden Design magazine. Providing detailed how-to-grow information on specific plants and how to design with them, this section will be featured in every issue of Garden Design. Learn more about what's in the magazine and how to subscribe.
Join the conversation and share your air plant tips and tricks!

Photo: Birdsall & Co.