Top Hydrangea Flowers for the Garden
Voluptuous or dainty, hydrangeas offer color and solid-citizen stability to borders and containers
More than summer decoration for seashore cottages or space-fillers along foundations, hydrangeas are versatile shrubs suitable for almost any garden in areas that experience some winter cold. Most of the familiar kinds hail from China, the Himalayas, Japan and North America, but others in this genus of around 100 species come from the Philippines, Indonesia and South America. Almost all bloom in white, pink, blue or lavender on mounded or treelike coarse-leaved plants. Lacecap types bear demure seed-producing flowers surrounded by sterile ones, while mopheads offer zaftig clusters of all-sterile flowers. The latest trends are dwarf, gold-foliaged and reblooming hydrangeas and ones with oversize flower clusters on sturdy stems. The rebloomers have revolutionized hydrangeas and made them available even for gardeners in colder climates.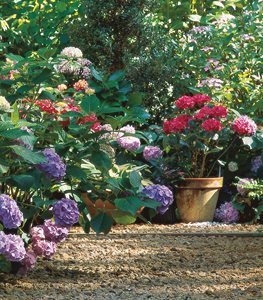 Photo by: Lee Anne White.
HYDRANGEA MACROPHYLLA 'GENERALE VICOMTESSE DE VIBRAYE' AND 'BRUNETTE'
Container culture maintains alkaline soil conditions, allowing 'Brunette' to bear red flowers, while the more acidic soil in the open ground promotes blue in Generale.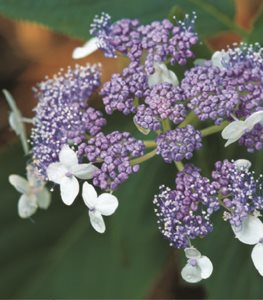 Photo by: Lee Anne White.
HYDRANGEA INVOLUCRATA
Although not obvious in this picture, Hydrangea involucrata bears pleasingly fuzzy leaves. These offer an attractive backdrop for the open, airy lacecap clusters of pale blue to pink-mauve fertile flowers punctuated by a few showier, sterile ones. To 3 feet tall and twice as wide.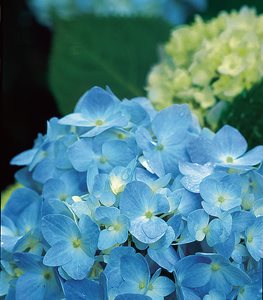 Photo by: Susan A. Roth.
HYDRANGEA MACROPHYLLA ENDLESS SUMMER™
Without question the hottest hydrangea in the trade. Unlike most macrophyllas, 'Endless Summer' starts blooming early and keeps producing flowers (on new and old wood) throughout the season. New enough that its ultimate height isn't well-documented; may reach 3 to 4 feet tall and wide.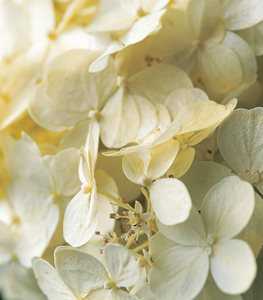 Lee Anne White.
HYDRANGEA PANICULATA 'LIMELIGHT'
Similar to the 'Grandiflora' (PeeGee) types, 'Limelight' goes one step beyond the others with its big clusters of lime-green flowers that age to white. Expect a mature plant to reach 10 feet high by 6 feet wide. Hardier than many hydrangeas, to Zone 4.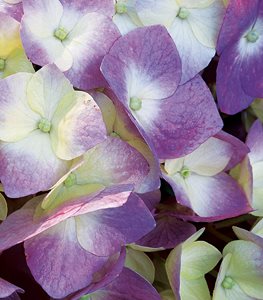 Lee Anne White.
HYDRANGEA MACROPHYLLA 'MME. FAUSTIN TRAVOUILLON'
Somewhat smaller than loftier macrophylla types at about 4 feet tall, it flowers freely and over a long season. Blooms are dark pink in low-aluminum soils. Also known as 'Peacock'.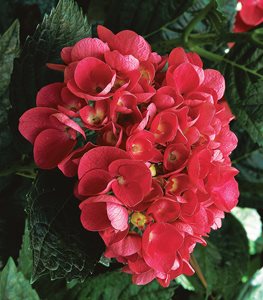 Lee Anne White.
HYDRANGEA MACROPHYLLA 'BRUNETTE'
Always richly colored, whether aluminum is available in the soil (flowers in shades of blue and purple) or not (flowers red). Not as tall or vigorous as many of its kin, making it a good choice for containers.
Lee Anne White.
HYDRANGEA MACROPHYLLA 'MARÉCHAL FOCH'
Though less cold-hardy than many macrophyllas, the profusion of saturated rose-pink mopheads of 'Maréchal Foch' makes it a favorite as an indoor plant in cooler regions.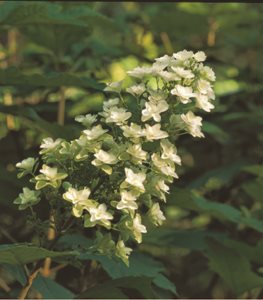 Lee Anne White.
HYDRANGEA QUERCIFOLIA 'SNOWFLAKE'
Handsome oaklike foliage and attractively peeling silvery brown bark are reasons enough to plant any quercifolia, but this selection also features footlong, pyramidal, drooping heads of sterile flowers that look like stacked stars. Expect it to reach 8 feet tall and nearly as wide.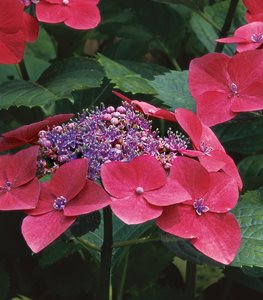 Lee Anne White.
HYDRANGEA MACROPHYLLA 'KARDINAL'
In the presence of soil aluminum, the intricate lacecap flowers bear small fertile mauve flowers contained within a circlet of large, dark pink sterile flowers, as seen here. The entire cluster becomes red in the absence of aluminum. Less cold-hardy than other macrophyllas. About 3 feet tall.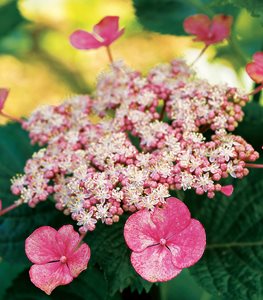 Lee Anne White.
HYDRANGEA MACROPHYLLA 'GIMPEL'
Fully mature flower heads show a strong contrast of white fertile flowers and pink sterile ones. Among the newer selections (introduced in 1986) and not as cold-hardy as some. Vigorous plants mature at less than 4 feet high.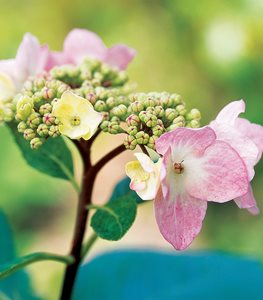 Lee Anne White.
HYDRANGEA MACROPHYLLA 'NIGRA'
Although the pink or pale blue flowers are of some interest, grow this hydrangea more for its striking black stems. Extra fertilizer and routine removal of older shoots encourages stronger, darker new growth. Can grow 3 feet tall and almost twice as wide.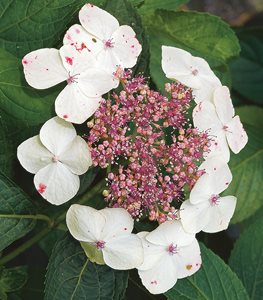 Lee Anne White.
HYDRANGEA MACROPHYLLA 'TOKYO DELIGHT'
White lacecaps gradually turn pink as the season progresses. Has an attractive upright plant habit, and the dark green leaves acquire red and purple shades in autumn. Spotted stems offer additional visual interest. Under 5 feet tall.
Hydrangea Basics
Appeal: Mostly easy to grow, hydrangeas can be abused and still reward the gardener with lush foliage and showy flowers. Think of them as workhorses with a strong desire to please. For longer enjoyment, their flower heads can be dried; gather in peak bloom and hang in an airy, warm place.
Zones: Selections of arborescens and paniculata are hardy to Zone 4, and those of quercifolia to Zone 5. The flashier macrophylla and compact serrata types do best from Zone 6 and southward, but rebloomers like Endless Summer™ flower on both new and old wood and can be grown in Zone 4, used almost like a perennial—dying back to the ground over winter and resprouting in spring. The species involucrata needs the milder temperatures of Zone 7 and warmer areas. Virtually all of them withstand the heat of Zone 9 summers.
Exposure: While most hydrangeas thrive in full sun (given ample water), they grow equally well in partial shade, especially in areas with long, hot summers. Try them in east-facing locations in your garden and in the bright shade under high-pruned trees in a woodland setting.
Soil: Reasonably fertile, well-drained, moist soils with lots of organic matter make hydrangeas happy. While they all tolerate a range of soil pH, acidity or alkalinity is an issue for macrophylla types. In acidic soils, aluminum is readily available, promoting blue and purple flowers; alkaline soils restrict access to aluminum, leading to red, pink and lavender. Regular applications of aluminum sulfate promotes bluer flowers.
Care: Remove dead wood from established plants of macrophylla, serrata and involucrata as spring growth begins, but don't knock off flower buds at the ends of the shoots. Cutting back paniculata types hard in spring promotes larger flower clusters. Cut arborescens selections to the ground every other year or so to keep them neat. Pruning is rarely needed to keep most quercifolias looking good.
Designing with Hydrangeas
White-flowered selections create the illusion of snowballs in summer, especially on plants grown in partial shade.
Mass pink and blue types with similarly colored garden phlox (Phlox paniculata selections) and lilies for a visual confection of candy colors.
Blue selections look like sapphires against a gray wall or set alongside a slate patio.
Macrophylla selections make imposing container plants-feature a pair in big lead-colored urns-and paniculata selections can be maintained as good-sized "trees" in large terra-cotta pots. Remember hydrangeas in containers will need extra watering.
Quercifolias are the boldest and have the coarsest texture of the lot, lending visual strength to shrub borders and woodland plantings.
RELATED:
Flowers to Grow for Garden Bouquets
Holiday Centerpieces: Hydrangeas and Roses