Context is the crux of landscape architecture these days—a land's history and its natural inheritance hold sway over decisions about siting, materials, and, of course, what to plant. Thomas Woltz and his partners at Nelson Byrd Woltz, which has offices in Charlottesville, Virginia, and New York City, have sought to embrace that sensibility. Principles of conservation and restoration are a part of nearly every Woltz project, and scientists regularly weigh in on his proposals.
Woltz is among the rising stars of the landscape architecture world—he has won high-profile commissions, and last year became an American Society of Landscape Architects Fellow. Some suggest he is destined for that pantheon of architects who have become household names. But where others have succeeded by imposing recognizable styles, Woltz seeks to submit his personal aesthetic to the character of the site writ large.
What sets him apart is the almost cosmic scope of his viewpoint. "We tend to look at the biggest scale," says Woltz, whose ongoing restoration of a complex of farmland and temperate rainforest in New Zealand includes mending the symbiosis between endangered lizards and nesting petrels on the site. The firm's approach has been leading to increasingly larger commissions — in June, it won the job of planning the Hudson Yards, a project on Manhattan's west side. Contributing Editor Paul O'Donnell talked with Woltz about the challenges of crafting designs that reflect a site's history, yet do not rule out the occasional counterpoint.
Garden Design: How do you boil down the epochal history of a place to a human scale?
Thomas Woltz: I am always looking for the story of a place. We begin by looking at the whole site—the large-scale plant communities, the geology, the solar angle, the hydrology—and all that research helps build a narrative that becomes the framework of our design. We're working now in Madison, New Jersey, at a post-industrial site that stands atop the terminal moraine—the farthest point that the glaciers pushed their rock and ice, forming a ridge. And as a natural high point, the ridgeline became a road hundreds of years ago. So for the huge courtyard of this building, we thought, "Let's make an arc of earth and then embed regionally quarried rocks around it." We wanted to evoke this folding and pulling and pushing that the glaciers did. It's an artful gesture that stands alone as a work of art. But if you hear the story of why those rocks are there, then you feel connected to that place, and to bigger systems. Ultimately, that's our goal. If we can use narrative to explain a place, and aesthetics to connect people to a place they are responsible for, then we've done well. Design is a wonderful invitation to stewardship.
Q: Does that approach change in a highly built environment like the new Hudson Yards project?
A: When we were invited to make a proposal for the project, we got excited about what had happened on that site, both environmentally and culturally, since 1605. We're looking at how to incorporate what we learned. I want something meaningful and even educational, but that is also beautiful.
Q: How about plants? Where and when do they come into the conception of a site?
A: In our hearts, horticulture comes first. You start with an idea about horticulture and the place. So we look to the regional ecology and go from there. We're not staunch nativists. We start with the question "Can we build the narrative out of the native ecology?" And then we make key introductions that make the story.
Q: When is it acceptable to bring in something that's not indigenous?
A: I draw the line at something that is invasive to the native ecology, that chokes out biodiversity.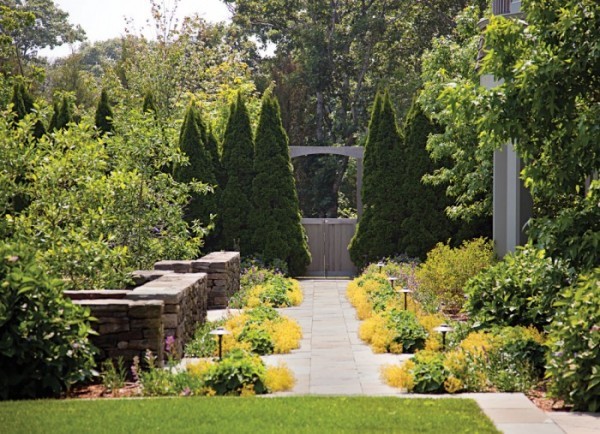 Q: So if it can be controlled, it's OK?
A: You're suggesting it's a stark choice between native or nonnative. We designed a 150-acre garden in Virginia that is a story about the native plants of Virginia. At one point, the owners took a trip to Japan and fell in love with it. So we did a disjunctive evolution garden. There is a theory that plants in Japan, eastern China, and the eastern United States coevolved from the same families of ancestors. The red Japanese maple and the red maple, in other words, are distant cousins. You actually find more common DNA between Japan and the eastern United States than between the east and west coasts of the United States. In this garden, we made a walkway through a dell, now called "the Japanese dell," that is a pairing of Cryptomeria and Eastern red cedar on either side of a path. So there's a story about horticulture and Japan, and an introduction of a nonnative species. The important point is that narrative, not decoration, is what holds it together and stimulates your mind to think about the larger world.
Q: You were raised in North Carolina near the Virginia border, and your practice is based in Charlottesville. Is it incorrect to think of you as a Virginian, or more particularly a Jeffersonian, as a designer?
A: I would say that is very wrong, though we'd have to define Jeffersonian. We're certainly not setting out to recreate landscapes that -Jefferson would have made. We're working in 22 states and eight countries, and I'm not bringing a Virginian point of view to those places. When I first went to northern California, I learned how water flows in that place. I got to know the native materials, the types of stone, and the plants. The same with New Zealand. We looked at Maori culture, Maori traditions, their medicinal plants, the native bush, and we built a design vocabulary. It's about arriving in a place to gather clues. This is very different than a Virginian going somewhere to make something Virginian in style. However, Jefferson was such a pluralist. He was interested in diversity and the world. So, if you think of it in terms of philosophy, I'm very much a follower of his.
Q:How does contextualizing result in more than just an imitation?
A: At The Farm at Cape Kidnappers, a hotel and golf project we did in New Zealand, we wove a story based on farmyard buildings, with weathered wood, rustic aged steel, and local stone techniques; grazing cattle come up close to the main buildings. There is a fountain at the entrance to the lodge made of copper pipes that evokes a watering trough for horses. But it's abstracted, which keeps it from being "ye olde." For Luck Stone, a building stone company in Virginia, we abstracted the steel-mesh gabions, containers used to transport quarried stone, to display the stone that's available for sale at the Charles Luck Design Center. So it's abstraction, design restraint, and editing.
Q: Do you have a style you call your own?
A: I hope not. Because I want to be so responsive to the client, to the materials, to the place. One or two generations ago, almost all Americans were involved in farming or close to farming. Now there's nearly no one farming. That disconnect has caused so many environmental problems. I feel like it's the urgent problem of today to reveal place and connect people to place as a remedy to what's happened in two short generations. To not have a personal style is a personal goal.