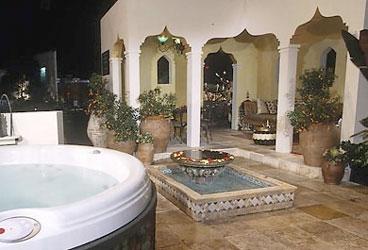 The exotic and mysterious appeal of Moroccan style — with its vibrant colors and ebullient tendency to always go for the max — has taken hold everywhere these days, from fashion and interior décor to the gardens we design. It has certainly been front of my mind ever since a visit to Morocco late in 2004 with the San Francisco-based landscape architect, Topher Delaney — see the article in Garden Design's March 2006 issue. Moroccan style also has been on the mind of Michele Swanson, the designer of the 2006 GardenDesignLive! show garden at the San Francisco Flower and Garden show — our garden called Moroccan Modern won the People's Choice award.
Here are some tips on how to make Moroccan style happen around your own garden:
Water is as essential to the Moroccan courtyard garden as it is the oasis. To begin the design of anything Moroccan-style, start with a water feature.
The typical courtyard garden consists of a fountain springing from the center of a carpet of stone or hand-cut glazed ceramic Zillij tiles, encircled by walls or hedges. A vital decorative element in the history of Islamic art and architecture, tiles should be placed in combination to suggest mathematical, artistic, spiritual or cosmological patterns. For authentic Zellij and stone tiles, see importsfrommarrakesh.com; 212-675-9700.
No paradise garden is complete without citrus trees. In climates that are too cold to allow citrus, plant them in large terra-cotta pots and keep them indoors during the winter months. This is why orangeries were invented, which can be a harmonious addition to the Moroccan pleasure garden. For citrus trees, see monrovia.com. For appropriate terra-cotta pots, see eyeofthedaygdc.com (805-566-0778).
Moroccan courtyard gardens often include an abundance of foliage plants set into containers
tazidesigns.com (415-503-0013).
For more information on the San Francisco Flower and Garden Show, see gardenshow.com.