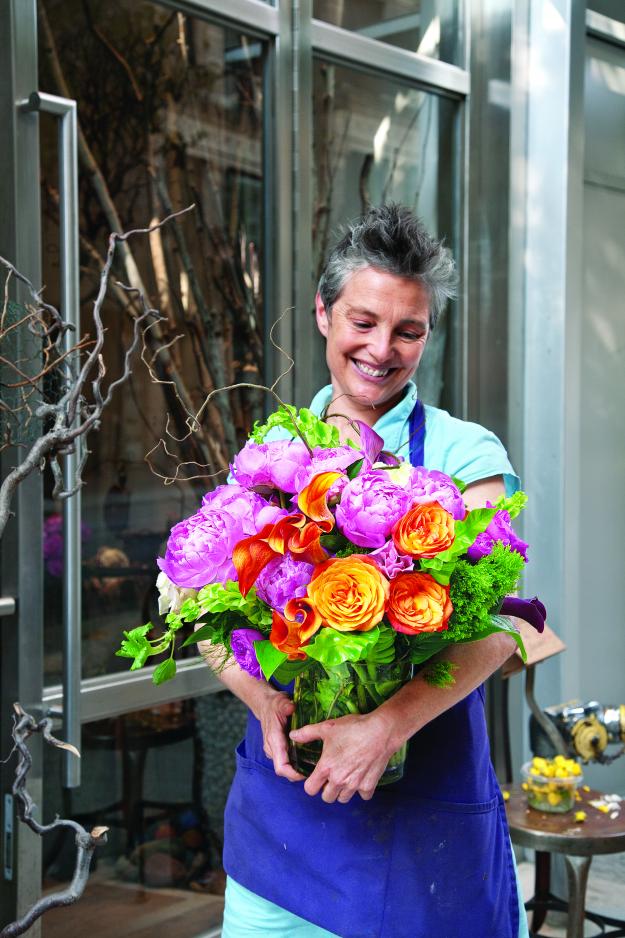 Photo by:
Robin Blair Riley
photo: Robin Blair Riley
On completing a painting, the great early-20th-century artist Marc Chagall would allegedly hold up an object of nature—a rock, a branch, a flower—and compare it to its counterpart on the canvas to see whether his work evoked the essence of the thing.
Today, Chagall's granddaughter—the New York City-based artist and floral designer Bella Meyer—has turned her grandfather's custom on its head, using objects of nature themselves to create representations of the world around her. Asked recently to create a floral display for a benefit honoring one of the owners of the Empire State Building (proceeds went to the Natural Resources Defense Council), Meyer chose art deco–style centerpieces to echo that iconic landmark's motifs; arrangements included purple calla lilies and tulips, and silvery-gray dusty millers, with each design rising from shiny, architectural pots set on metal trays—"a little skyline," as she called it.
For a concert at the Brooklyn Academy of Music featuring Shaker spirituals, she created a stage display of burlap linens and plain white planters filled with herbs. The 55-year-old Meyer, who was born in Paris and studied art history at the Université Paris-Sorbonne, says her love of flowers was inspired by family trips to Chagall's home near Nice in the South of France when she was a child. "We'd never visit without stopping at the local market and getting a big bouquet of flowers. It was a gesture of love and respect." Earlier this year, Meyer opened a shop called Fleurs Bella in New York City's Union Square area; the arrangements on display there amply demonstrate the designer has inherited her grandfather's remarkable ability to tell stories through color and natural beauty.
Above: Artist Bella Meyer holds an abundant arrangement of roses, peonies, and calla lilies. Her work has been influenced by memories of her grandfather, artist Marc Chagall. Earlier in 2010, Meyer opened her new floral shop, Fleurs Bella, in New York City.