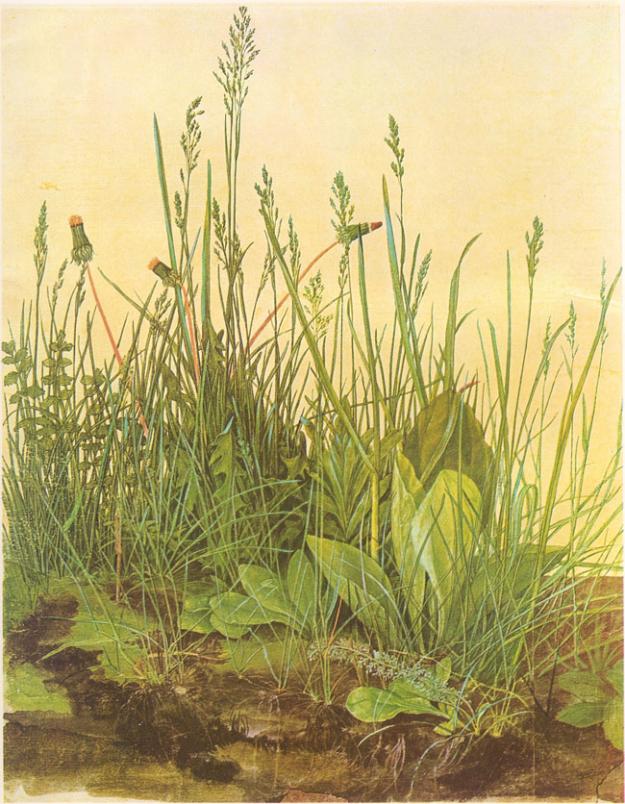 Albrecht Dürer's "Great Piece of Turf" (Das große Rasenstück) is remarkable for its universality—a snapshot of wild flowers and grasses that could be drawn from any country, at any time—and as a landmark painting in sixteenth century Europe, when weeds were more than a gardener's headache, and realism had yet to influence the field of botanic illustration.
Painted in 1503, Dürer's watercolor portrait of common plants is considered the earliest realistic depiction of plant life. His contemporaries were fascinated with weeds for their medicinal and mythological value, yet botanic drawings were mostly included in herbals—as such, they were removed from their environments, and were abstracted, often unrecognizable. In Dürer's painting, a work that would be regarded as "painting's discovery of ecology" (Richard Mabey, Weeds: In Defense of Nature's Most Unloved Plants), prosaic subjects are rendered in detail with roots, buds, leaves—stripped of glamour and flowers, an unorganized assemblage of wild plants.
As today's gardener will appreciate, Dürer's botanic subjects are portrayed as integrated species—and he illustrated that we can best understand plants by recognizing them as a community.
Among the plants that have been identified are daisies, yarrow, plantains, dandelions, pimpernels and cocksfoot. The watercolor is part of the collection of the Albertina, in Vienna.
Anna Laurent is a writer and producer of educational botanical media. Photographs from her forthcoming field guide to Los Angeles are available for exhibition and purchase at the author's shop.