Arne Maynard's Rustic Home in Wales
Known for designing elaborate gardens, Arne Maynard takes a pared-down approach at Allt-y-bela, his rustic home in Wales.
At first approach, visitors to Allt-y-bela, Arne Maynard's historic home in Usk, south Wales, might suspect the designer has been so distracted by projects around the world that he hasn't had time to tend his own place. Those who saw the gold-medal-winning garden he created for Laurent-Perrier at the RHS Chelsea Flower Show in London, or know the romantic English country gardens he designs for the manor houses and mansions of financiers and executives, might wonder if they have come to the right place. It's all here, though — the roses, the billowing herbaceous plantings, the pleached and clipped trees, and the picturesque yet productive vegetable patch. It's just that here things are a little more subtle.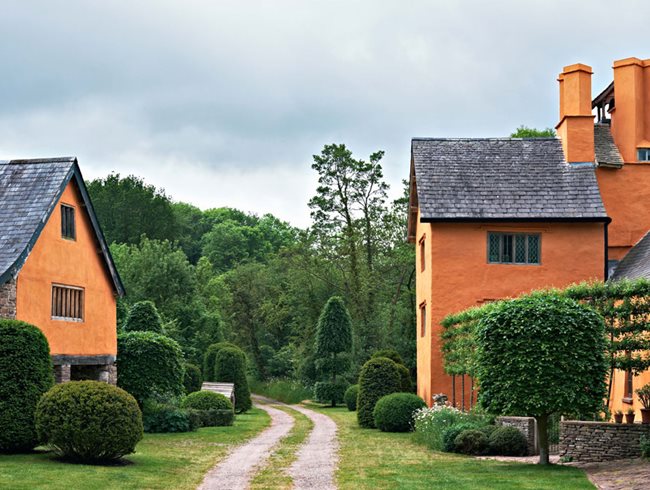 Decorative topiary meets naturalism at the 15th-century home of designer Arne Maynard, where his garden gradually merges with five acres of woodlands and pasture. Photo by: Tom Mannion.

SEE MORE PHOTOS OF THIS GARDEN
Maynard, who writes a gardening-tip column for Gardens Illustrated, and his partner, William Collinson, own Allt-y-bela and five surrounding acres of soft, rolling pasture and woodlands. Before that, they had spent 15 years living at Guanock House, a 16th-century manor near Spalding, Lincolnshire, in the wide, flat farmlands of eastern England. "We were in this ocean of barley and corn; you felt very vulnerable," says Maynard. There he created a jewel box of a formal garden, divided by high hedges into rooms and filled with color. "It was an oasis within the vast landscape, whereas at Allt-y-bela, I am celebrating the landscape, and I want the garden to be part of it."
Some of the charm of Allt-y-bela (a Welsh name that translates as "high wooded hillside of the wolf") stems from the way the house has grown organically over the centuries to suit its inhabitants, with no overall "grand design" of dwelling place and outbuildings. It is more or less anchored by a slate-roof stone farmhouse built in the 15th century. In 1599, its wealthy inhabitant added a three-story tower, hoping to impress frequent passers-by on the adjacent, once-busy thoroughfare that is now little more than a footpath beside a dead-end country lane. And impressive Allt-y-bela is — the striking sum of its components made even more eye-catching by the tangerine-color lime wash the couple recently applied to its exterior.
The house sits at the bottom of a shallow valley, as if in its own little world, or like the pot of gold at the end of a rainbow. Chickens scrabble about in the yard, and informal groups of yew, beech, and box topiaries — a frequent motif in Maynard's designs — are scattered around the front of the house, as though they are awaiting the arrival of an important guest. Topiary was a popular art during the Renaissance, but the trees, which Maynard planted and shaped into drumsticks, are a new addition and a product of Maynard's efforts to create a garden, which Allt-y-bela lacked when the couple purchased it from the Spitalfields Trust, a London-based charity that preserves historic buildings of merit. "When the trust took it over, it was a ruin, and they spent four years doing it up," says Maynard. "We bought it in a repaired state, so it meant that we could concentrate on creating the garden and on the interiors. We didn't have any structural work to do, which is a huge bonus."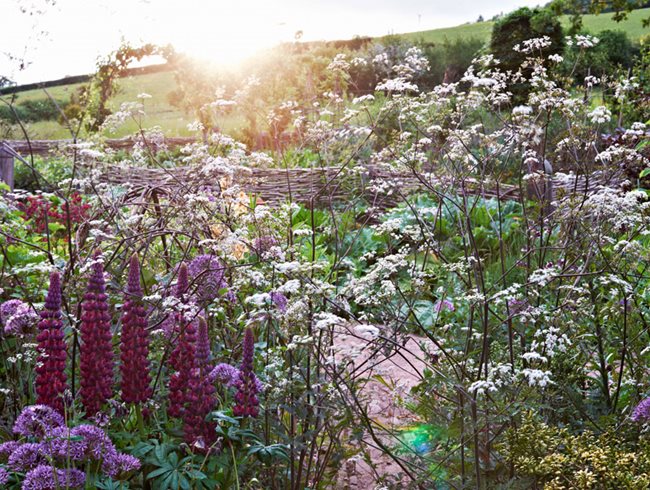 Lupine 'Masterpiece' and Anthriscus sylvestris 'Ravenswing' bloom by the kitchen garden. Photo by: Tom Mannion.

SEE MORE PHOTOS OF THIS GARDEN
Apart from modern conveniences such as electricity, central heating, and decent plumbing, the interiors would not be alien to the ghosts of those who built Allt-y-bela, furnished as the rooms are with flagstones, large open hearths, and antique English furniture.
Every element has earned its place in the design scheme as much for its innate appeal and appropriateness as for its utilitarian purpose. Even the jars of Maynard and Collinson's homemade jams and chutneys are artfully arranged along shelves in the back passage. The jars not only reflect the productivity of the fruit and vegetable garden Maynard has nurtured there but serve as a treat for the estate's visitors. The couple made three of the five bedrooms available for use as a bed-and-breakfast (alltybela.co.uk), and Maynard holds gardening courses every June in the granary building outside (arnemaynard.com). London artist Cornelia O'Donovan's playful mural depicting flowers and insects from the garden is an unusually decorative gesture in the passageway to the dining room.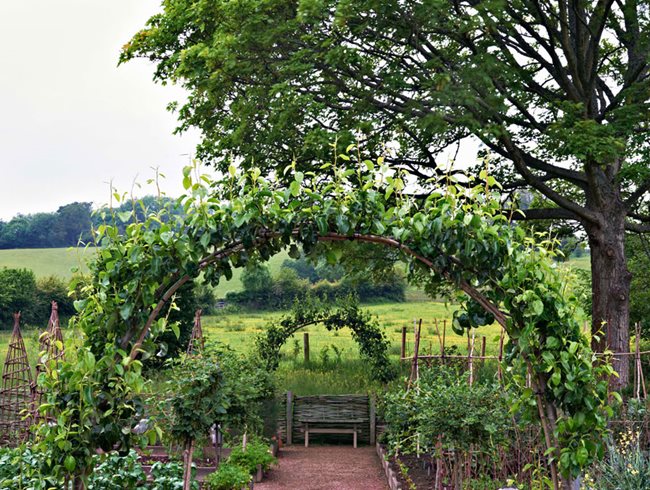 Pear trees are trained over hazel arches in the kitchen garden. Photo by: Tom Mannion.

SEE MORE PHOTOS OF THIS GARDEN
Outside is a similar story of pared-down beauty. The garden keeps faith with the house, which was always more rustic than grand. As with many of Maynard's creations for his clients — he has designed extensive gardens for the Queen of Jordan and for Tricia Guild of Designers Guild — establishing a sense of place is essential. He had no overall plan, though. The garden, like the house, just evolved. At Allt-y-bela, he wants to embrace what lies beyond rather than create a separate space. "I have stripped away all the boundaries — the fences, the hedges, the walls — as they cut the garden off from the setting," says Maynard. "It is so beautiful that it was important that that landscape rolled right to the house walls." That's not to say he gave up on a garden altogether. "Closer to the house, I have more formality: the topiary trees and the refined flowers that grow behind the wall that creates a small courtyard garden," he says. "And as you come out from the immediate vicinity of the house, it becomes more natural, so we go into wildflower meadows and long grass." The long grass still has topiary in it, but instead of more formal trees, he clipped the native hornbeam and hawthorn so "the garden recedes and disappears into the natural environment."
It is probably the first time in the house's long history that cultivated flowers have been grown for their own sake, and, even now, they are confined to the courtyard and a boxwood knot garden at the back. "In the early deeds, there is mention of two fruit gardens," says Maynard. "I don't think there would have been a garden here that was ornamental; it would have been very much for sustenance. It would have been very beautiful, exactly my sort of garden. People had to grow their own fruits and vegetables and herbs to make tinctures and medicines."
In keeping with the spirit of the place, and to feed guests without driving miles to the nearest shop, Maynard created a large potager in raised beds, protected against foragers by hazel hurdles and oak posts designed by him and crafted at Haddon Hall in Derbyshire. It supplies the table but is a beautiful sight as well, with arches made from pear trees and beds lined with step-over apples. Gooseberry bushes are raised as standards to resemble prickly lollipops. Maynard proceeds cautiously. "There comes a point where you have to stop adding," he says. "There are lots of gardens you go to where they don't know where to stop and then the magic disappears." Indeed, less can be so much more.
Caroline Donald is the gardening editor at The Sunday Times in London.