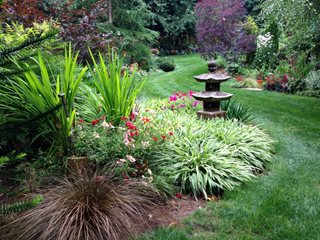 At Garden Design we love to see our readers' gardens! To share your garden, email jim@gardendesign.com with:
1. 5-6 photos of your garden (attach them to your email or send us a link to a photo sharing site like Flickr or Dropbox). Here are tips for submitting photos:
You can send close-ups, but also send wide shots so we can see the overall garden.
Provide photos from a variety of angles.
We know gardens don't always look picture perfect, but try to keep the less photogenic items (like trash bags full of weeds, or piles of gardening tools) out of the shots you send.
Provide a caption for each photo you submit with information about which plant varieties were used, and information about any other notable features.
See A Garden for Misfit Plants for a good idea of the range of photos we're looking for.
2. A description of your garden. Below are some topics to get you started when writing your description. (Don't worry, this isn't a test, it just helps us gather background information!)
Garden location
Property size
Garden style
Unusual qualities that visitors comment on (like rare plants used, or its unique location)
How long it took to get it to its current state
Challenges and how you addressed them
What was most important to you when you started planning your garden (for example, did you have a philosophy or mission statement in mind? Did you want to emphasize flowers, vegetables, greenery, etc.?)
Names of some of the plants you used
How this garden reflects you
Anything else you plan to do on the property
Color palette description and how you decided on it
Any additional information you'd like to share
We look forward to hearing from you, and will contact you for more information if your garden is selected! You can see examples of gardens that have been submitted in the past in our Regional Garden section.