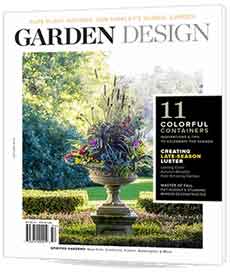 Autumn 2015 - Issue 192
Each issue is 148 pages with no ads
Stories unfold over 8 to 20 pages
Detailed and bold photography
Collectible and coffee table worthy
Published in December, March, June, and September.
The Garden Design magazine 100% satisfaction guarantee: Stop any time for a full refund of your remaining subscription.
Give us a call toll-free at 855-624-5110 M-F 8am-5pm PST or email customer service at dayna@gardendesign.com
Want to get future issues? Subscribe.
Want to order a back issue? Visit our store.
Want weekly garden ideas? Sign up for our newsletter.