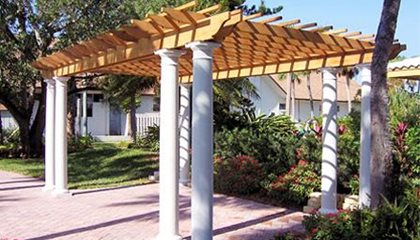 Products & Services
Trellis Structures creates a full range of custom pergolas that can be shipped anywhere in the contiguous United States. We design and build our structures to fulfill your individual needs, working closely with you to ensure your style and size requirements are carefully addressed.
We also produce an extensive line of arbors and trellises that are easily customized to fit individual needs. To create these structures, we use Western Red Cedar that is grade Clear A and above, with a vertical grain, and kiln-dried. We use stainless steel fastenings and appropriate furniture joinery. Many examples of our work can be viewed on our website.
Company
With a strong interest in creative design and excellence in craftsmanship, Trellis Structures produces high-quality pergolas, arbors, and trellises. For more than fifteen years, we have provided structures to homeowners, design professionals, and commercial developers. Nationally recognized architects, landscape architects, and designers specify our work.
Where to Buy
Please visit our website for information on ordering our products. You may call us at 888-285-4624 for more information on pricing for custom pergolas. You may also visit our workshop to view examples of our products.
Contact Information
Trellis Structures, inc.
25 N. Main St.
East Templeton, MA 01438
(888) 285-4624
trellisstructures.com