Witch Hazel: A Tonic for Body and Soul
The months between Christmas and spring stretch interminably for ardent gardeners, who grow restless for any sign of life in the landscape. While most plants lie in dormant slumber, the long, slender branches of witch hazel burst into bloom with ribbon-like petals of yellow, orange or red. The delicately fragrant flowers give renewed hope that spring is not far away.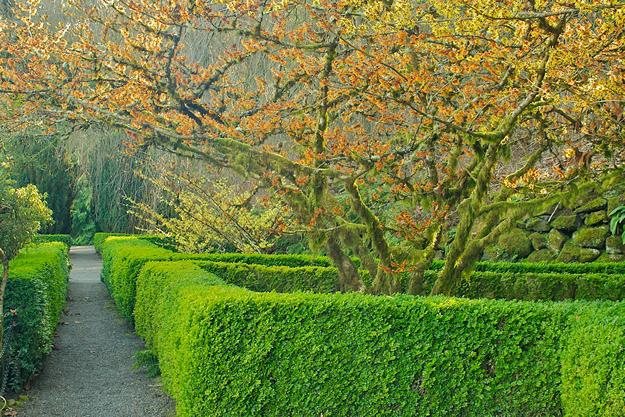 Photo by: Janet Loughrey.
American witch hazel (Hamamelis virginiana) is known for its medicinal properties, the bark extract used as a time-honored remedy for a variety of skin and other bodily ailments. These east coast native shrubs or small trees are commonly found in wooded areas from Canada to Georgia. Clusters of citrus-scented petals appear in late fall before the leaves have dropped.
Perhaps the greater therapeutic value of witch hazel is the balm that soothes the soul when their tasseled flowers unfurl at a time when little else is blooming. Hybrids of Japanese witch hazel (H. japonica) and Chinese witch hazel (H. mollis), which bloom from mid-late winter, were introduced for their ornamental value. Bred for enhanced qualities of flowers (larger and better color), intense fragrance and brilliant fall foliage, the value of these fine garden shrubs cannot be overestimated.
Witch hazels perform best in full sun (or filtered shade in hotter regions), where the flowers glow like fiery embers in the backlight of the low winter sun. They prefer well-amended soil and regular water and are tolerant of acid or alkaline conditions. Native forms are hardier, while most hybrid cultivars grow in USDA Zones 5-9. Once established, witch hazels are virtually maintenance-free and resistant to most pests and diseases.
Companion plants such as hellebores, winter heath, and bulbs of hardy cyclamen and snowdrop can be naturalized around the base. To extend seasonal interest into summer, smaller forms of clematis such as C. viticella are attractive when trained through the branches.
In yards with limited space, witch hazels will thrive in containers for many years, though they will eventually need to be planted in the ground. The spidery flowers and heady fragrance are best appreciated when plants are sited near a doorway or well-used pathway. Containers should be kept moist and the roots protected during extreme cold spells.
While most varieties reach 10-20 feet high and wide at maturity, witch hazels can be kept smaller with pruning once they are finished blooming. Suckering twigs that form around the base should be removed. Once new flower buds appear, branches can be cut and forced to bloom inside. With so much to offer, the restorative powers of witch hazel will be remembered long after winter has loosened its icy grip.
Some favorites include: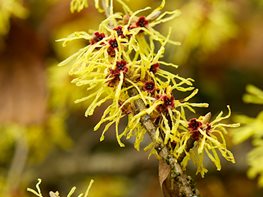 Photo by: Janet Loughrey.
Chinese witch hazel (H. mollis), the most fragrant of all species, has buttery yellow petals and clear yellow fall foliage.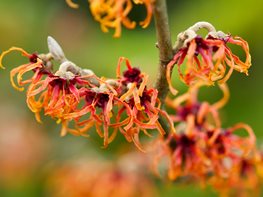 Photo by: Janet Loughrey.
Hamamelis x intermedia 'Jelena', widely regarded as one of the best all-around cultivars, has a perfect vase-shaped structure, intensely-fragrant orange flowers and fiery fall color.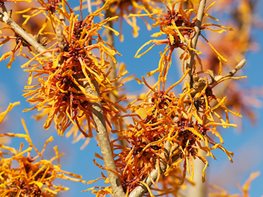 Photo by: Janet Loughrey.
Hamamelis x intermedia 'Aphrodite' is a show-stopper, with exceptionally large burnt-orange flowers that bloom profusely in late winter.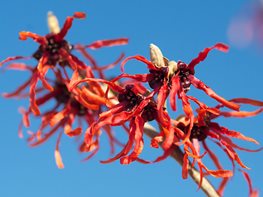 Photo by: Janet Loughrey.
Hamamelis x intermedia 'Diane' is the standard of red-flowered varieties, with vibrant fall foliage of red, orange, purple and yellow.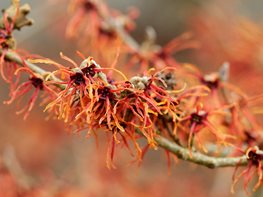 Photo by: Janet Loughrey.
Hamamelis x intermedia 'Fire Charm' has scented red-orange flowers and coppery fall color.
Mail-Order Sources: