Meadow Magic
This lakefront garden in Connecticut, designed by Larry Weaner, marries beauty with sustainability
Larry Weaner of Larry Weaner Landscape Associates has been creating, restoring, and managing native landscapes for more than 30 years. His eye for aesthetics and willingness to dig into the ecology of a site result in gorgeous landscapes that serve their local ecosystems. Here, we show you a lakefront property Weaner designed in Lakeville, Connecticut, where he converted a large amount of turf into a meadow of long-lived species.
These photographs were taken about 4 years after planting was completed.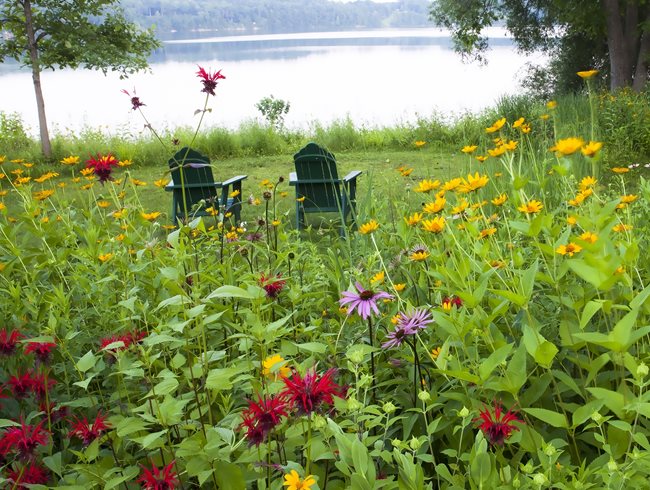 Photo by: Saxon Holt.
Above: Two Adirondack chairs surrounded by a meadow overlook Lake Wononscopomuc in Lakeville, CT. Plants in the foreground: Purple coneflower (Echinacea purpurea), oxeye sunflower (Heliopsis helianthoides, yellow blooms), and bee balm (Monarda didyma, red blooms). Plants along the water's edge: various species of sedges and pondedge wildflowers, such as pink milkweed, white turtleheads, and blackflag iris.
"This area was planted with both live plants and seed," says Weaner. The purple coneflower and oxeye sunflower were planted from seed. But because bee balm expands by underground roots and produces little viable seed, live plants were planted in this spot.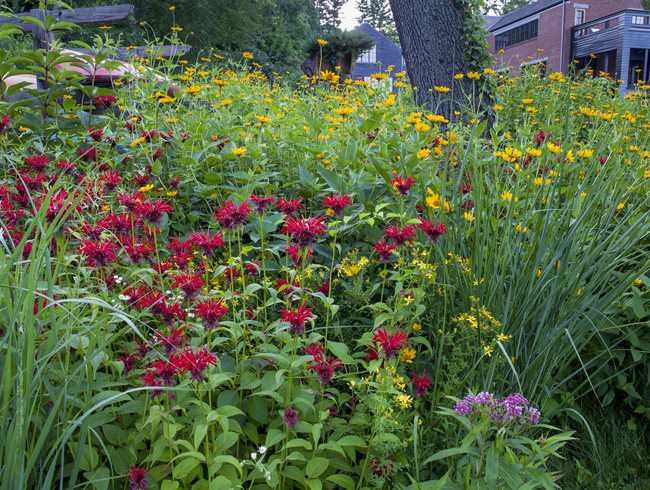 Photo by: Saxon Holt.
Above: Here's a different perspective of the scene in the previous image, showing a close-up of the dense plantings. Plant species here tolerate wetter conditions, hence their use near the lake. Plants shown: bee balm (red), oxeye sunflower (yellow), pink milkweed (pink-purple on bottom right), panic grass.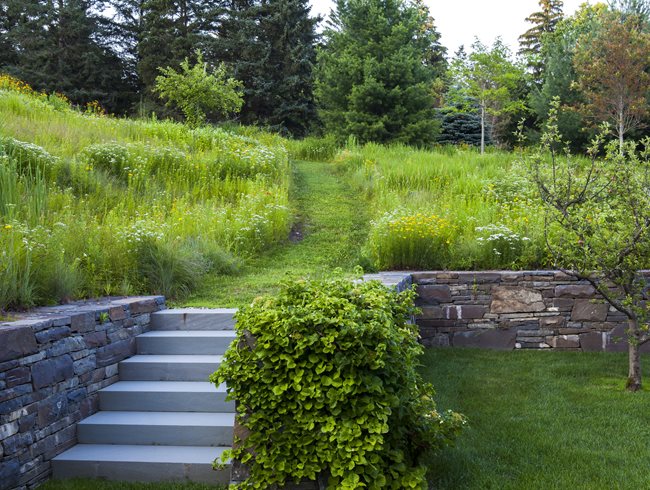 Photo by: Saxon Holt.
Above: This hillside is across from the front door of the house on this property. Walking up the stairs and following the pathway leads you to the lake.
Many species make up this meadow, but some prominent species shown are little bluestem (to the left after walking up the stairs), narrowleaf mountainmint (Pycnanthemum tenuifolium, white blooms scattered throughout), and evening primrose (Oenothera biennis, yellow blooms). This pathway is mown whenever the lawn is mown.
The climbing hydrangea (on the stone wall to the right of the stairs), crabapple tree (far right), and lawn were part of the property before Weaner designed the meadow.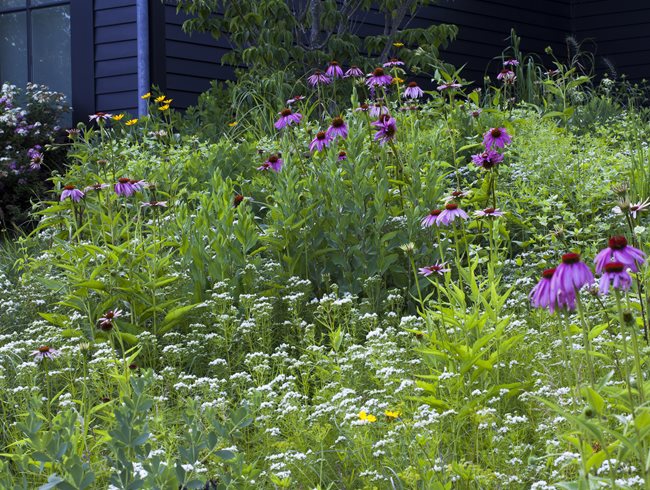 Photo by: Saxon Holt.
Above: Here are a group of plants in a sloped area of the garden where "lawn has no function and mowing would be difficult," Weaner says. Prominent plants shown: Purple coneflower (Echinacea purpurea), mountainmint (Pycnanthemum tenuifolium, white blooms), blue wild indigo (Baptisia australis, gray-blue foliage in center).
"This is an example of why a meadow is easy to maintain," Weaner says. The mountainmint creeps relatively low while the blue wild indigo and purple coneflower are tall and upright. They're in the same space, but since they occupy different layers, they're not competing directly. "Everything is densely planted, so there's no space for invading plants to grow," he says.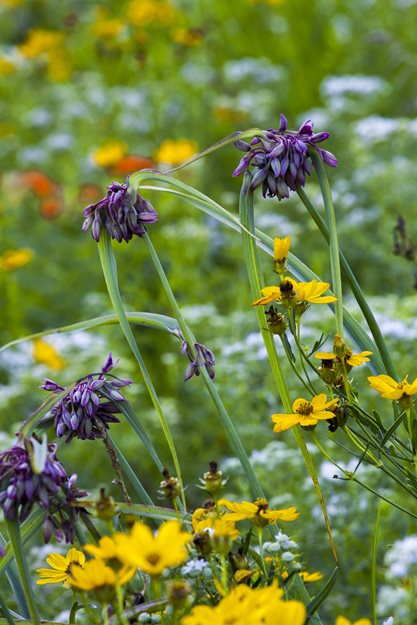 Photo by: Saxon Holt.
Above: Lanceleaf coreopsis (Coreopsis lanceolata, yellow blooms) and nodding onion (Allium cernuum, purple-blue blooms) intermingle. "This image illustrates the relay race that happens in a meadow," Weaner says. "Coreopsis is fast growing and short lived. Nodding onion is slow-growing and long-lived. Both were planted here at the same time, but if you were to come back to this spot in five years, you'd see the nodding onion, but you wouldn't see coreopsis. Think of a relay race—picture a runner handing the baton to the next runner. When you come back later, the first runner (coreopsis) will be gone, but the second runner (nodding onion) takes its time and continues running the race."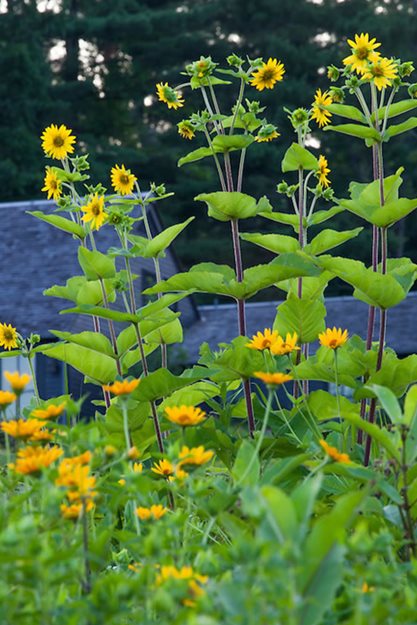 Photo by: Saxon Holt.
Above: Cup plant (Silphium perfoliatum) has interesting wildlife value," Weaner says. If you look closely, you'll see that there's a cup form where leaves meet stem. When it rains, water collects in those cups. Native flies come to drink the water, and birds come to eat those flies.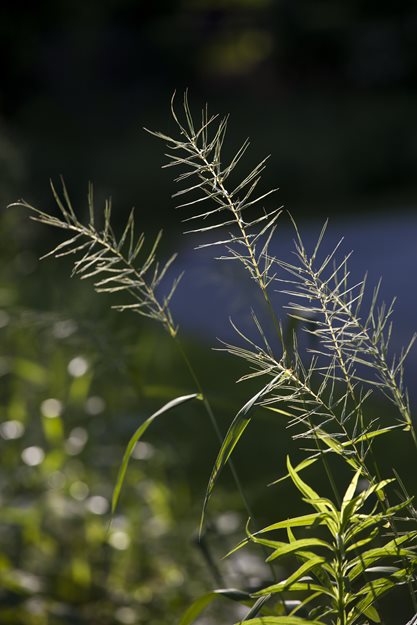 Photo by: Saxon Holt.
Above: "Most woodland herb seed viability is short, but this is one of the few whose seeds remain viable for a long time after they're collected," Weaner says. "So that makes bottlebrush [shown] a good plant to seed into a woodland landscape," Weaner says.
RELATED:
Eco-Friendly Gardens
New England Garden