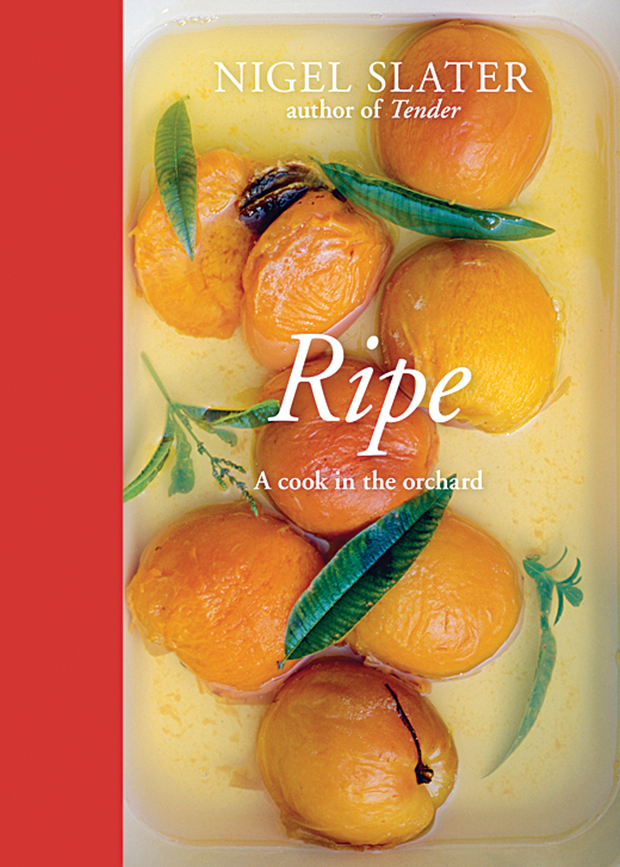 Photo by Jonathan Lovekin.
I fell for Nigel Slater, a self-described "cook who writes," almost 20 years ago, when a friend from London sent me Slater's cookbook, Real Fast Food. How could you not love a man who gave such un-fussy measurements as "a knob of butter" and whose un-staged photographs of food were all the more exquisite for their imperfections?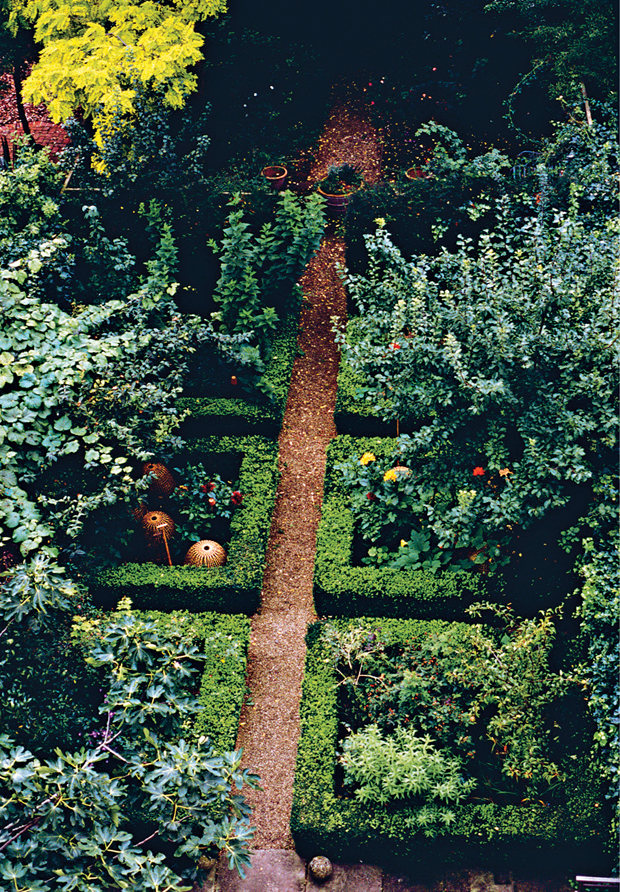 Photo by Jonathan Lovekin.
Some half a dozen books later comes Ripe: A Cook in the Orchard (Ten Speed Press, 2012), Slater's nearly 600-page meditation-cum-guidebook on growing fruit in the courtyard of his North London home and cooking with it in his kitchen. He admits many a misstep along the way, as well as the fact that his garden "creaks under the weight of ... enthusiastic planting." Indeed, it may be hard to believe he can cram so much into so small a space, let alone one that also plays host to vegetables. His plant list includes: currants, quince, four kinds of plums, apples, gooseberries, black figs, loganberries, grapes, rhubarb (a vegetable in name only), and the blackberries featured in his recipe for blackberry focaccia (below).
Too much to tend? Perhaps, but the pleasures of the harvest are obvious, says Slater, to anyone who has ever "twisted a ripe plum from its stem." I couldn't agree more.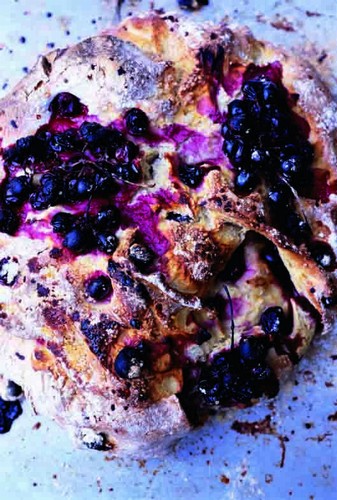 Blackberry Focaccia
Dough:
3 1/4 cups bread flour
1 package (about 2 tsp) quick-rise yeast
1 tsp fine sea salt
1 Tbsp superfine sugar
1 1/2 cups warm water
Topping:
8 oz. (about 1 3/4 c.) blackberries
2 Tbsp olive oil
2 Tbsp superfine sugar
Confectioners' sugar for dusting
Directions:
Put the flour in a large bowl, add the yeast, the sea salt, then the sugar and warm water. Mix with a wooden spoon, then turn the dough out onto a generously floured board and knead lightly for five minutes. You need not be too enthusiastic. A gentle pummeling will suffice.
Once the dough feels elastic and "alive," put it into a floured bowl, cover with a clean cloth or plastic wrap, and leave it somewhere warm to rise, approximately an hour or until it has doubled in size. Punch it down again, knocking some of the air out. Tip it into a shallow baking pan about 12 inches in diameter. Gently knead half the blackberries into the dough, scattering the remaining ones on top.
Cover the dough once more and return it to a warm place to rise. Preheat the oven to 425°F. Once the dough has expanded to almost twice its size, drizzle over the olive oil, scatter with the sugar, and bake for thirty-five to forty minutes, until well risen, golden brown, and crisp on top. It should feel springy when pressed. Leave to cool slightly before dusting with confectioners' sugar. Cut into thick wedges and eat while it is still warm. Serves 8.
For more recipes and photos of Nigel Slater's gardens, visit Slater's website, nigelslater.com.

This article was first published in Garden Design
June 2012