It's harvest time in wine country and if you're a wine enthusiast, there's no better way to celebrate than creating an outdoor tasting room—European style. It may not be a rolling vineyard, but you can enjoy your favorite vintages in the beauty of your garden or yard perfectly stored on site and at the right temperature. First, get sommelier-savvy with proper wine storage.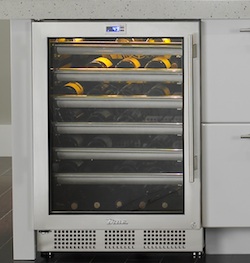 Ideally wine should be stored on its side and protected in a cool, dry, light-resistant place. The True Wine Cabinet, a 53-bottle indoor/outdoor unit from the True Professional Series, displays and stores all your vintages with easy viewing and retrieval. The undercounter system is easily integrated into any space with easy-gliding pull-out shelves that help minimize bottle vibration and breakage. The shelves remove to accommodate a variety of bottle sizes or food storage. Now, how and what to stock? You can control the temperature range on your True Wine Cabinet from 33 to 65º F, creating the perfect environment for storing a variety of wines. For early fall entertaining, white, red, rose and sparkling are on the table, as they complement a variety of summer-into-fall foods, and can also be enjoyed on their own.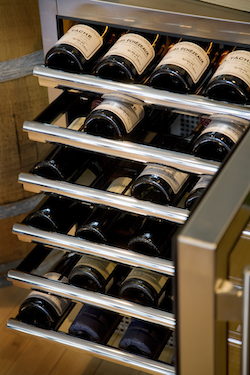 Medium-bodied white wines and roses do well stored at 45º - 50ºF, and these might include Chardonnay, Semillon, Sauvignon Blanc or Riseling for whites, or a darker-hued rose made from full-bodied varieties such as Tempranillo (Spain), Syrah (Southern France) or a Pinotage (South Africa). You can store sparkling wines—Champagne, cava, Prosecco at the same temperature.
It's the perfect season for light- and medium-bodied reds, too. Ideal storage for these is between 52º - 65ºF. Delicious now: Gamay from Burgundy, Pinot Noir (many regions) or from Italy, Valpolicella, Bardolino or Chianti.
If you're storing both red and white in the same unit, favor the conditions for the white, setting the temperature around 50ºF, and remove your reds 15 minutes before serving to bring to the proper temperature. No need to decant: you're drinking reds in their youth—salut!
Discover the entire line of high performance outdoor refrigeration at true-residential.com.