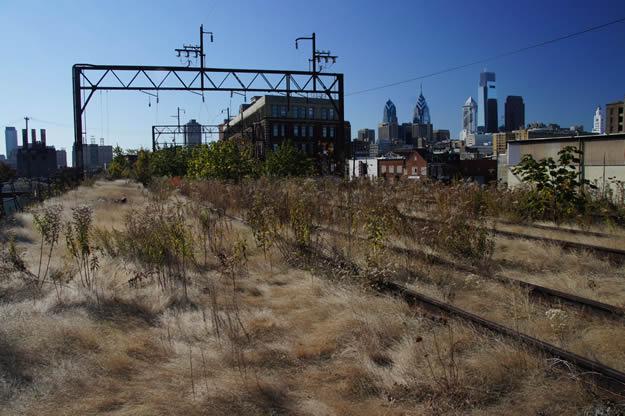 Viaductgreene elevated railway. Photo courtesy of Viaductgreene.
Philadelphia's industrial past and garden future can be explored through a walking tour of a proposed three mile long railway park called Viaductgreene. Currently a wild, abandoned, and unused series of city and privately owned railroad tracks, it spans three miles of Philadelphia's core.

Viaductgreene walking tour map.
Starting across the street from the Philadelphia Art Museum and ending near the Delaware River, the two hour walking tour, led by landscape architect and Viaductgreene co-founder, Paul van Meter, highlights conceptual plans for a bicycle and pedestrian trail combined with a series of public gardens and spaces from end to end along the tracks. On the way, through museum gardens, parks and several neighborhoods, the social and industrial history of Philadelphia is revealed.