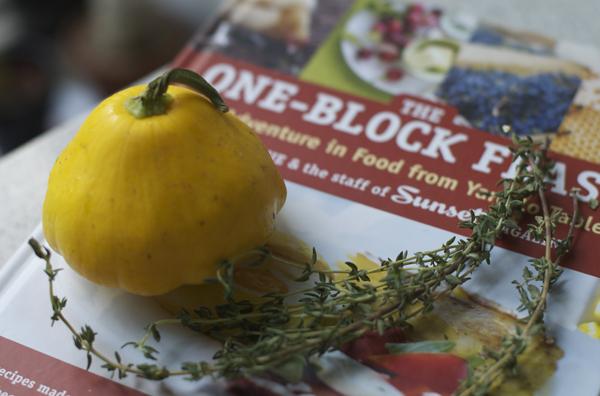 Photo by:
Katie Mendelson
Growing up, summer seemed to drag on forever and I remember being thrilled when the time came to go back to school. Now, of course, I would do anything for such lazy summers, where I spent so much time reading and lying by the pool that I actually become bored of doing so. As I get older, the season now passes by in a flash, lost in a haze of work and a handful of social (read: weddings) and family obligations that are so plentiful at this time of year. I'm doing all I can right now to hold on to the season as it already starts to slip away: extending my morning walks in the park with my dog, an unnecessary amount of time spent fussing over my fire escape container plants, and preparing for an extended trip home to Massachusetts to see my family and enjoy August by the water.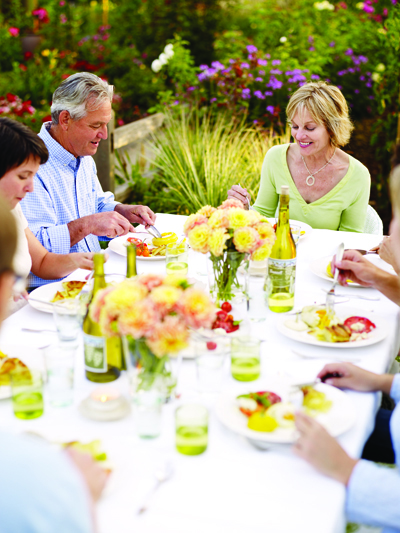 Photo: Thomas J. Story; a summer feast at Sunset magazine's offices.
On a recent weeknight, an inspection of my vegetable crisper turned up a yellow pattypan squash. I have to admit, I've heretofore been slightly intimidated by these adorable, bulbous specimens. This particular summer squash, a small, disk-shaped vegetable with both yellow and green varieties, has a light and delicate flavor, a tender skin, and few seeds. They grow best in full sun, spaced 2 to 4 feet apart, and need regular, significant watering, avoiding the leaves, stems, and flowers. If harvested regularly (usually when they're about 2 to 3 inches in diameter), they should produce through September.
A pattypan virgin, I came to know the vegetable by reading Margo True's The One-Block Feast: An Adventure in Food from Yard to Table ($24.99; Ten Speed Press), a chronicle of Sunset magazine's transformation of its Menlo Park office grounds into a locavore's paradise, replete with vegetable gardens, chicken coops, and beehives. True, the food editor at Sunset (and formerly the executive editor of our sister publication, Saveur), and the Sunset staff, initially sought simply to create a garden from which they could enjoy an end-of-summer feast, a logical step for a magazine that focuses a great deal on enjoying an outdoor lifestyle.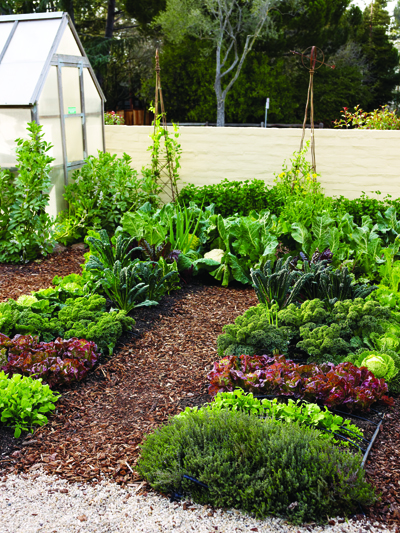 Photo: Thomas J. Story; the Winter Garden at Sunset magazine.
But over time, the project developed into much more. Armed with a "menu as their roadmap" and a credo that allowed them to use only ingredients sourced from their office-cum-farm for their tasty seasonal meals, the team delved into olive pressing, winemaking, and brewing their own beer. Setbacks and all (dead chickens, pest-invaded crops, a staffer sent to the emergency room with an allergy to bee stings), the group developed a better understanding of the nature surrounding them as well as the source of their food and the effort that goes into its creation; the One Block project, writes True, gave "us the quirks and surprises [of nature] we didn't even know we craved until we had them, and didn't know we'd lost until we found them."
What made me enjoy the book the most, too, was the way in which the undertaking allowed the staff to form relationships that go far beyond the normal office banter, united by both their efforts as well as the intimacy that inevitably arises when participating in a shared labor of love. The passion and joy felt towards the project is clear in The One-Block Feast, and its tale of their year spent transforming their outdoor space, the witty descriptions of plants and growing instructions, landscape plans, yummy recipes, stories of their feasts, and inclusion of pretty much any and all edible project in which one could participate (canning, salt making, how to own a dairy cow) makes for an inspiring and interesting read.
The staff formed relationships that go far beyond the normal office banter, united by their efforts in a shared labor of love.
Because of the communal nature of their garden and meals, a great deal of the recipes in The One-Block Feast are well suited to be feasted upon by many, like whole-wheat pizzas and carrot and beet chips. Pattypan squash with eggs seems similarly intended to be served to a large group, and an excellent choice for a summer brunch. I recognize a certain irony, or perhaps appropriateness, in preparing such a dish for one while waxing nostalgic about the passing of summer, a non-solitary season. It was, I think, a simultaneous nod to a rare moment alone and to how lucky I am to have spent time over the past few months with so many people I love, as well as a wish to carry the communal spirit of both the summer and The One-Block Feast into the fall and beyond.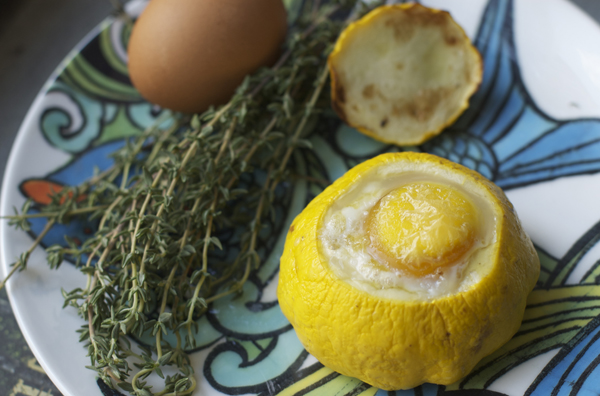 Photo by Katie Mendelson.
PATTYPAN SQUASH WITH EGGS
Makes 8
Adapted from The One-Block Feast
8 pattypan squashes, yellow or green or a combination, each 4 inches across (Mine was a bit smaller and thus my egg did not fit so neatly or well. If it doesn't quite fit, scoop out a little of the white with a spoon. Or, if your squash is large and your eggs are not, one squash can hold two eggs.)
About 3 tbsp extra virgin olive oil
¾ tsp fine sea salt, plus more for sprinkling
1 white onion, finely chopped (about ¾ cup)
4 large cloves garlic, minced
1 ¼ tsp minced fresh thyme
8 large or 16 small eggs, at room temperature
(1.) Preheat the oven to 375ºF. Cut off the top (stem end) of each squash and reserve. Using a small spoon, scoop out and discard the flesh (or reserve for another use) from each squash, leaving a shell at least ¼ inch thick. Brush the squashes and their tops all over with about 2 tablespoons of the olive oil, and set, cut side up for squashes and stem side up for tops, on a rimmed baking sheet.
(2.) Bake until tender when pierced with a sharp knife, 20 to 30 minutes. The tops will cook more quickly, so check them after 15 minutes and remove them when they are done. When the shells are ready, remove them from the oven and sprinkle the insides of the shells and the tops with salt. Set the tops aside; leave the shells on the baking sheet.
(3.) While the squash shells are baking, heat the remaining 1 tablespoon oil in a large frying pan over medium-high heat. Add the onion and the ¾ tablespoon salt. Cook, stirring occasionally, until the onion is very soft and starting to brown, 8 to 10 minutes. Add the garlic and cook, stirring, until fragrant, about 30 seconds. Add the thyme and stir until combined. Keep hot.
(4.) Divide the hot onion mixture among the squash shells, spreading it over the bottom and up the sides to form a thin coating. Crack 1 large egg or 2 small eggs into each squash and drizzle with a little more oil. Cover the baking sheet with aluminum foil and bake until the egg whites are firm but the yolks are still loose, 15 to 20 minutes.
(5.) Sprinkle each egg with a pinch of salt and serve immediately, with the squash tops replaced or set to the side.
This can be made ahead. Bake the squash cups up to 4 hours ahead, cover, and keep at room temperature. Rewarm the cups in the oven before adding the onion mixture and eggs.
Katie Mendelson is the assistant editor of GARDEN DESIGN.