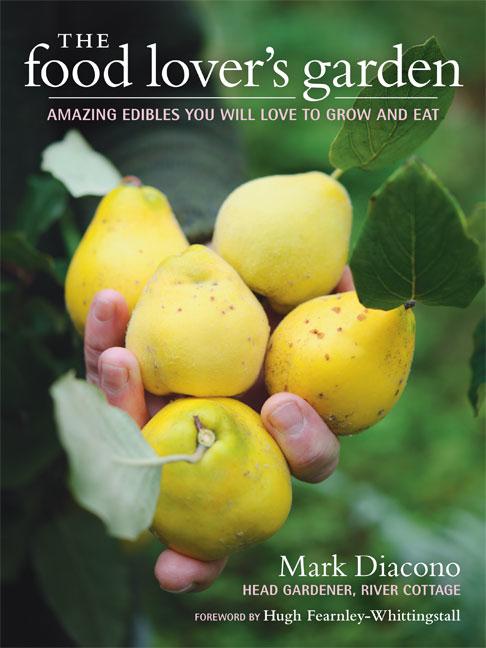 Today, we're debuting a new regular column from Katie Mendelson, the assistant editor at GARDEN DESIGN. She'll be cooking fruit and vegetables that are in season, as well as featuring gardening cookbooks that focus on growing edibles.
Her first column is focused on Mark Diacono's The Food Lover's Garden (Timber Press, 2011). Diacono is the head gardener at England's River Cottage, run by Hugh Fearnley-Whittingstall, a British chef and journalist. Diacono's mantra is "Life is too short to grow ordinary food," and encourages gardeners to cultivate unusual vegetables and fruits in their gardens. And to encourage gardeners to grow these plants not only for their role in the landscape, but also as edibles.
We hope you enjoy these columns and that you'll let us know what you're growing and cooking in your gardens!

In my household, we've been eating a lot of strawberries recently. Not a meal goes by without some sort of creative use of the ripe and delicious berries, and besides the fact that the tangy taste is irresistible, strawberries make a good excuse to whip a batch of heavy cream. Satisfied guests leave with red-stained fingers, and even my dog seems to have developed an appetite for them, wisely sniffing around the table when yet another handful gets consumed. June is prime time in the Northeast for these berries, and though I have yet to experiment with growing them on my fire escape garden, I've been lucky enough to take part in the local bounty through my Community Supported Agriculture (CSA) group.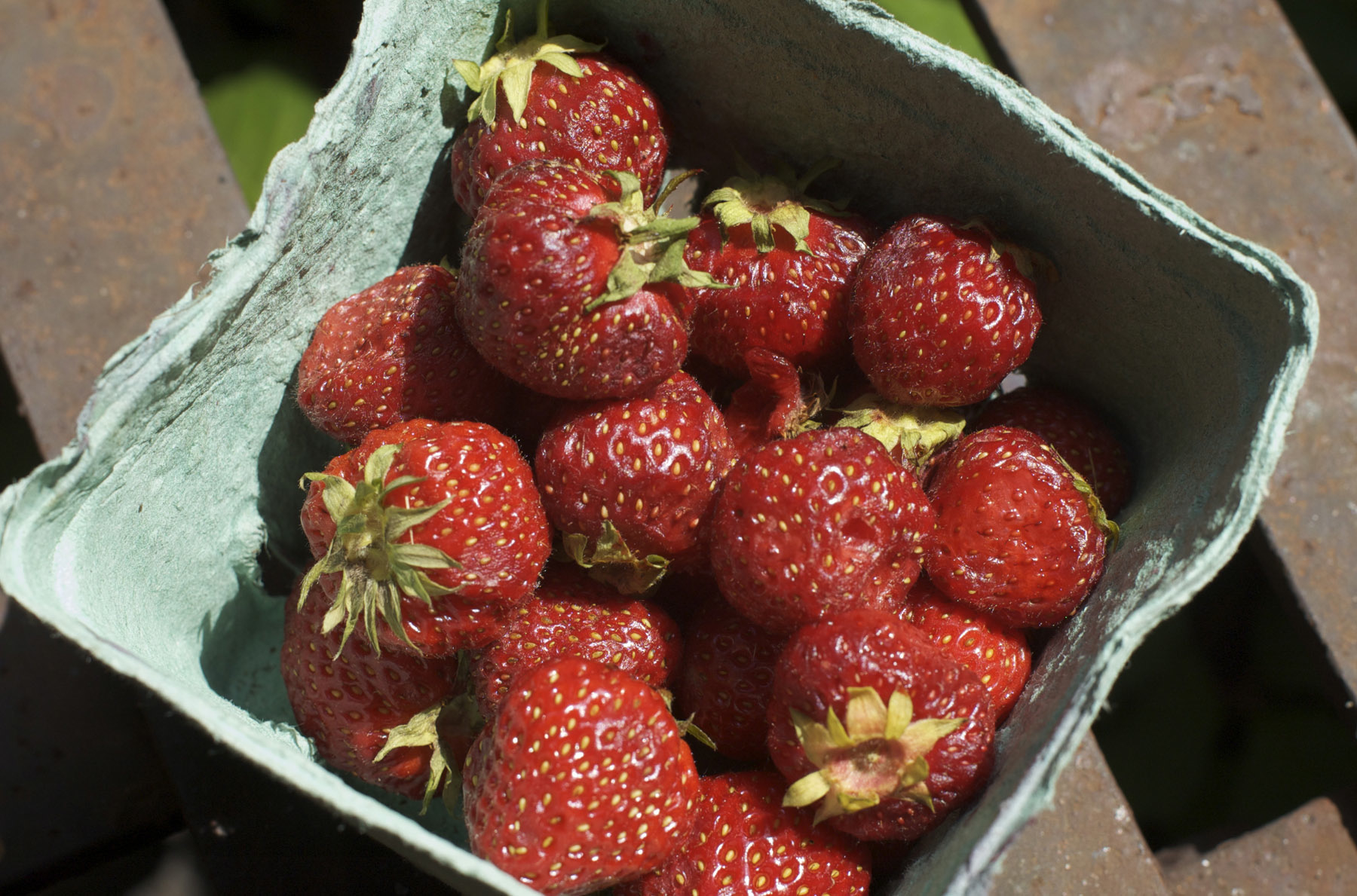 My strawberries from my CSA—so ripe and delicious!
Though I tend to be a purist when it comes to enjoying my strawberries (meaning I like to eat them standing up in front of my sink, straight out of the colander), you can never go wrong with a dollop of cream and a flaky biscuit. For a new take on this outstanding dessert (or breakfast or midday snack—the possibilities for indulging are endless), I turned to Mark Diacono's The Food Lover's Garden (Timber Press). Working with the motto that it is no harder to grow unusual and tasty food than it is standard crops like potatoes and carrots ("Life is too short to grow unremarkable food. It's not worth the time or effort and—happily—it's no more tricky to grow the utterly delicious than it is the entirely ordinary."), he dispenses practical and beautifully photographed advice on how to grow a bevy of interesting fruits and vegetables from almonds to yacon.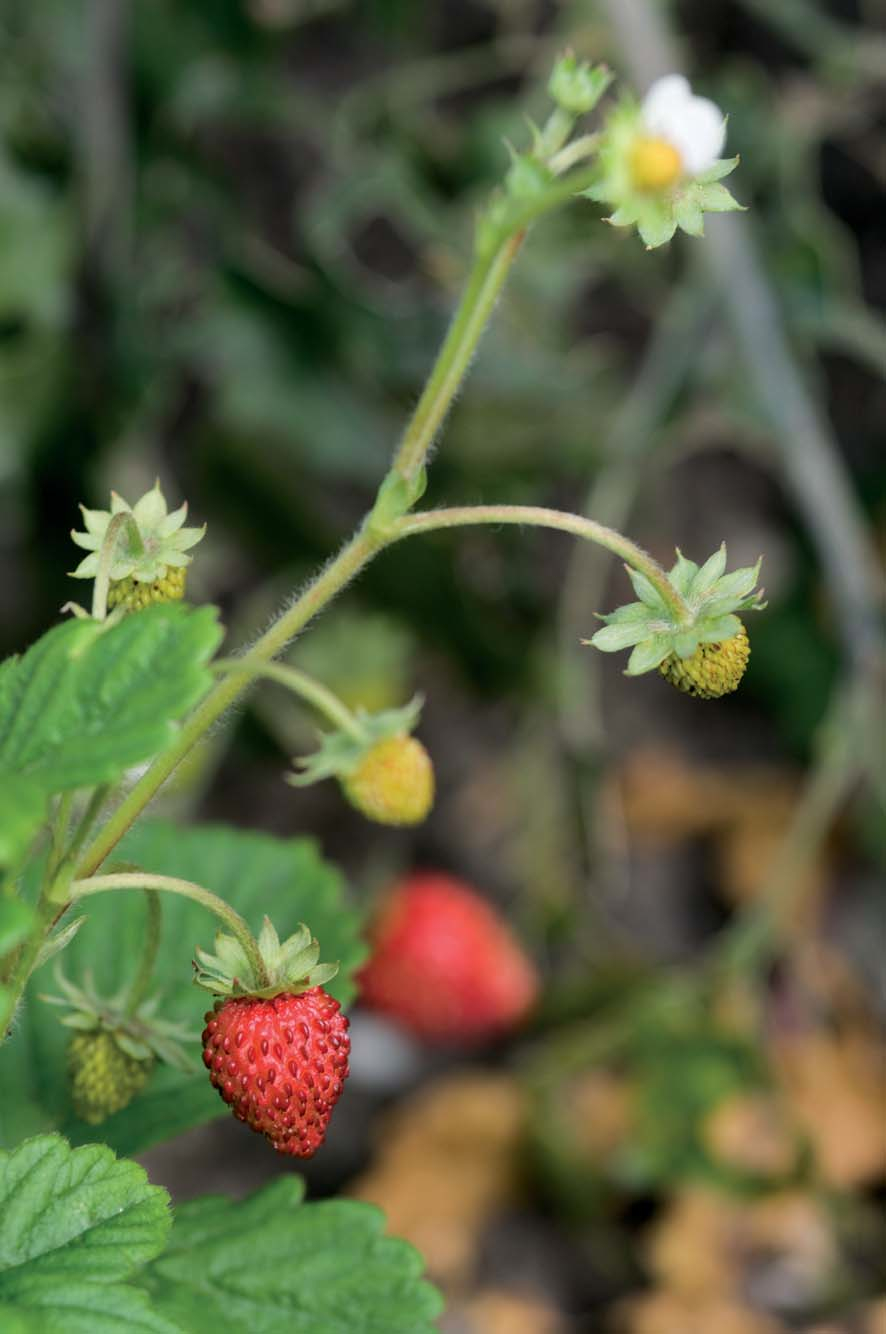 A photograph of alpine strawberries, by Mark Diacono, from the book.
And while my beloved garden strawberries might be a touch too pedestrian for mention in the book, Diacono includes alpine strawberries (Fragaria vesca), a tiny variety of the fruit that is easy to grow and can be picked from late spring to early fall. Luckily, the recipe that he presents for alpine strawberries is easily applied to those that are readily available to us right now (as well as a variety of other berries) and makes for a particularly tasty vehicle for enjoying the fruit.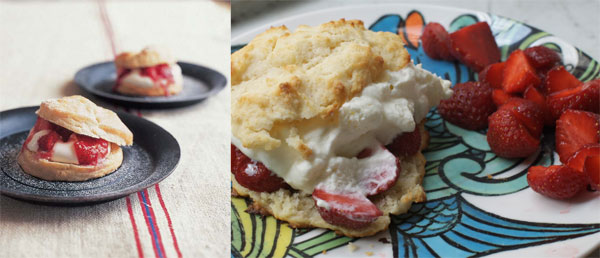 Left: Photograph from The Food Lover's Garden. Photo: Laura Hynd; right: My version of the recipe using garden strawberries. Photo: Katie Mendelson.
SPECTACULAR STRAWBERRY SCONES
Adapted from The Food Lover's Garden, with my cooking notes in parentheses.
Makes 8
For the scones:
1 cup all-purpose flour
1 ½ tsp baking powder
¼ tsp baking soda
¼ tsp salt
1 tbsp superfine sugar (I used 2 tbsp. I didn't regret it.)
1 tsp finely grated lemon zest
5 tbsp unsalted butter, chilled and cut into 1/2 –inch cubes
2/3 cup buttermilk
1 tbsp light cream or milk
For the strawberries:
11 oz alpine strawberries (or whatever is available!), stalks removed
2 tbsp superfine sugar (I skipped this. The strawberries are sweet enough.)
¾ cup heavy cream, lightly whipped
Preheat the oven to 400˚F.
Sift together the flour, baking powder, baking soda, and salt into a large mixing bowl. Stir in the sugar and lemon zest. Toss in the butter and work lightly with your fingertips until it resemvles coarse bread crumbs, though it's good to have a few pea-sized pieces of butter still in the dough as this will give you a flakier result. Pour in the buttermilk and stir lightly to combine with a fork or knife.
Turn the sticky dough out onto a well-floured counter, knead very gently to bring together, then roll or pat out the dough until it's about 5/8-inch thick. Cut into 2 1/2 –inch circles (used a wine glass if you don't have a cutter; both should be dipped in flour first), gently rerolling the dough scraps and cutting them out too.* Lift onto a baking sheet with a spatula and brush the tops with cream or milk. Bake for 12 minutes, until golden. Cool slightly before filling, but they're best served warm.
While the scones are cooking, toss the strawberries with superfine sugar and let macerate for five minutes. Puree about a quarter of them in a blender then mix them with the whole strawberries.
To assemble the scones, first slice them in half. Put the bottom scone on a plate, add a dollop of whipped cream and a good spoonful of the strawberry mixture, top with the other half of the scone, and dust with the confectioners' sugar if using. Serve immediately.
*Full disclosure: I skipped this step. The scones form nicely if you spoon them straight out of the mixing bowl. The omission of this step comes in handy if you are especially anxious to get to eating these treats.
For even more strawberry recipes, check out "One Ingredient, Many Ways: Strawberries" on our sister site, Saveur.com!