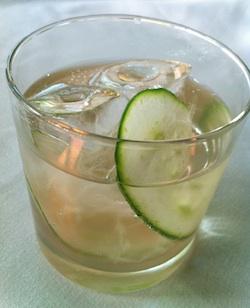 MAKES 1 COCKTAIL
1 small watermelon
1 quart white wine vinegar
1 quart sugar
Cucumbers, sliced thinly
1 ounce Pisco
1 1/4 ounces watermelon syrup (recipe below)
Club Soda
To make watermelon syrup:
Cut a small watermelon out of the rind and set aside. Cover fruit with 1 quart of white wine vinegar. Let macerate for three days. Place mixture in a stock pot and add 1 quart sugar. Heat to a boil and cook for 15 minutes. Then strain fruit out and cool remaining syrup. Shrub base will keep up to three weeks.

To make cocktail:
Place a thin layer of cucumber slices in the bottom of desired glass.
Muddle cucumber in a short glass with muddler. Use the back of a spoon to bruise cucumber, if muddler is not available.
Add 3-4 cubes of ice
Add 1 ounce of Pisco.
Add 1 1/4 ounces of watermelon shrub base.
Generously splash with club soda.
Stir lightly with a cocktail straw or butter knife.
Garnish with cucumber slice on side of glass.