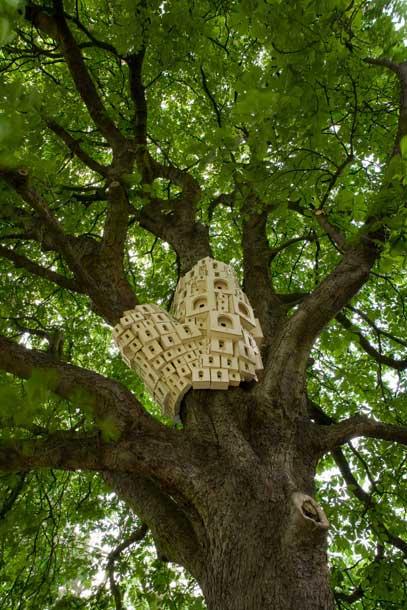 Photo by:
London Fieldworks 2011
In 2010, the artist collective London Fieldworks, founded by Bruce Gilchrist and Jo Joelson, created a fantastic series of bird houses. The work of art, called "Spontaneous City in the Tree of Heaven," consisted of several hundred custom bird houses mounted in two trees of heaven (Ailanthus altissima) and were a reflection of the housing stock around the trees—a mix of public housing from the 1960s and Georgian town houses.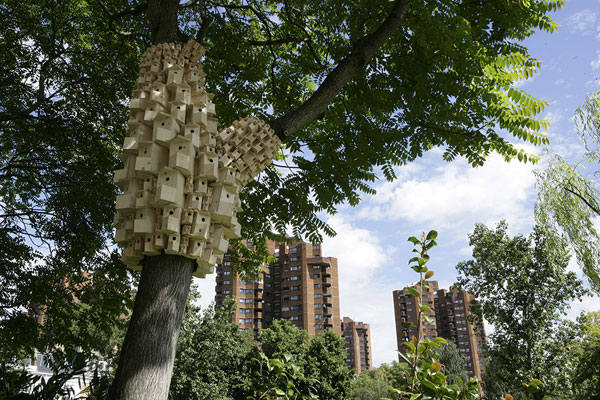 Here, you can see the clear connection between the public housing and the 2010 birdhouses by London Fieldworks.
The project was commissioned for the Royal Borough of Kensington and Chelsea and Islington Council by Up Projects as part of their Secret Garden project, which is a series of art projects designed to create green spaces in unexpected urban corners around London.

Left: Mussolini's Palazzo della Civiltà Italiana; right: London Fieldwork's 2008 birdhouse interpretation.

Interestingly, the "Spontaneous City" project grew out of another London Fieldworks Project, "Super Kingdom," where "show homes" were created for animals, based on the architecture of despot's palaces—the bird houses that seem to be the most direct inspiration for the project were the ones based on Mussolini's Palazzo della Civiltà Italiana.
This year, London Fieldworks built a new set of bird houses for 2011, (shown at top), commissioned by the Norfolk and Norwich Festival to appear in the city's public gardens and to help raise awareness of urban green spaces. The houses are meant for both birds and bugs, and are built on a complex base of rubber bands so that the tree can grow and expand, without the bird houses hurting the tree.