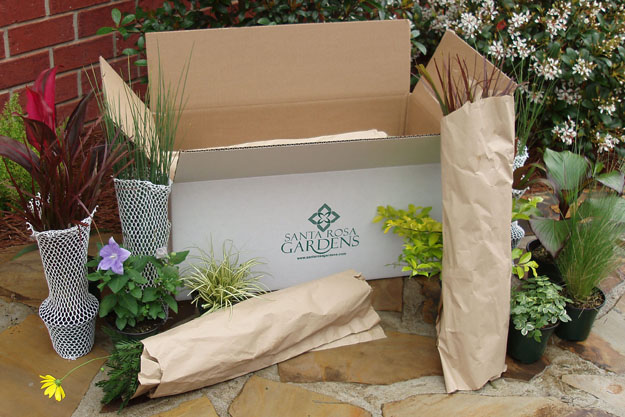 There's nothing unique about saying "unique," unless you're Santa Rosa Gardens. These savvy sellers specialize in plants you won't normally find at your garden center or superstore.
Family owned and four generations proud, Santa Rosa Gardens grows everything they sell, so they know quality, and they know plants. "We all love plants and gardening, and there's nothing more rewarding for a gardener than seeing other gardeners succeed," says Customer Service Manager Jude Groninger, herself a Master Gardener, landscaper and horticulture instructor.
With an online catalogue consisting of thousands of plants, Santa Rosa Gardens has carved a niche in all plants perennial, particularly ornamental grasses and their grass-like cousins. We asked for their must-have picks in today's gardens.
Designer grasses sizzle in any setting, says Jude. Two of the world's hottest are Pennisetum 'Fireworks' and 'Skyrocket'. International award-winner 'Fireworks' is striped burgundy, pink, cream, white, green and ruby red on plants up to 36" tall. A grand finale of rich red plumes tops off the spectacular foliage. 'Skyrocket' sparkles with pink projectile plumes above bright green & pristine white variegated foliage.
Go native with the huge influx of native plants that's hit the market. "We're loving the unexpected mix of native perennial plants and grasses in containers," says Jude. One of their favorite combinations: Echinacea 'Ruby Star', Panicum 'Ruby Ribbons', Gaura 'Crimson Butterflies' and Carex 'Blue Zinger'.
When color counts, you never lose with bold hues. Jude suggests a closer look at Lewisia 'Rainbow Mix', with its showstopping kaleidoscope of colors and Coreopsis 'Sienna Sunset', with rich, burnt sienna flowers that lighten to coral as they mature. On the softer side, Digitalis 'Goldcrest' showcases peach-yellow trumpets accented with maroon markings.
What's a garden without texture? Santa Rosa Gardens couldn't agree more, and goes for specimens like Chasmanthium 'River Mist', a variegated northern Sea Oats with striking green-and-white striped arched foliage, or the Tassel Fern, Polystichum polyblepharum, which gets its great name from the tips that hang down after they unwind.
For fun from sun to shade, don't discount foliage's impact. In particular, Santa Rosa Gardens suggests a second look at Polemonium 'Touch of Class', with its lustrous green leaves edged in blinding bright white, and Euphorbia 'Ascot Rainbow', sporting stunning leaves of blue-green with creamy yellow edges in summer and deepening to rich red with cold weather's onset.
Beyond the garden, consider grasses as cuts too, says Jude. From earthy white, buff and tan to jeweled red, pink and purple, grasses offer serious options for bouquet fillers. Try variegated Miscanthus like 'Cosmopolitan' or 'Gold Bar', and experiment with the soft tufts of Muhlenbergia capillaris (purple) or Pennisetum villosum (bright white).
For more information or specific requests, email sales@santarosagardens or call 1-866-681-0856. To see the full Santa Rosa Gardens product line, visit www.santarosagardens.com.