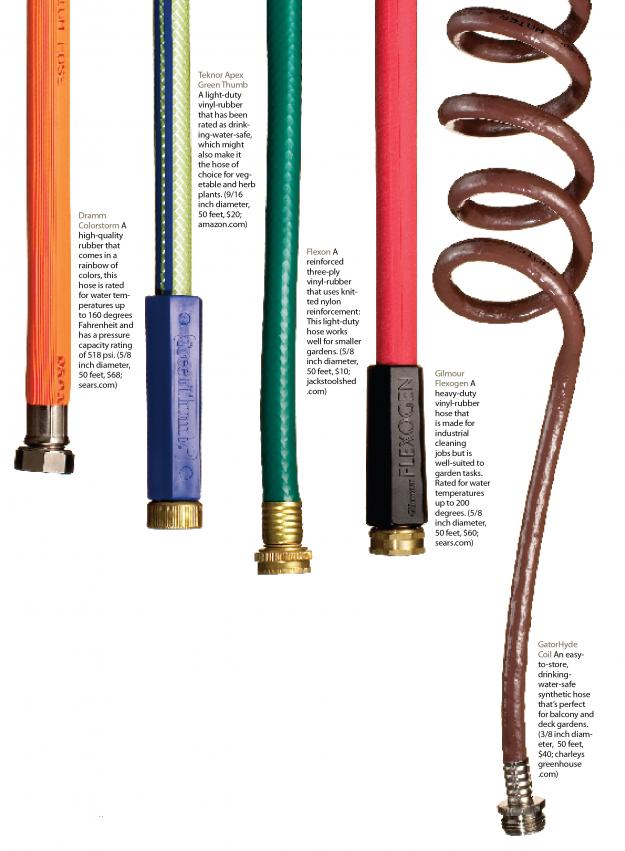 Photo by: Michael Kraus
Garden hoses have come a long way since 400 b.c., when people used ox gut to spray their roses. The 17th century Dutch turned first to linen, then hand-stitched leather. Rubber took over in the 1800s and is still the top-of-the-line material. Vinyl hoses are the weakest and cheapest. At the Brooklyn Botanic Garden, the staff mostly uses vinyl-rubber hoses, which have as many as six layers of nylon or foam reinforcement.
Natural rubber hoses are the most durable and are rated by their ability to withstand hot water (typically around 200 degrees Fahrenheit) and pressure, measured in pounds per square inch. They're also the heaviest (a 50-foot hose weighs about 10 pounds), which can make watering strenuous. But the heft, and heftier price tag, are worth it, says Mia Mengucci, a horticulturist at Primex Garden Center in Glenside, Pennsylvania.
Other basic considerations are width and length. For most households, a five-eighths inch diameter is fine. A hose should reach all corners of the garden without straining or running over planted beds. For a deck or balcony plants, Susanne Kongoy, owner of GRDN in Brooklyn, New York, recommends coiled hoses, which store easily and have less kink—a fair tradeoff for their being relatively short and narrow. (Kongoy recommends the Gator-Hyde Coil Hose, a reinforced three-eighths-inch tube.)
The best hose, naturally, is the well-cared-for hose. Never drag a hose by an attached nozzle or it will leak where hose and nozzle meet. Unravel hoses completely before turning on the water to slow deterioration and reduce kinking. Above all, protect them from the sun. "If they are rolled up after every use and stored indoors in the winter," Mengucci says, "hoses last for many seasons."

This article was first published in Garden Design
April 2011