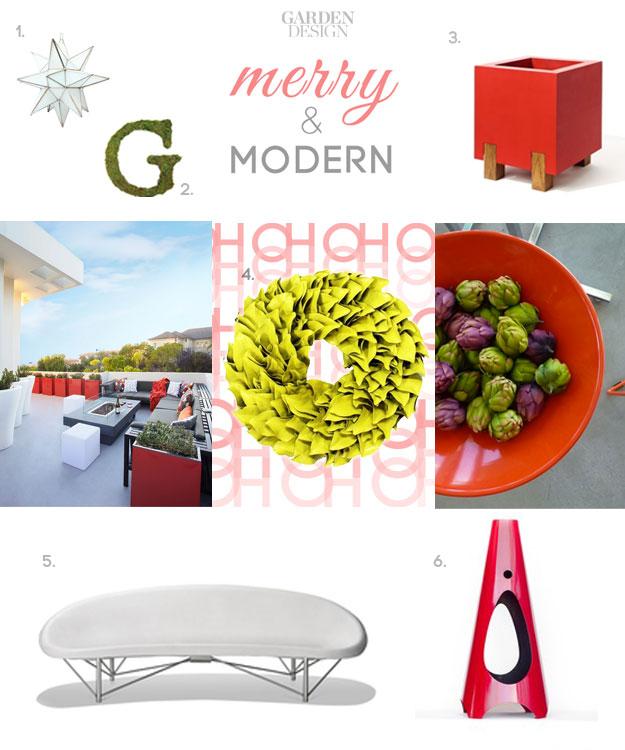 Make your outdoor space merry and bright with a twist on tradition. We teamed up with ShopBoxhill.com to curate a collection of contemporary outdoor products for conversation pieces you won't want to pack away when the holidays are over.
1. TIN & GLASS STARLIGHT - Designed to be versatile, these stars can stay up all year, great as a single display or group together at different lengths.
Why we like it:
These stars feel special! With their classic shape and vintage feel, they complement many styles, such as French country, bohemian, Spanish colonial, or the trendy rustic modern. Prettier than the typical outdoor utility light, we'd use this on the porch as a single pendant, or better yet, we'd group them at different levels over a table or in a corner area for a super charming vignette. Add three red pillows on the chairs and, voila! It's Christmas!
2. MOSS LETTERS - Monogram your door, or spell out a holiday truism on your mantel. These 18–20" tall, moss covered letters are sturdy and are constructed using real, live green moss that will age naturally over time. They're handmade by a small American company.
Why we like it:
Monogramming is hot! From a family initial to spelling out the words "E-A-T" over your outdoor kitchen, we'd love to tie one of these letters with a gold ribbon and hang it year-round on the front door or lean it up against a trio of pots on the patio.
3. SNAZZY STILT BOX – Modern and eye-catching, this stilt container allows for proper drainage of plants keeping the container off of the ground while adding a little holiday cheer.
Why we like it:
We love the clean design! We'd showcase it with a rosemary Christmas tree surrounded by 10 white ornaments at its base. Or we'd put a variegated agave for a modern look that's good year-round. The chartreuse color of lemon grass would look fabulous next to the red. Add a few Christmas tree lights and it's instantly seasonal!
4. LUSTROUS LEMON WREATH – Brighten up your door or window with this yummy chartreuse-colored magnolia wreath, coated in glass to last indefinitely. Handmade in the USA.
Why we like it:
We love that the color is so unexpected! These wreaths play on the nostalgia of the Magnolia tree but trick with lemon! The chartreuse color, which has a more limey look than pure lemon, is fresh and would pair well against red and white for a fantastic look. Leave it up through Easter then add a navy-colored bow and welcome spring and summer!
5. HELIOS HEATED LOUNGE - The GALANTER & JONES Helios Lounge is the perfect spot for sky gazing from backyards or rooftop gardens. Made by hand in California, the lounge comfortably seats four, has an integrated variable control system for energy-efficient heating, and comes in five different colors.
Why we like it:
The smart design and quality engineering of this lounge make us love it even more than just for how snazzy it is. Add a smoky gray pillow for a winter wonderland. A few fun seasonally-colored pillows turn it into a white Christmas! Pair it with something pink for spring, and you can make a statement any time of the year.
6. URBANFIRE – This cherry bomb-colored Urbanfire piece has a modern star burner mounted to its firebowl to provide a perfectly dispersed flame. A fun pop of color whether it has flames or is used as a sculptural piece outside. Lightweight, easily moveable, and comes in six different colors. Made to order in the USA.
Why we like it:
The cherry color is a mid-century classic 1950s color. There aren't many sexy fire pits when they're not in use, but this one is the exception! It's a showstopper on a small patio against a backdrop of greenery. With its iconic design, you could put it next to a tree with a few Christmas lights and your decorating is done!