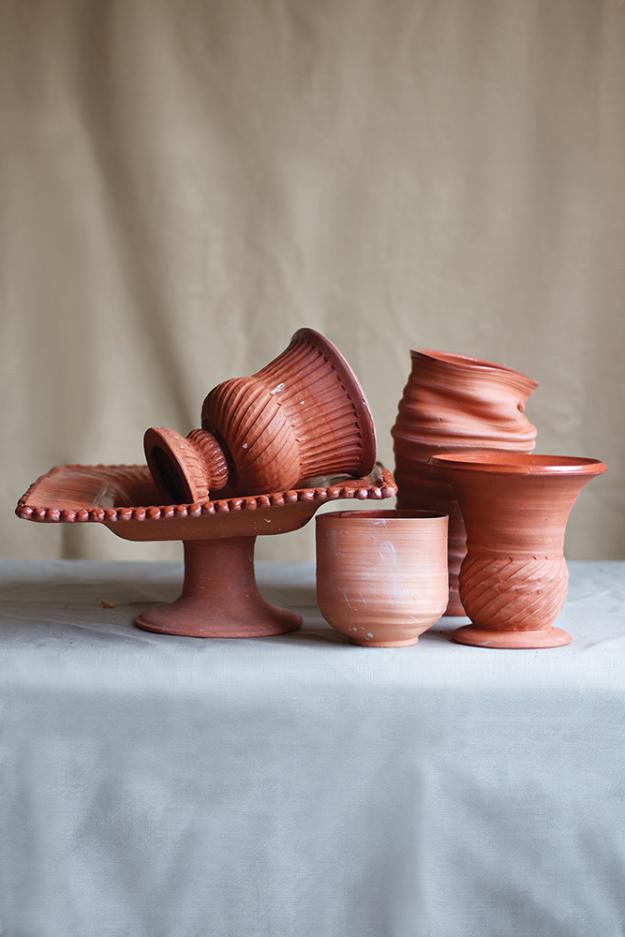 Frances Palmer has long been celebrated for her handmade earthenware and porcelain tableware and vases. In gardening circles, the Connecticut artist is equally praised for her green thumb. Now Palmer is expanding her pottery line to encompass both endeavors. Her new vessels are inspired by ancient Greek and Roman models and by one of Palmer's heroes, early 20th-century American ceramicist George Ohr, known for his abstract figures and organic lines. "I've been getting away from formal shapes, throwing the clay with a very loose idea in my mind and letting it fall where it wants," says Palmer of her recent experiments.
Rendered in tactile terra cotta, the pieces integrate effortlessly into outdoor settings. "I love how the clay interweaves with the landscape," muses Palmer. "It's much more sympathetic to being in the garden than earthenware or porcelain." Palmer's work feels equally at home inside—it's easy to picture one of her low, footed urns spilling over with coleus or heaped with bread on a dinner table. "I like my pots to be so essential to people that they carry them around to different environments," Palmer says. "Whether they're kept as objects, placed in the garden, or used on the table, people should have fun with them."
To buy: Frances Palmer's terra cotta urns and pottery.

This article was first published in Garden Design
May 2012