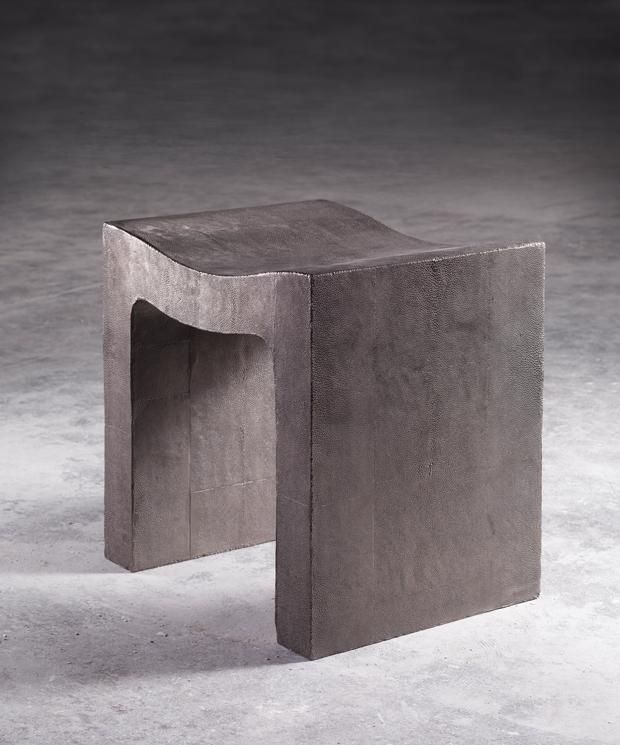 Sally Mackereth's stone Cast 001 Seat is both a startling sculptural statement and a practical, usable object for the home, especially outdoors. ($1,280)
Despite Europe's continuing economic woes, this year's Milan Furniture Fair proved to be rich in both ideas and crowds. More than 300,000 people toured the city's palazzi, monasteries, museums, and botanical gardens to see—and sit on—the best and brightest new designs.
One of life's most fundamental acts, sitting, took on new meaning at the fair, especially with trends in outdoor furniture design. We saw many richly upholstered pieces for outdoor use—some with practical applications, others with elements of fantasy and whimsy. B&B Italia paired its retro line of Husk Outdoor recycled (and recyclable) plastic chairs with plush but decidedly eccentric waterproof cushions, a look that would work well poolside. Ligne Roset debuted its own equally arresting quilted and tufted Serpentine chairs by Eleonore Nalet.
Cabanas and tents seem to be ceding their traditional roles and evolving instead into true outdoor rooms, the most alluring example being Patricia Urquiola's Cottage for Kettal—an inviting, pitched-roof structure with echoes of vernacular Polynesian architecture.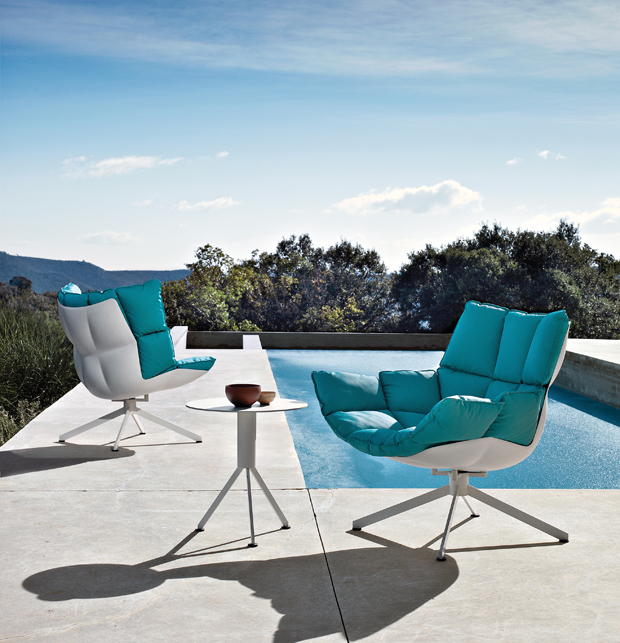 B&B Italia Husk Outdoor chairs: Also designed by Urquiola, these groovy chairs are made from a durable biodegradable plastic shell and fitted with waterproof cushions. ($3,155)
Expect to see bolder, brighter colors—citrus, fuchsia, lime—in backyards later this year. Strong colors and playful designs indicate outdoor furniture is heading in a more adventurous direction. A fun example of this is Stephen Burks' woven circular Dala stool for Dedon, which is as vibrant and detailed as a mosaic. Texture, too, is celebrated, notably with Sally Mackereth's monolithic tables and stools, each defined by a rough metallic-sheen surface that begs to be stroked.
Socially conscious design is yet another exciting trend that continues to evolve — and it was much in evidence at the fair. The Dala stools, for example, are made from recycled food and drink packaging while Italian fashion brand Marni exhibited its limited-edition series of 100 multihued woven chairs handmade in Colombia by ex-convicts, proceeds from which will be donated to ICAM Institute of Milan, a project that pairs children of imprisoned mothers with foster families.
The Goods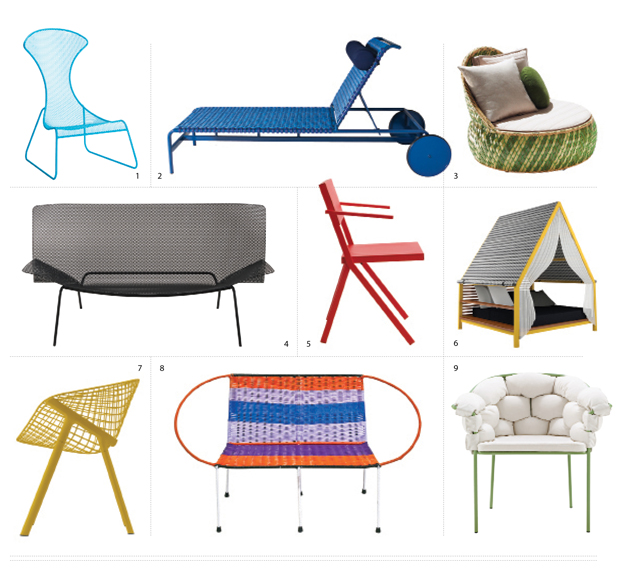 To help you recreate the bold, playful looks found at the 2012 Milan Furniture Show, we assembled a collection of our favorite new outdoor designs (prices included when available). Marni is a definite winner, with its hand-woven pieces from Colombia, as is Patricia Urquiola, with her cabanalike Kettal Cottage and her stylish Husk Outdoor line for B&B Italia. Most of these items will be available by fall.
1. Ikea PS 2012 easy chair: This easy-to-clean, low-maintenance chair by Wiebke Braasch is as comfy as it is stylish. ($149) 2. Driade Rimini castored sun bed: Designed by the Anglo-Swedish duo Fredrikson Stallard, this bright-blue sun bed gives a nod to modernist masterpieces with its great wheels and sleek frame. ($2,618) 3. Dedon Dala lounge chair: Woven from fibers created from recycled food and drink packaging, this brightly colored Stephen Burks-designed chair is lightweight and easily transportable. 4. Ligne Roset Grillage love seat: Francois Azambourg's design is simple: A sheet of metal is folded, origami-style, and processed to create a mesh. ($1,185) 5. Emu Mia armchair: This sleek, stackable Jean Nouvel-designed steel-and-aluminum armchair is perfect for both indoor and outdoor use. ($262) 6. Kettal Cottage: Escape in your own backyard with Urquiola's curtained aluminum-and-wood cabana for two. 7. Alias Kobi chair: Patrick Norguet's steel-and-aluminum basket chair comes in a variety of bold colors, with or without cushions. ($633) 8. Marni sofa: This colorful series of chairs and sofas is handmade by ex-inmates in Colombia using salvaged materials and woven PVC threads. ($383) 9. Ligne Roset Serpentine chair: Upholstered in a waterproof, anti-UV-treated Tempete fabric, this stylish Eleonore Nalet chair is both functional and chic. ($955)