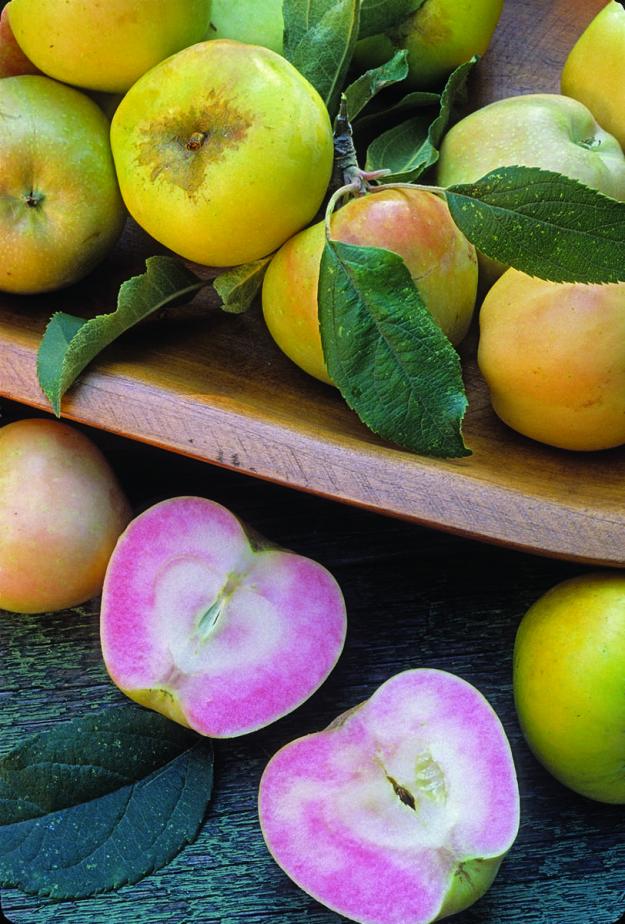 The little-known 'Pink Pearl' apple
Plant hunters were on high alert this past fall at the 64th Annual Symposium of the ­Garden Writers Association in Tucson, Ar­izona, where dozens of suppliers of seeds, plants, and garden wares brought out their best for the pros. For those of us hailing from climates with more than 12 inches of rainfall per year, the Southwest desert was a wonderland of succulents, fiery flowers, scrappy natives, and prickly things. Before the shuttle bus even left the airport, GWA folks were busy on their smartphones Googling a bright-blossomed shrub growing in the median. The heat-loving poinciana (Caesalpinia pulcherrima) is native to the tropics and subtropics of the Americas, and its orange-and-red flower clusters are as strong a draw for hummingbirds and butterflies as humans.
It was fortunate to have garden designer, author, and Tucson resident Scott Calhoun on hand during the weekend to point out other local treasures. One standout was a silvery-blue version of slipper flower (Pedilanthus ma­crocarpus), a snaky stemmed succulent native to the Sonoran Desert that is great in the ground or with trailing succulents in a pot, Calhoun says. At the office of his firm, ZonaGardens, a noteworthy native was blue grama (Bouteloua gracilis). Also called mosquito grass, its kinetic flower heads dangle above narrow blades from midsummer into winter.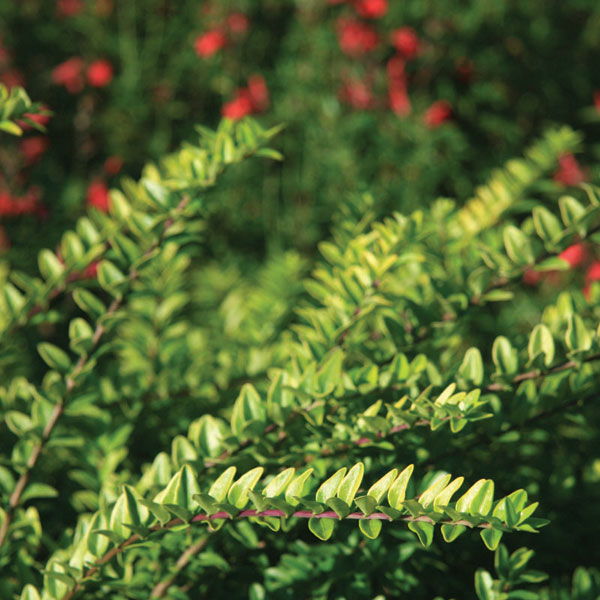 Lonicera Edmee Gold
Other plant experts brought forth eye-opening offerings as well. Susan Martin of perennial Michigan-based nursery W­alters Gardens waxed eloquent about the new hardy hibiscus 'Midnight Marvel,' a sturdy 4-footer with 9-inch red blossoms and wine-p­urple foliage. The maven of beautiful edibles, Ro­salind Creasy, mentioned a few choice fruits and veggies, including the purple, antioxidant-rich tomato 'Indigo Rose'; her personal favorite, the meaty and plum-shape tomato 'Enchantment'; and a pink-flesh apple with cream-color skin called 'Pink Pearl' (which makes lovely pink applesauce).
Always a gold mine for new plants, thef­ive-day symposium saw the debut of several ideal container plants, including a dwarf thornless raspberry (Rubus idaeus Raspberry Shortcake) from Fall Creek Farm & Nursery in Oregon, part of the BrazelBerries collection, and Bougainvillea Bambino 'Panda' from Hines Growers. With small white flowers and white-edge leaves, 'Panda' can also be trained as an elegant standard, an exotic alternative to roses and hydrangeas.
Golden plants remain hot, and two at the show, varieties of box honeysuckle (Lonicera Edmee Gold) and deodar cedar (Cedrus deodara Feelin' Sunny), really popped. Both are delicately textured, low-growing shrubs, and the honeysuckle thrives in shade, where a bit of bright color is welcome. At the other end of the spectrum, from the Southern Living Plant Collection, was Delta Jazz crapemyrtle, with pink flowers sparkling against burgundy (nearly black) leaves.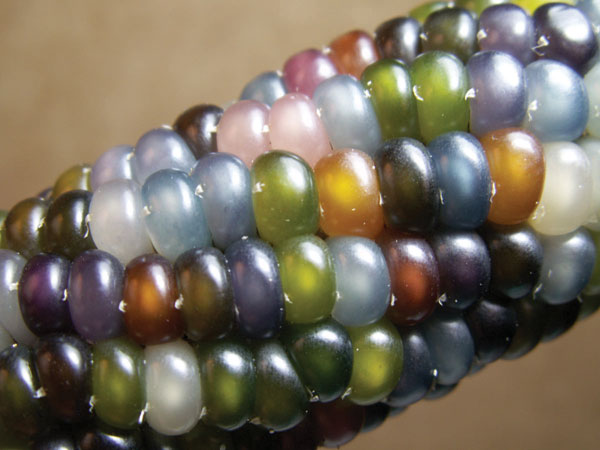 'Glass Gem' decorative corn
One plant that had everyone buzzing was a decorative corn — not usually something to get the adrenaline going. The opalescent kernels of 'Glass Gem' were mesmerizing. The result of breeding efforts by an Oklahoma farmer, this heirloom is now under the protective care of Native Seeds, a Tucson-based nonprofit dedicated to preserving crop diversity. At its headquarters, vaults are filled with containers of seeds, some ancient varieties, some wild, that trace our agricultural history — a treasure trove indeed.