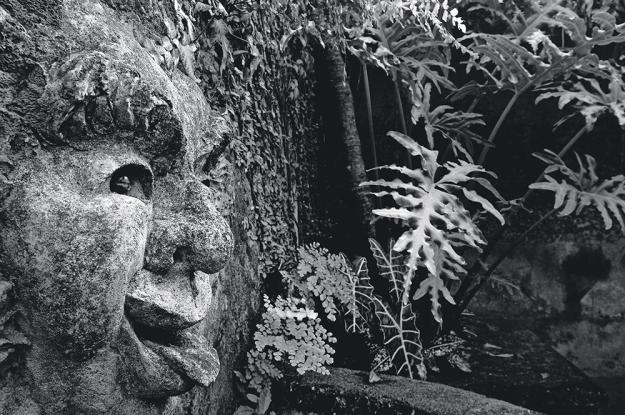 Photo by:
Dominic Sansoni
Lustful gargoyles and other free-spirited statuary found a home at Brief Garden, the Sri Lankan garden owned by pleasure-seeker Bevis Bawa.

I remember when gardening went from being a casual pastime for me to something much more visceral. For years, I messed around with a container garden on the roof of my Brooklyn, New York, loft, planting simple stuff—lavender, geranium—that could stand the nearly constant wind that blew up from the East River. I liked the challenge of the harsh conditions and came up with geekish enterprises to contest the forces of nature: installing an irrigation system whose effectiveness depended on how many people happened to be showering in the apartments below or a chart analyzing sun exposure, which confirmed the fairly obvious fact that the entire deck was in the full sun all day long.
Then, two things changed. First, I fell in love with my now-wife Stephanie on that roof. On warm nights, we sat on the roof's wide cement ledge and watched the sun set over the city. We brought out chairs and ate dinner under the sky. On Saturdays, I'd find her sunbathing next to piles of magazines and deadheaded blossoms. Being in the garden became more pleasurable than tending it.
The second change occurred when the garden officially became not mine but ours. Stephanie chose plants I never would have: a goldfish plant, moonflower vines, and miniature roses—not to mention urns, hanging baskets, and herbs I'd never heard of. Her selections seemed random at first, but as they leafed out, fruited, and bloomed, I realized she had a great eye. More than that, what she planted and how she arranged it reminded me of her: how she dressed, how she talked, the movies she liked.
Every gardener has his or her own style, but the best designs, in my opinion, reveal the essence of the people who planned them. When Caroline Seebohm traveled to Sri Lanka last year, she walked through the country's most famous gardens, built by two siblings with dramatically different personalities (see "The Brothers Bawa"). She left feeling like she had met the men themselves.
Personality came through in all the gardens we cover in this issue. I've always admired actress Marg Helgenberger, for example, but now that I have seen her Los Angeles garden (see "A Star Is Reborn") and discovered how much thought Helgenberger put into it as both a personal and social space — how she laid out the beds and gravel paths and dining area to accommodate large parties, which trees needed to be restored or removed to give her the privacy she wanted — I feel that I know her. And in every one of the walled-in gardens in "First-Class Courtyards", the designs not only encompass a range of personalities but also span the globe.
Now, whenever I walk into a garden, I start by wondering about the person behind the plantings. Over time, though, I come to appreciate that the gardens take on a personality and power of their own. They have an impact on the humans who dwell in them, just as a small roof deck garden set the stage for two people to fall in love.
Norman Vanamee is the Editor-in-Chief of GARDEN DESIGN.

This article was first published in Garden Design
May 2012