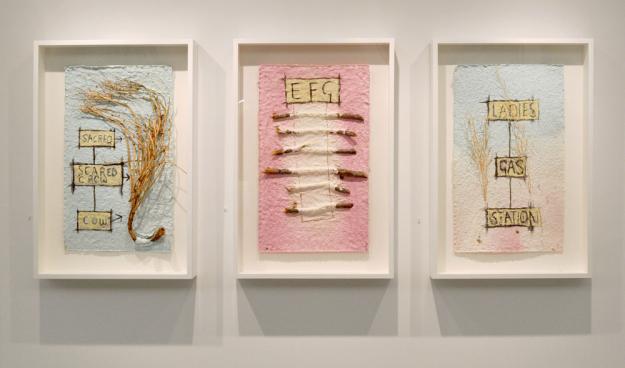 Peter Nadin isn't afraid to get his hands dirty. The 58-year-old artist has been running a 160-acre farm, called Old Field Farm, in a scarcely populated region of the Catskills Mountains in New York since 1989 — cultivating mushrooms, fruits, vegetables, and tending livestock such as pigs, ducks, chickens, and goats. But he uses the land not just to feed his family (and others) but also to facilitate his creative process — the fruits of which you can see in an exhibition titled Taxonomy Transplanted through February 8, 2013 at the Horticultural Society of New York, on the 13th floor of 148 W. 37th Street.
Nadin, who originally hails from Bromborough, England, moved to New York City in 1976, where he joined the company of fellow artists Christopher D'Arcangelo, Daniel Buren, Sean Scully, Richard Prince, and Jenny Holzer, among others. While his early artistic career had its peaks and valleys he started to gain serious critical momentum in the mid-to-late 80s, yet left the art world behind in 1992 to tend his farm full time — and, as he put it, to "unlearn how to make art." He never stopped making art, however, and in 2007 exhibited his series of paintings titled First Mark — abstract paintings made over the course of several years during the early fall months when he had access to ingredients for his paints such as black walnuts, honey, and propolis — in Havana, Cuba and subsequently in Ecuador. The series debuted in New York at Gavin Brown's Enterprise in the summer of 2011.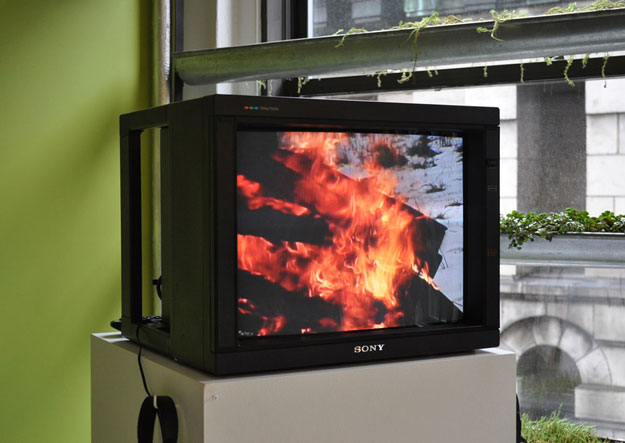 Taxonomy Transplanted by Peter Nadin and Aimee Toledano (16mm film, 12 minutes)
His latest show at the Hort consists of 13 paintings, a book, and a 12-minute-long 16mm video also titled Taxonomy Transplanted, which works as a kind of skeleton key to each of the individual paintings. The paintings, perhaps somewhat folksier than those from the First Mark series, are all painted on paper handmade by Nadin from plant fibers derived from the bamboo and cattails that grow wild on his property and likewise incorporate various species of plant life grown on the farm such as Triticum, Lycopersicon esculentum, Allium Sativum, Carduus, Aloysia Triphylla, and Zea mays as well as ceramic components and cryptic phrases. (Nadin also has an excellent selection of honey and assorted jams and chutneys available for purchase — as food not art. The hot-pepper peach jam is especially delicious.)
The hypnotically engaging video work fleshes out all the themes alluded to in the paintings — man's obsession with naming, a preoccupation with death, the natural cycles of the earth, and man's agency therein. Made in conjunction with New Orleans–based creative Aimee Toledano, the video shows reflective footage of Nadin's farm in black and white and color, set to spare piano chords and voiced over with a poem written by Nadin (who has published several books) in a tone that is at once elegiac and droll. The viewer will begin to notice lines from the poem also appear on the surrounding paintings. In the video, for example, the words dead man's pool party, which appear on the painting "Tomato II," are more than just figurative pith, they are part of an extended metaphor: "If the grave is a pool of shared consciousness, of everything that has ever lived, then death is a dead man's pool party. We all get the invitation and for this one we'll all show up." In this way the video acts as the animate center of the exhibition, lending the paintings a contextual anchor and bringing us not only into the world of Old Field Farm, but also into Nadin's contemplative universe, and thereby, as the title of the show suggests, transplanting the taxonomy of all the works.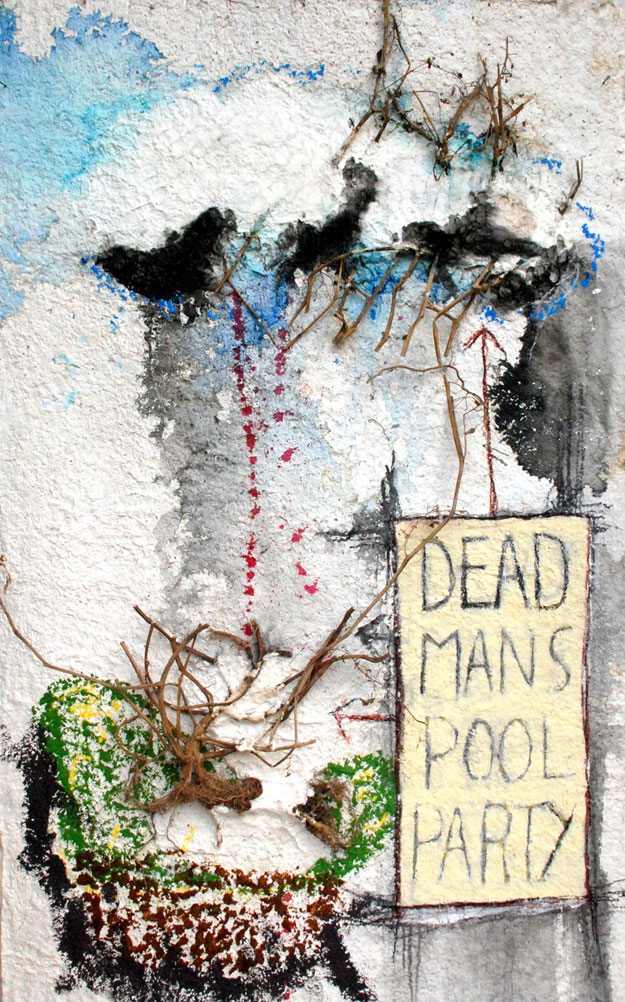 Tomato II, Lycopersicon Eculentum, pigment, handmade bamboo and cattail paper