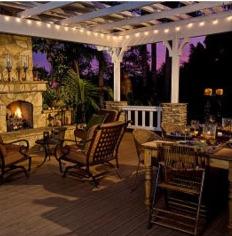 Transform Your Dreams into Easy Entertainment Reality
Almost anyone with a backyard or a rooftop terrace will tell you, even if in hushed tones, that they long for the kind of outdoor kitchen and entertainment areas they see in the pages of Garden Design. But creating one can be an intimidating prospect. Traditionally, it has required lots of materials, laborers, heavy construction, mess, and most of all, time. Fortunately, that's changed, thanks to the breakthrough Eldorado Outdoor™, a collection of building blocks that quickly assemble into barbecue islands, kitchen counters, fireplaces, fire pits, and more from Eldorado Stone, which allow you to spend less time planning an outdoor kitchen, and more time entertaining in it.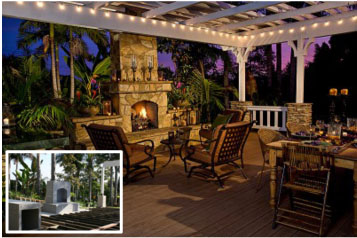 Can you believe this stunning outdoor space (which originally looked like it does in the inset photo) was created in a matter of hours, and not weeks or months? The secret is the Eldorado Outdoor line of outdoor building blocks.
Old Way vs. New Way
Until recently, creating that outdoor space meant building masonry from scratch, with pallets of concrete blocks, steel rebar (reinforcing rods) and cement, all dumped into your yard before an army of laborers set to work on the messy construction, which would take a crew of four about seven days for a typical L-shaped island. With Eldorado Outdoor, everything is modular: Cabinets, corner pieces, backsplashes, columns, seating benches, and even barbeques, fireplaces, and fire pits. All you have to do is pick the items you need to create the custom configuration for your space.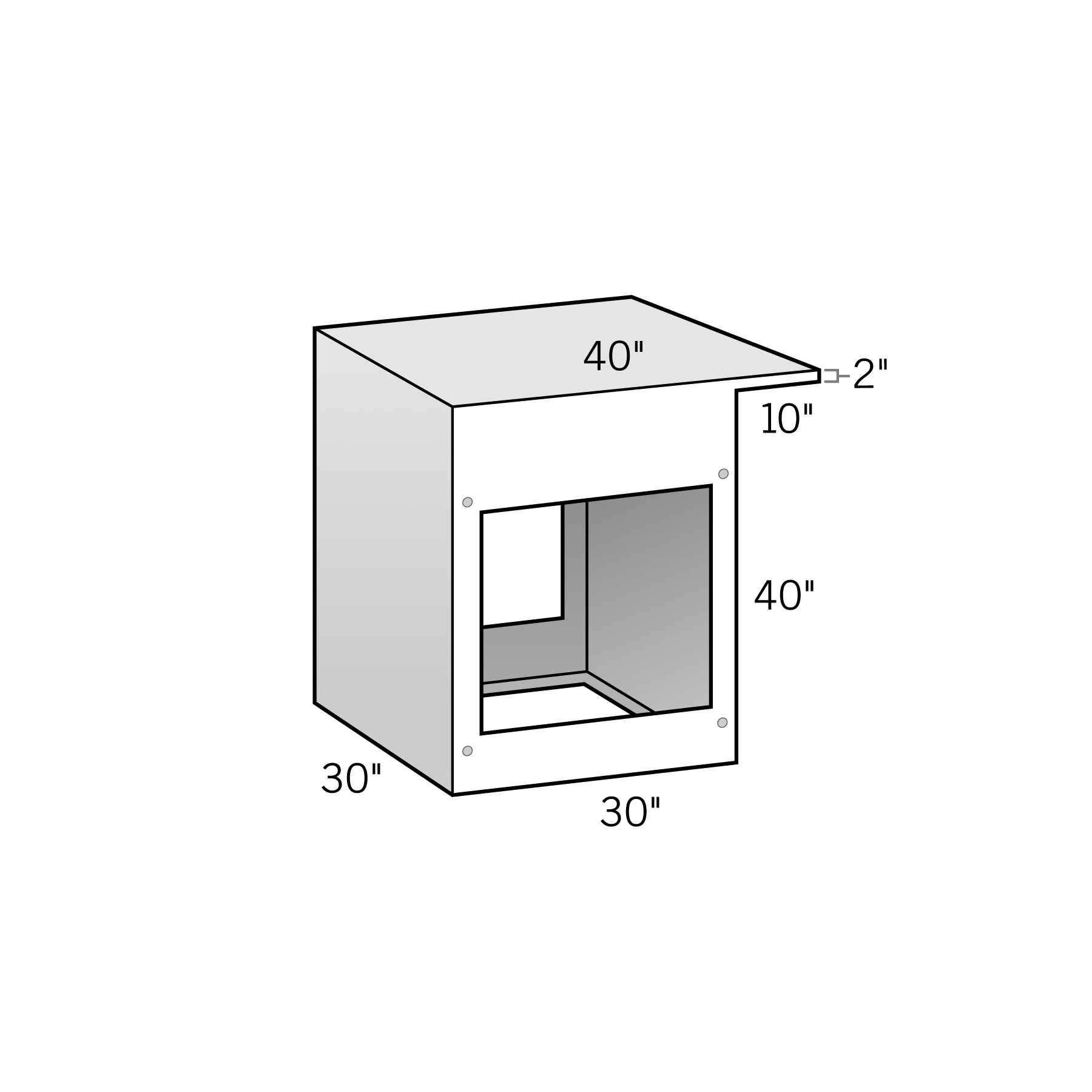 This is what the Eldorado Outdoor modules look like. They're made of tough glass-fiber reinforced concrete, or GFRC, and simply bolt together in just minutes, and can sit atop any solid surface or foundation.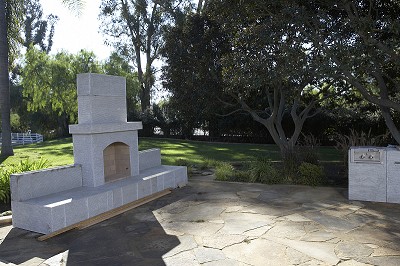 Eldorado Outdoor modules come complete with a factory-installed "scratch coat," which means that they're ready to accept Eldorado Stone or Eldorado Brick architectural veneers from Eldorado Stone without any additional prep work required. Plus, the factory finish ensures uniformity.
There are even cutouts for custom features such as sinks, drawers and burners, which can be done on-site.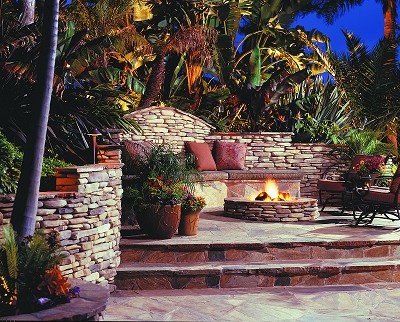 A Limitless Selection of Looks
The entire Eldorado Outdoor line works with any of the virtually countless combinations of stone and brick veneers and grouting options available from Eldorado Stone. (See our accompanying article about all the breathtaking stone and brick "profiles"). This way, you can choose any style, from classic to contemporary, and see it take shape before your eyes. Eldorado Stone is as rugged as it is attractive, providing all the benefits of magnificent brick or stone, at a fraction of the time, cost, and effort. You could imagine your outdoor space today... and be hosting a party in it the following weekend!
It's little wonder that Eldorado Stone products are trademarked as "The Most Believable Architectural Stone Veneer In The World."™ They install quickly and easily, and numerous grout styles and colors allow you to customize your look even further.
See It Before You Build It
We couldn't conclude this article without a mention of Eldorado Stone's amazing online design tool. Using any Internet-connected computer (such as the one you're sitting at right now), you can quickly and easily "build" your outdoor space in minutes, starting with the floor surface, then adding the Eldorado Outdoor modules, and finally cladding them with your choice of brick or stone veneers. Astonishingly, you can do all this in 3-D, and even "see your architectural creation, in full color and real-time. Best of all, you can share your creation with friends and even save it as a PDF, complete with all specs, part numbers, and even your nearest Eldorado Stone distributors. It's risk-free experimentation that's also tons of fun; check it out at EldoradoStone.com/Outdoor.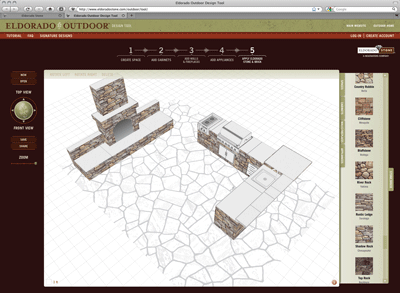 This is an actual screenshot of the Eldorado Outdoor design tool in action. It's easy to custom-design an outdoor entertainment area that suits your exact space, needs, and budget.