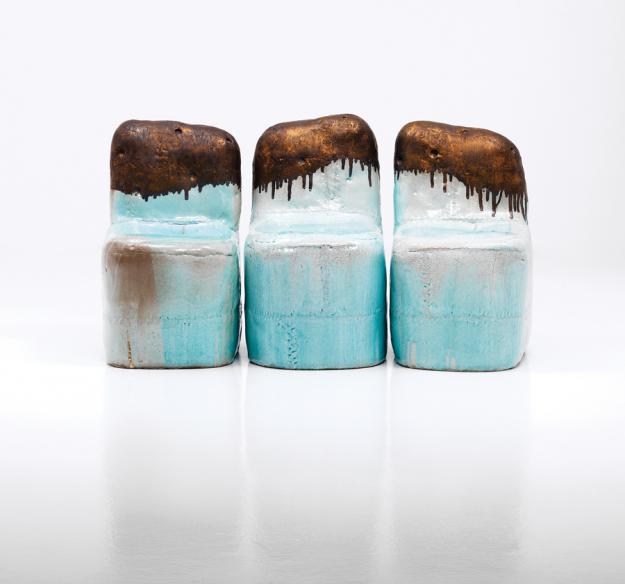 Photo by:
Park Myoung-Rae/Courtesy Gallery Seomi
Hun-Chung Lee, South Korea, 2011 / "Assemblage Ceramic Bench in Light Blue," in glazed ceramic. / 56.06" long x 26.38" wide x 31.5" height
Hun-Chung Lee is a man of many mediums: Over the course of his career, the South Korean artist has used ice, trash, chocolate, flower petals, candy, glass, light bulbs, bamboo, and live goldfish to convey his vision. So there's something appealingly elemental about his latest work—on display at the R 20th Century gallery in New York City—in which Lee returns to his ceramicist roots.
His stools, chairs, and tables are hand-sculpted from ceramic and concrete then painted with layers of glaze to create a multihued patina, giving the heavy material an ethereal luster. "In color and form, the ceramic objects are reminiscent of the nature and seasons in Korea," explains Lee, comparing the pieces to "three-dimensional landscape painting." Fittingly, many collectors (and Lee himself) choose to display the pieces outside, where they double as art pieces and garden furniture—striking an original chord somewhere between been-there tradition and look-at-me modern, unusual but not incongruous.
View Hun-Chung Lee's ceramic artwork at R 20th Century Gallery in New York through April 28, 2012 (212/343-7979; r20thcentury.com).

This article was first published in Garden Design
March 2012