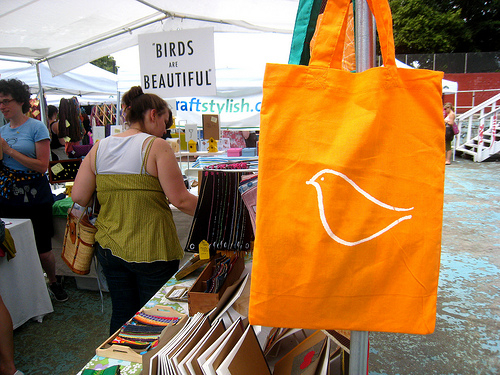 "Birds are Beautiful," at The Brooklyn Renegade Craft Fair, 2008. Photo by Adam Kuban.
Last week, Katie Mendelson, the assistant editor of GARDEN DESIGN, came over to my desk and we were chatting about a bunch of new publications that we had recently seen. I sighed and said, "I am so over this style," referring to the beautifully styled, carefully photographed (and Photoshopped) look to appear like a treasured family snapshot dug out from the 1960s, where everything is just so sweet and lovely.
"What's next?" Mendelson asked. "Are we going to go back to the '80s?"
"I guess so," I said. But then I thought about it and realized that this look, which is reaching a crazy apex at the moment, is very much connected to the economic situation of this country, where a desire for something that feels or seems artisanal has overtaken any inner sparkle-loving crow instincts. Finally, though, it seems that people are starting to get sick of it. Last week, in the New York Times, in "All that Authenticity Might Be Getting Old," a number of prominent style and interior bloggers admitted that they were sick of the handmade, seemingly unique touches everyone was adding to their homes.
Of course, the madness for the handmade started a while ago, perhaps in response to the ever growing emphasis on the digital world at work and in life. In design, it seemed like everyone (and by that, I mean 20- and 30-somethings who had a blog) was hand-drawing their lettering, taking up letterpress, and growing and canning their own food. It seemed like every other book was called "Not Your Grandmother's [blank]"—garden, knitting, cooking, or whatever.
I can't remember who—perhaps my husband or former co-worker Emily Gordon—dubbed the whole look "tweemo," a mash-up of "twee," a British term for obnoxiously cute things, and "emo," a shortening of emotional, which describes a whole genre of music, and we groaned at the many, many lovely screen-prints of birds that were available at Brooklyn Craft Fairs (which, of course, we went to) and that we received as wedding invitations.
And this brings me to a digression. Weddings.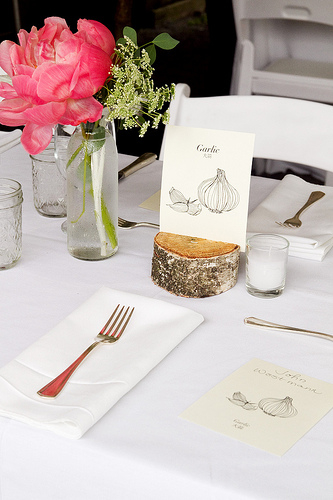 A photograph from my own wedding: mason jar, check; tree stump, check; hand-made place cards with Etsy illustrations, check; and rustic location (of course!), check. Photograph by Robyn Lee.
In no other realm was this trend so incredibly prevalent as at weddings. Or rather, wedding publications. With the rise of style-focused blogs like Style Me Pretty, Snippet and Ink, and Green Wedding Shoes, it seemed like every wedding featured was a rustic, thoughtful celebration of striped paper straws, bunting, chandeliers in barns, mason jars, vintage china, and hay bales. (I was married last year at yes, an organic farm, with mason jars as glasses, and horrors!, with invitations letterpressed by my husband and rubber-stamped—with birds and trees, no less—by me. Clearly, I fell for this madness whole-heartedly.)
The trend has been mocked for a while now. There were blogs like Unhappy Hipsters, (out with a new book filled with actually useful and not just snarky information) based on mocking photos from Dwell; Stuff White People Like, and then, ultimately, Portlandia, which was an entire television show about a city where the "''90s never died" and where an entire segment was entitled "Put a Bird on It." (I can say that this—"Put a bird on it!"—was the most quoted line when I mentioned the show to anyone, including our contributors to GardenDesign.com and even among my co-workers at the office.)
One of the funniest things I ever read on this topic was from Sadie Stein, over at Jezebel, who wrote the post "The New Decornographers: Bloggers With Perfect, Beautiful, Craftsy Lives." She wrote,
"This world is all about attainability. All these folks are young, on a budget, and, presumably, have day-jobs — or at least have the motivation to busy themselves with the less-glamorous end of their creative jobs (like uploading stuff, and bookkeeping) some of the time. Theoretically, you could do all this — you, too, could (and should) be living a beautiful life. But most of us are simply not skillful enough, or committed enough to beauty or, as I always end up morosely chastising myself, pure enough of heart to attain it — let alone make it look so good online. Some of us have to watch SVU reruns instead. Yes, maybe I might use someone's idea for a cupcake decoration or whip out the occasional homemade card. But it's not the same. It just reminds me that I'm falling short of the Lifestyle."
As the recession didn't really seem to recede though, everyone seemed to somehow burrow more into this style, if possible. Living with handmade charm and entertaining with "authenticity" seemed to become the trend, as excess and gilt was awkward and ostentatious.
In any case, here are some new publications that have recently come out, ranging from the tweemo to just design-heavy. And yes, they're all worth taking a look at, if only so you can put a bird on it.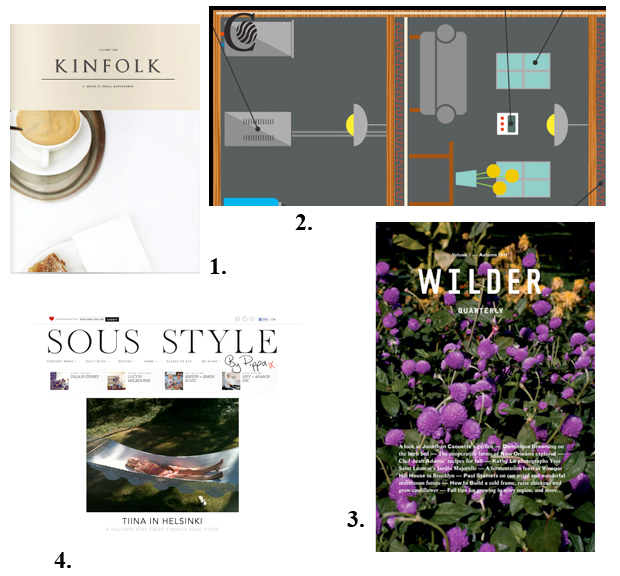 1. Kinfolk: "A Guide for Small Gatherings."
2. Co.Exist: A spin-off of Co.Design, which is a sub-site of Fast Company (or Fast Co.), this blog shifts the focus to innovation, rather than just pure design (as it is on Co.Design).
3. Wilder Quarterly: A publication "for people enthralled by the natural world," this is a print publication focusing on gardening.
4. Sous Style: This is a new site/blog about cooking, style, and you know, general living, featuring stylish girls who live around the world. Consider visiting the Outdoor page, which links to a bunch of great outdoor posts by other blogs.
Claire Lui is the online editor of GardenDesign.com.