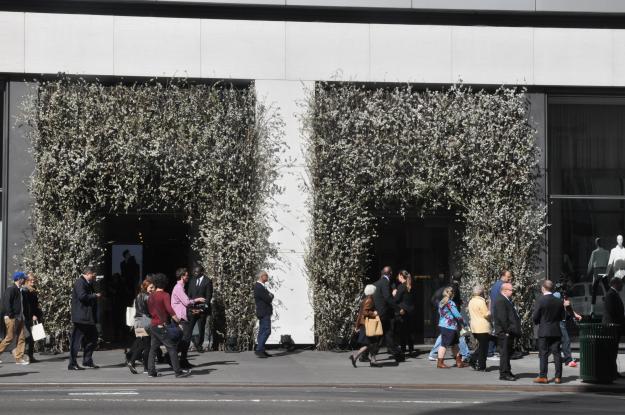 -Above: Zara opened their new New York City flagship store today. The front of the store featured amazing arches of flowering branches, which were echoed inside the store, where walls of flowering branches were installed. The outside of the store was decorated with cherry tree branches, and the inside used cherry, quince, and apple blossom branches. The pieces were designed by Thierry Boutemy, a French florist based in Belgium, who worked on the flowers for Marie Antoinette; collaborated with Dries Van Noten, Lanvin, and Dior; and who created the flowers for Sofia Coppola's wedding to Thomas Mars. (Related: Nowness's interview with Boutemy.)
-Cornell's corpse plant is set to bloom any day now—check out the live cam of its growth. (Too bad that there's no smell-o-vision with the live camera.)
-The hidden beauty of pollination. Video from a TED talk.
-How to grow carrots, with Dr. John Navazio, on A Way to Garden.
-An episode of American Public Media's The Story features the seed bank in the Arctic, the quest to identify healthy elm trees, and rooftop gardening in Queens, New York.