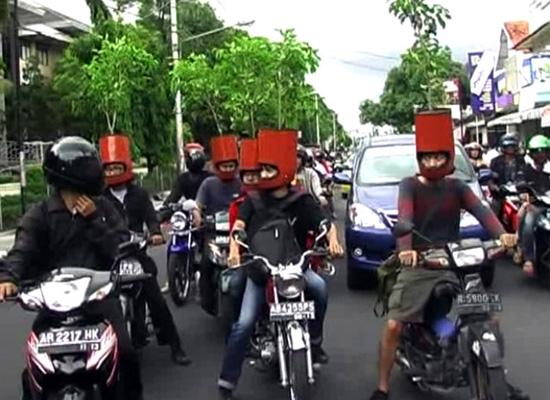 Photo by:
Image courtesy of Sara Nuytemans and Arya Pandjalu.
-Bikers wearing helmets planted with trees race on through the streets of Yogyakarta, Indonesia, paying homage to their green city. [Pruned]
-The Association of Professional Landscape Designers have launched their 2012 International Landscape Design Award. This year, for the first time, you can enter online. The competition is open to students and professionals. [APLD]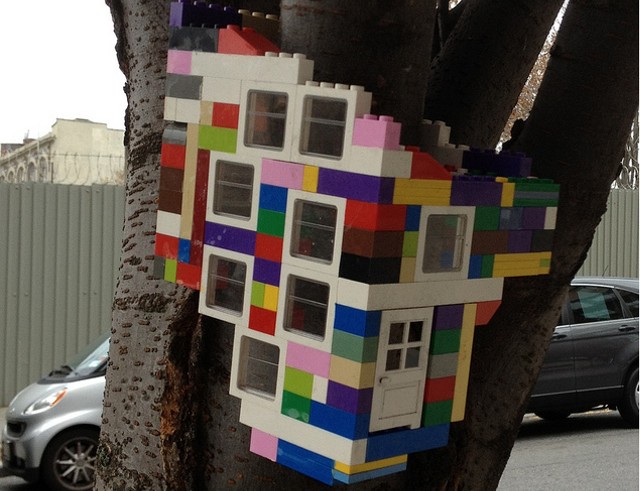 Photo by Tien Mao/Gothamist.
-Lego tree house spotted in DUMBO, New York. [Gothamist]
-Fresh succulent ornaments that will grow back year after year! [Casa Sugar]
-Tradition Christmas log cake filled with coffee buttercream, covered in chocolate ganache. [Savuer]
-A tree house sprouts in the backyard of Brooklyn, New York. [New York Times]
-Patrick Blanc's gardens against gravity continue to pop up across the globe. [Wall Street Journal]
-A shopping guide to Christmas tree success for the holidays. [Stylist Home]
-Britta Riley's upcoming Windowfarms Project: An incredible way to grow indoors thoughout the year using the least space possible. [A Way To Garden]
-Designer Suzanne Lee experiments with growing a fabric that resembles a vegetable leather out of a kombucha-based material to create clothing. [Ted]
-Awesome cookie-a-day Advent calendar! [Saveur]
-The creative concept of an underground "Low-Line" park in New York City's abandonned trolley terminal beneath Delancey Street. [Gothamist]
-Watch the feature-length documentary Urbanized now online for $6.99. [Urbanized Film]