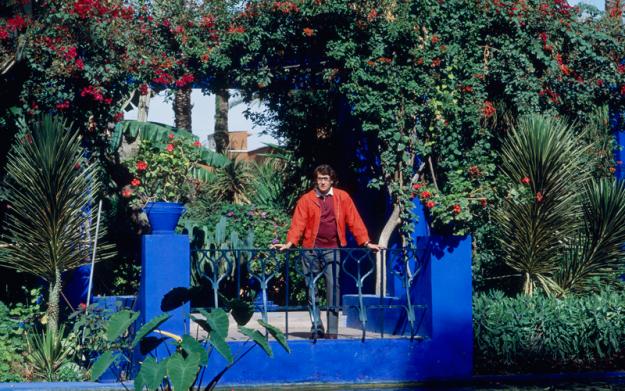 Yves Saint Laurent standing in his garden in Morocco.
L'Amour Fou, which opened in theaters nationwide last week and will be available on demand through IFC beginning today, May 25, started as a documentary about the sale of the furniture and artwork of the apartment of fashion designer Yves Saint Laurent and his partner Pierre Bergé. But the film morphed into something more—an elegiac meditation on what it means to build a life and a home together and a rumination on the power of the very objects that define our homes.
The elegant Parisian apartment of Saint Laurent and Bergé is shown as a very tangible reflection of a relationship's vows, with the careful accumulation of pieces reflecting their years together, for better and for worse. 

Opening with Saint Laurent reading his retirement speech, with the whir of all the paparazzi cameras in the background, the film then transitions into Saint Laurent's 2008 funeral, with Bergé's eulogy, spoken directly to Saint Laurent himself. Finally, after these opening speeches, the camera then pans to the couple's Parisian apartment, filled with artwork by Brancusi, Matisse, and Picasso. After Saint Laurent's death, Bergé sold everything in the apartment, and the movie shows the packing and removal of everything to prepare for the 2009 so-called "sale of the century" in Paris, which ended up with more than 700 pieces that sold for $483,835,144, or nearly half a billion dollars, with the proceeds going to AIDS research and charities.
The documentary mentions Saint Laurent's love of Marcel Proust and a very Proustian languor and nostalgia permeates the film. If anything, the film could have easily been re-titled In Search of Lost Time and it would have been equally descriptive.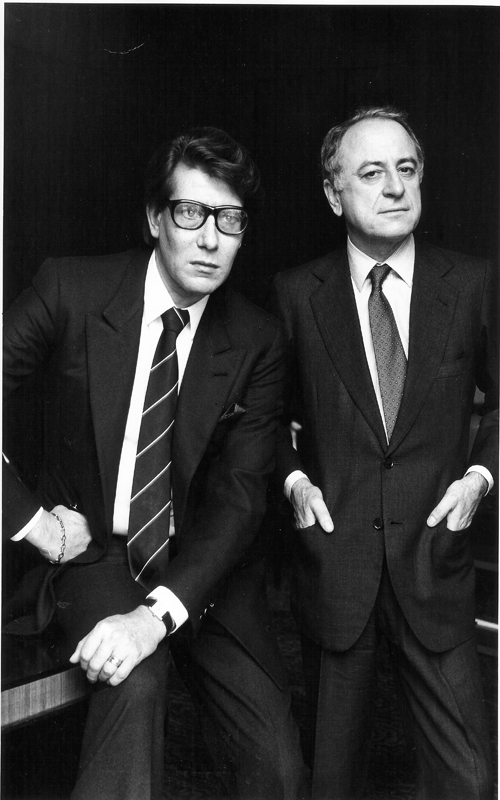 Photo from IFC Films. Yves Saint Laurent and Pierre Bergé.
Bergé denies several times in the movie that he is a nostalgic man and he cites his ability to sell the furnishings as proof of his pragmatic nature, but his emotion when speaking about his houses and his life together with Saint Laurent reveals a different story. Proust knew, as Bergé must also know, that memories live through the senses—that a certain light, a few lines of a melody, or a certain painting is enough to set off our memories. "We will never share the emotions together before a painting again," Bergé said in his eulogy at Saint Laurent's funeral, and it was an acknowledgement of the power of objects as talismans.
The very fraught nature of how our furnishings, our gardens, and our stuff, for lack of a better word, ends up defining our memories and our perception of our lives and homes is at the heart of the movie. "I know that tomorrow all of this will be gone…which means what? A part of my soul, a part of my life. …So I will be present at my collection's funeral," says Bergé.
After Saint Laurent's death, Bergé told the Telegrah that they became civil partners "not for romantic reasons but because we had lived 50 years together: it was about achievement, and I had fought for it to be possible, so that homosexuals would be allowed to leave things to their partners." It was an acknowledgement that things not only have a legal and economic value, but that they are the very tangible proof of a life built together. L'Amour Fou is a farewell to a marvelous collection and a shared life, both built together on exquisite taste that was the manifestation of a lengthy partnership in both life and work.