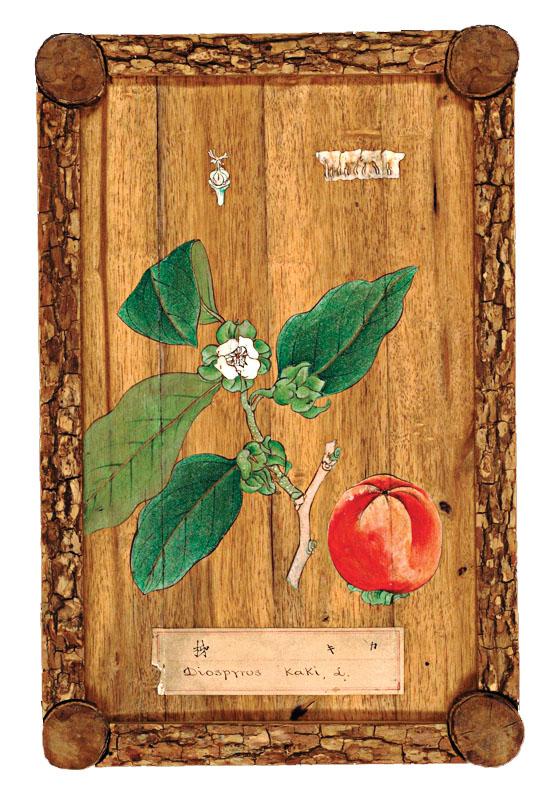 Photo by:
Courtesy Royal Botanic Gardens
I'm always drawn to objects in which the human and the natural elevate one another. The exquisite 19th-century Japanese panel paintings from Royal Botanic Gardens, Kew, now on display in a show curated by five London museums, tell a fascinating story about nature and culture. Each of Kew's 26 panels (others are housed at Germany's Botanisches Museum Berlin-Dahlem) represents a species of tree, and each is painted on a tablet cut from that tree's trunk and framed by its bark and branches. There's an unmistakably Japanese aesthetic to the paintings of the persimmon with its golden fruits (above), the large-leafed magnolia, the sacred ginkgo, but the panels' scientific precision suggests a Western influence. Each carries a label that identifies the tree in Japanese and Latin, and a seal dated 1878 from the University of Tokyo Botanical Gardens, Japan's first public garden. The island nation had just opened to the world after centuries of isolation. In the newly modernized country, the study of botany was evolving: now with a scientific note, by a brush no less beautiful.
"First Time Out" is currently being shown at London's Natural History Museum, through August 21, 2011.
Anna Laurent is a writer and producer of educational botanical media. Photographs from her forthcoming field guide to Los Angeles are available for exhibition and purchase at the author's shop.